An "unacceptable" backlog of more than 16,000 immigrants waiting to hear whether they can stay in Britain has been discovered in a fresh investigation into UK border controls.
Some 14,000 applicants, growing at a rate of 700 a month, had already been refused the right to stay but are still pleading with the UK Border Agency (UKBA) to reconsider.
And an additional 2,100 cases - shipped in a box from an office in Croydon to Sheffield - were still waiting for an initial decision at the time of the inspection - with some dating back a decade. The UKBA said these have since been cleared. Immigration procedure has been slammed for being chaotic and inefficient
The backlogs were discovered by the Independent Chief Inspector for Borders and Immigration John Vine as part of an inquiry into applications to remain in Britain on the basis of marriage.
"This is completely unacceptable and I expect the Agency to deal with both types of case as a matter of urgency," Mr Vine said.
The inspector said he was "surprised" to discover the UKBA is also failing to check whether applicants earn enough to look after themselves without having to rely on state handouts.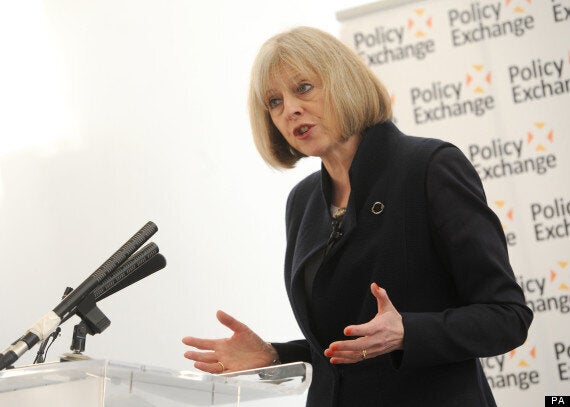 Theresa May has been criticised over the backlog
Meanwhile, a separate inspection into how the UKBA and Border Force deal with criminals at ports, such as Heathrow Airport, discovered that the policy of swift removal is being rendered ineffective by the level of immigrants claiming asylum.
UKBA staff told the inspector the agency was sitting on 14,000 refused cases that the UKBA was asked to reconsider because there was "no policy" on how to deal with them.
Further investigation discovered "confusion" among staff, with one senior manager informing the inspector there was nothing to stop the cases from progressing.
Sir Andrew Green, chairman of campaigners Migration Watch UK, said: "This is yet further evidence of the chaos in the immigration system from which they are taking years to recover."
During the inspection, Mr Vine discovered 2,100 cases that had yet to receive an initial decision, including some dating back as far as 2003.
Around 180 of these applicants wanted to stay in the UK due to marriage or a civil partnership, while the remaining cases related to other reasons.
In his report, Mr Vine said: "This situation causes anxiety, uncertainty and frustration for those individuals and their family members.
"Delays in deciding applications also mean that enforcement action is likely to be more difficult in the event that the case is ultimately refused.
"This is because the individual will have been in the UK for a number of years and may have developed a family or private life."
UKBA staff are not consistently applying the "income support threshold" rule to applicants who want to stay in the UK due to marriage, the report also found.
In one case, an applicant applied to stay in Britain because he was married to a person settled in the country who had a disposable income of around £200 per month - far below the minimum income support level.
The inspector also found that the percentage of allowed appeals in marriage cases was too high at 53% between April 2011 and February 2012.
Mr Vine said: "The agency needs to improve the quality of its initial decision-making to avoid the cost of unnecessary legal challenges and to reduce the proportion of allowed appeals where its refusal decisions are challenged."
The inspector's report also highlighted problems with the agency failing to take into account the rights of children when refusing further leave in the UK.
Mr Vine said children's rights were given specific consideration in one out of 21 examined cases of applicants refused leave in the UK, while the impact on UK-based children was not considered in any of the 39 overseas cases examined.
In a separate report on customs offences, the inspector found that the policy of using swift removal as an alternative to prosecution was not available in a large proportion of immigration cases.
Some 73% of the individuals covered by the investigation claimed asylum, meaning they could not be removed from the UK until decisions had been made.
Some 36% of cases remained in the UK awaiting the outcome of an appeal or a decision on their initial claim and nine individuals were found to be waiting nearly a year without a decision.
Keith Vaz MP, chairman of the Home Affairs Select Committee, said: "These backlogs are a disease that has infected our immigration policy. What is more, as the backlog increases each month it is clear that this disease is spreading. The way the Agency operates requires urgent surgery of the most profound kind."
Shadow immigration minister Chris Bryant attacked Home Secretary Theresa May's management of the UKBA.
He said: "In recent months we have learnt of files left unopened, letters left unanswered, hundreds of original decisions being overturned on appeal and applicants coming to Britain who did not prove they could support themselves.
"It all adds up to delay, confusion and a massive waste of taxpayers' money.
A Home Office spokeswoman said: "The Agency is taking action to deal with historic backlogs and has a transformation plan that will put the Agency on a surer footing.
"This group of people have already been refused but are trying to circumvent the appeals process by requesting an informal 'reconsideration'.
"We've changed the rules to make clear that those not happy with the original decision should re-apply or appeal and if they choose not to, they should leave the UK voluntarily. We are contacting them to make sure they do this, but if they refuse we will enforce their removal."
Related