A picture of a chipper David Cameron enjoying dinner with Boris Johnson and the chancellor, despite being forewarned of the dire state of the economy, has prompted ire on social media.
The three Tories laughing and eating pizza while Britain's economic recovery slammed into reverse has been dubbed #pizzagate on Twitter with many criticising the PM for his apparent lack of concern.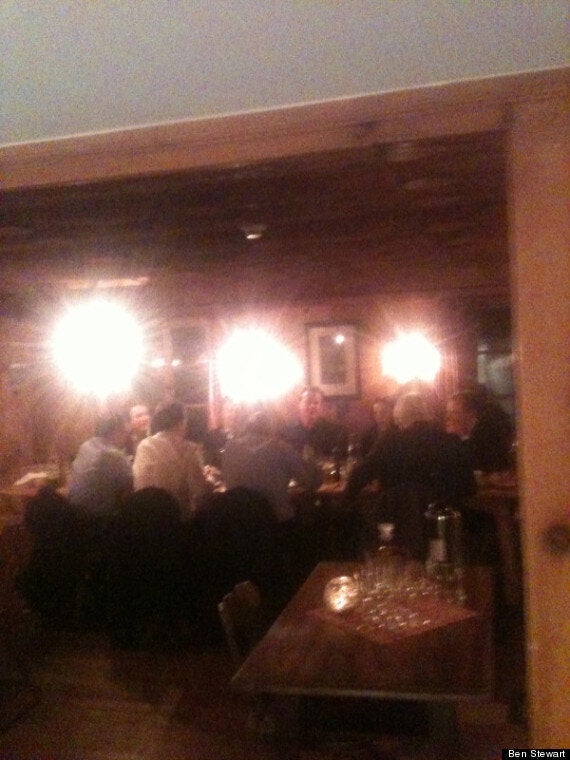 Greenpeace's head of media Ben Stewart took the picture of the dinner in Davos
Greenpeace's head of media Ben Stewart, who was also dining at the Alte Post pizza restaurant and took the picture, described the meal as "raucous" and said the PM and Osborne were "laughing uproariously" and joking with London Mayor Boris Johnson.
Damien McBride, who was a close aide to Gordon Brown at the Treasury and in 10 Downing Street, said: "What on God's Green Earth was Osborne doing eating pizza in Davos when he knew GDP was back in negative territory?"
Some tweeted that GDP clearly stood for 'George and Dave's Pizza'.
However some have turned on Stewart, accusing him of being hypocritical, as he was in the same Davos restaurant and worked for a charity.
Asked whether Mr Cameron was embarrassed to be snapped enjoying himself in a restaurant the night before the release of bad GDP figures, the Prime Minister's official spokesman told reporters: "The Prime Minister and Chancellor have been in Davos banging the drum for British business, entirely consistent with the case we have been making that this is a global race, and also making the case for the kind of open, free-trade global economy which the Prime Minister was talking about in his speech yesterday and which is so important to outward-looking economies such as the UK's."
The spokesman declined to discuss whether alcohol was drunk with the meal, saying only: "The Prime Minister and Chancellor and others had dinner last night."
What do you think of the picture? Leave your own caption in the comments below.
Popular in the Community