An igloo built on the Harrogate stray and advertised on eBay as a 'beautifully presented studio apartment' has been sold on the auction site for the princely sum of £571.
The "smartly appointed, ground floor dwelling" was snapped up by local businessman David Pitts, who bought the snow house after learning the proceeds were to go to Yorkshire Cancer Research.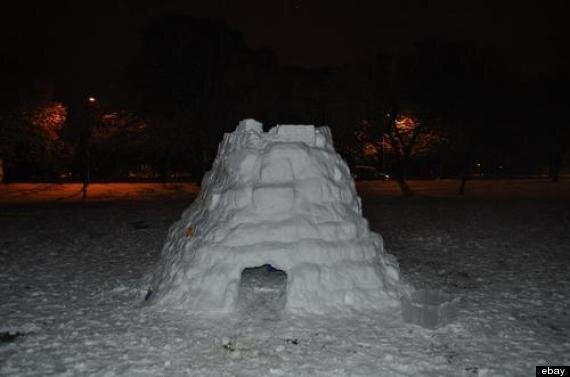 The 51-year-old marketing director told the Huffington Post UK: "I saw the igloo on the stray earlier in the week as I was driving past and it just put a smile on my face really.
"When we found out it was for Yorkshire Cancer Research we couldn't resist putting in a bid. My father in law died of this horrible disease late last year and we do what we can to help cancer charities.
"We've already taken bookings from friends who want to spend the night in the igloo over the weekend.
"I'd like to thank the guys for all their hard work in building the igloo – such a great idea and worthwhile cause."
Together with JustGiving donations (for those who couldn't afford to buy the igloo), the boys managed to raise more £2500 for the cancer charity.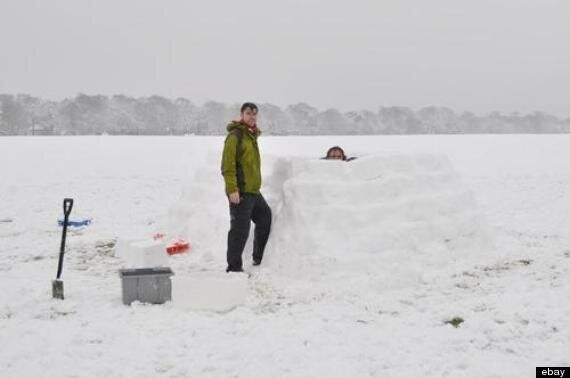 The intrepid lads mid-build
Friends Craig Parker, Greg Davies, Cal Baranovsky and his brother Mark braved the winter weather to construct the 12x8ft structure after a flurry of snow hit Yorkshire.
The igloo is tall enough to stand up in, and according to Cal, can accommodate up to 20 people. However as milder temperatures sweep the country, the Met Office has warned there may be flooding as the snow thaws. Looks like this igloo might be temporary accomodation.
Is this the most impressive snow creation you've seen yet? Have a flick through some of Huff Post UK's reader's snow beasts.
Popular in the Community