Heavy snow is expected to sweep the country on Friday, ahead of a thaw which, coupled with rains, is expected to cause flooding.
The worst of the white stuff will hit Scotland, northern England, the Midlands and the east, where up to seven inches is predicted over high ground.
As per, this is likely to cause more disruption for schools and travel networks. Heavy snow is set to sweep Britain on Friday
The latest band of wintry weather will begin as heavy rain in the west of the UK before turning to snow as it moves eastwards.
But weather experts have warned of the risk of flooding tomorrow, as heavy rain moves in and rising temperatures spark a rapid thaw of the built-up snow and ice.
Temperatures will steadily rise from tomorrow to an average of 4C before reaching more than 10C in the south on Sunday followed by wet and windy weather next week.
The death toll during the recent cold snap hit double figures yesterday.
The latest victim was a 42-year-old man who died after his car careered into a river as he was driving his daughter on the school run along a bridle path near the Monsal Trail, north of the A6 in Derbyshire.
Other casualties of the cold spell include postman John Bircham, 57, who collapsed soon after he was towed out of a snowdrift in Dulverton, Somerset, on Saturday, and Bernadette Lee, 25, who was found collapsed in the snow in Deal, Kent, on Sunday following a night out. A red squirrel in Kielder Forest, Northumberland, following fresh snowfall
The Met Office has 12 amber warnings in place from the Midlands up to central England, urging the public to be prepared for likely disruption caused by the heavy snow.
There are also a number of yellow warnings in Wales, south west England and London and the South East.
It warned that strong winds will also lead to drifting and blizzard-like conditions, particularly over higher level roads in the north.
The AA said it was gearing up for a busy day today.
Head of special operations Darron Burness said the current cold spell will go out with a bang today.
He said: "It's difficult for forecasters to know the extent of the snowfall, so check the local weather and traffic reports before heading out and be prepared for possible disruption. Take extra care, particularly on higher ground, and allow extra time for your journey."
Steve Crosthwaite, head of the Highways Agency's national traffic operations centre, said: "We have been working hard to keep motorways and major A-roads running throughout winter, and particularly over the last couple of weeks. With another flurry of snow expected, we ask people to remain alert and continue to take care when travelling. Kielder Water sits under a layer of ice
"As always, we ask people to give our winter fleet the space they need to do their job and, during periods of particularly severe weather, to consider delaying their journeys until conditions improve."
Chris Burton, a forecaster at MeteoGroup, the weather division of the Press Association, said: " A band of heavy rain will hit the west of the UK and move across eastwards throughout the day, quickly turning to snow.
"The greatest risk of heavy snow will Scotland, northern England, the Midlands and eastern parts of England which will widely see up to four inches, and up to an inch in the south.
"There is a localised flooding risk, particularly in Wales and the South West as heavy rain falls and warmer temperatures cause a rapid melt of the snow and ice which has built up in the last few weeks."
The Environment Agency has warned of the risk of minor localised flooding in some areas due to the rapid thaw.
Flood risk manager Phil Rothwell said: "A combination of rain and snow melt over the weekend will increase the risk of flooding, especially in south west England, Wales, the West Midlands and northern England.
"We are closely monitoring the situation and have teams ready to respond to any potential flooding.
"People should check out if they are in a flood risk area, and sign up to free flood warnings on the Environment Agency website."
The recent severe weather has caused widespread disruption, including hundreds of flights cancelled and schools closed.
In the worst incident, 30 people had to spend the night in a shelter after becoming stranded when the A39 between Bridgwater and Williton in Somerset became impassable at around 1am on Wednesday.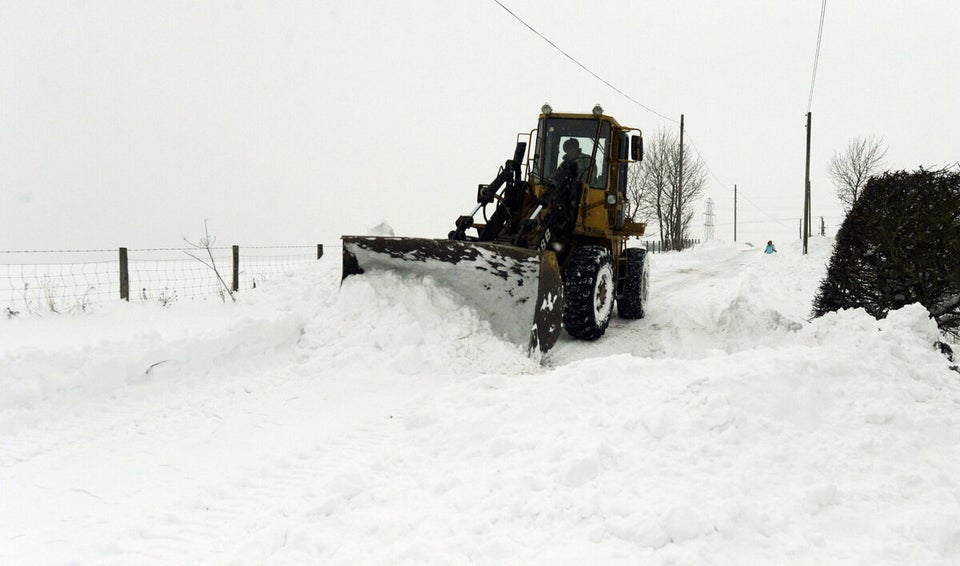 Snow Covers UK