The M6 motorway was blocked in both directions between junctions 25 and 27 in Lancashire on Friday night when a sudden burst of more than a foot of snow brought drivers to a standstill around 8.30pm, the Highways Agency said.
Many became stuck along the stretch of motorway between Wigan and Standish after struggling to make it up inclines in the treacherous conditions, while a number of accidents including jack-knifed lorries also blocked lanes.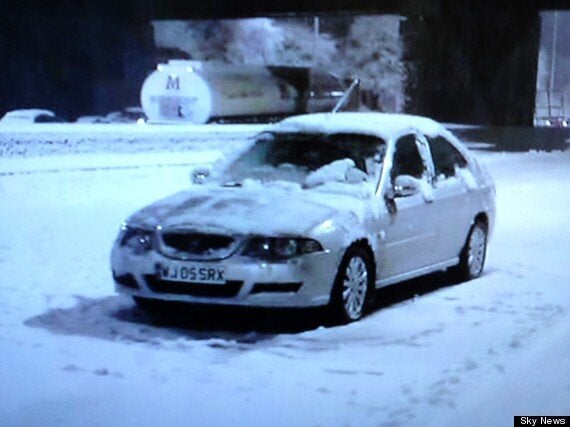 Scores of motorists were forced to spend the night in their cars
The M6, as well as the M56 and M58 which were also blocked, are now all moving again but remain heavily congested with long tailbacks, Lancashire Police said.
Chief Inspector Mike Adamson said: "We realised at about 11pm last night that this was going to be a major incident.
"Some of the drivers and passengers have been stuck for hours - it has been a very difficult night for them.
"We have set up a command centre at Charnock Services, where officers have collected hot drinks and taken them to those who are stuck."
Some of the stranded drivers passed the time with snowball fights and building snowmen, while others abandoned their cars completely.
One man had to be taken to hospital by Lancashire Police after becoming ill in his car while it was stuck.
Lancashire Police also worked with Lancashire Mountain Rescue teams, the Highways Agency and neighbouring force Greater Manchester Police to clear roads and provide welfare assistance to those who were stranded.
The Highway Agency worked throughout the night to clear the routes with snow ploughs.
A spokesman for the agency urged those who had abandoned their cars to return to them as soon as possible.
He said: "The snowfall was very sudden and very heavy - over a foot in some places - causing cars to become stranded.
"But we have managed to get through the traffic and clear most routes to get people moving again.
"We are urging those who have abandoned their cars to collect, all we can do is move them to the side for now but it makes it difficult to clear routes.
"With the rain falling and ice melting onto very cold road surfaces, we are now warning drivers of the danger of ice."
Kevin Collister, who was stuck on the motorway just past the M58 junction heading northbound, told Sky News: "There is absolutely no movement whatsoever on my side of the carriageway, all the snow is squashed down into ice and there are wagons trying to move and sliding sideways.
"It's an absolute nightmare, we've been here for three hours so far. A few people are saying we might be here for the night but we're just hoping we can get through."
Conservative MP for Morecambe & Lunesdale David Morris, who was stuck on the southbound carriageway, told Sky News: "We've ground to a halt on both sides. Nothing is really moving.
"But the emergency services have been fantastic and are doing the best for us, and everyone is in good spirits.
"I've just seen a snowball fight and the man next door to me has built a snowman on top of his car roof - it's very surreal."
The country is now braced for flooding as heavy rain moves in and rising temperatures spark a rapid thaw of the snow and ice that has built up over the last two weeks.
Chris Burton, a forecaster for MeteoGroup, the weather division of the Press Association, said temperatures could rise to around 8C today before reaching more than 10C in the south tomorrow, followed by wet and windy weather next week.
He said: "Heavy rain will fall across most parts of Britain tonight and into tomorrow morning.
"The worst affected areas will be the west of England, Wales, Scotland and Northern Ireland, which will see up to an inch of rain overnight.
"Combined with rapid melting snow it brings a risk of localised flooding."
The Met Office currently has ice warnings in place across the UK, with the exception of the south-west of England and Wales, urging drivers and pedestrians to take care.
The Environment Agency warned there is a risk of surface water and river flooding this weekend across England and Wales, particularly in the Midlands and north east England.
A spokesman said: "Emergency teams from the Environment Agency will be out in force throughout the weekend to shore up defences, monitor river levels and clear blockages from watercourses.
"Those in areas at risk should check the Environment Agency website for the latest information - www.environment-agency.gov.uk/flood - and sign up for free flood warnings on the Environment Agency's website or by calling the Environment Agency Flood Line on 0845 988 1188."
Meanwhile all flights have been suspended at Leeds Bradford International Airport this morning as a fresh blanket of snow covered most of the Yorkshire region.
A message on the airport's website said: "As a result of adverse weather conditions, flights are currently not operating at Leeds Bradford Airport for a short period.
"Passengers may experience some delays while we clear the snow from the runway.
"We recommend you contact your airline or tour operator and check the status of your flight before arriving at the airport."
Last night North Yorkshire Fire Service said a husband and wife had to be rescued from a snow drift on the North York Moors around 7.30pm after a breakdown company refused to attend.
A spokesman said: "Due to extreme weather conditions a husband and wife had driven into a snow drift and were unable to get out.
"The wife had undergone surgery a week before and they had tried to dig themselves out for over two hours."
The incident happened as a number of routes across the region were reported to be impassable.
North Yorkshire Police said some main roads were blocked by snow and abandoned vehicles including the A59 between Harrogate and Skipton and the B6265 at Rylstone.
Bus services were suspended in a number of towns in West Yorkshire yesterday evening, including in Halifax and Keighley.
The death toll during the recent cold snap, which is in double figures, is thought to have risen further as it was feared a man in his 30s or 40s might have frozen to death after going missing in woodland.
His body was found on Thursday night after four friends went into Newmarket police station in Suffolk reporting that he had not been seen for four days. The men had been searching for him and found him dead in a wooded area.
The death is being treated as unexplained but one theory is he died in the freezing temperatures.
A father died on Thursday when his car skidded into a river just before his wife's vehicle also plunged into the icy water.
BBC employee David Cox, 42, was taking his 11-year-old daughter Tess to school when their Toyota Aygo left the path and crashed into the River Wye in Derbyshire.
Moments behind them in a separate car, a Toyota Rav 4, was his wife Ruth, 39, and son Ioan, nine.
Mrs Cox also lost control as she drove along the bridlepath near the Monsal Trail, north of the A6.
The children and their mother managed to get out of the cars and safely to shore but Mr Cox was unable to escape.
Neighbours tried to save him but it is believed he was trapped for around 40 minutes. He died in hospital,
Other casualties of the cold spell include postman John Bircham, 57, who collapsed soon after he was towed out of a snowdrift in Dulverton, Somerset, last Saturday, and Bernadette Lee, 25, who was found collapsed in the snow in Deal, Kent, on Sunday following a night out.