The fourth-round FA Cup draw was about as inspiring as a David Cameron speech, so what a pleasant surprise the weekend's football provided the competition some respite from its terminal illness.
After a dodgy start at the Britannia Stadium, five Premier League teams were dumped out by clubs outside the top tier, Brighton ran Arsenal close in an enthralling five-goal match at the Falmer Stadium and Brentford showed impressive resilience to hold the European champions to a 2-2 draw. Best till last though: non-league Luton Town and League One Oldham Athletic claimed the scalps of Norwich City and Liverpool to ensure the weekend of 26 January 2013 would be remembered as one the clubs' fondest. More about them later.
It wasn't all rosy, however...
It was symptomatic of the FA Cup's terminal illness that neither ITV nor ESPN, the competition's two British broadcasters, didn't televise one of the round's outstanding results when it was played on a Friday night.
Whatever the reasons behind Millwall hosting Aston Villa before the weekend, the day it fell on suggested one wouldn't need to scour the internet for a stream. Returning to my flat after a swift few after work, I asked my flatmate why he didn't have the football on. He assured me he had scanned through the channels and confirmed it wasn't on. "Why aren't we on the telly?"
And it isn't on. Especially when Villa had played 72 hours earlier. It shouldn't be treated as an excuse for their loss at the New Den, completing one of the worst week's in the club's recent history, but the scheduling seemed odd and both corporations received a comeuppance when the result turned out to be one of the picks of the round. Although since Villa were the losers, it would be inappropriate to label it an "upset".
As for the highlights, over to Vincent...
On a similar note, Manchester United's Saturday evening match with Fulham was their 37th consecutive FA Cup match to be televised. You have to go back to their pathetic goalless draw at home to non-league Exeter in the third-round eight years ago for the last time the Reds were not televised live in the competition. Now, United are the biggest club in the country by an almighty distance and generate greater ratings than every other side, but there was nothing remotely attractive about watching them hosting Fulham on the box, even if you are a United fan. Fulham's performances away from home have been dire since the Chris Coleman era when they won two away games in two seasons. Less than two minutes in at United, Steve Sidwell played a back pass inviting Wayne Rooney to score which he passed on, before Aaron Hughes helpfully handled the ball from the resultant corner for a penalty. Much like Harry Redknapp, they could not be bothered with the cup and the outcome was a fait accompli before the first whistle.
Brighton's enjoyable ding dong with Arsenal, even before its five-goal outcome, stood out as a more attractive fixture for television.
FA Cup line-ups often resemble a question and Harry Redknapp, in fielding Anton Ferdinand and Tal ben Haim for QPR's 4-2 loss at home to MK Dons, queried "Why bother?"
Chris Hughton also rotated for Norwich's home tie with non-league Luton and also paid the price. But that he rested first-teamers should not mask one of the competition's outstanding results in decades. A team outside the Football League had not beaten a top-tier side since Sutton United of the Conference toppled Coventry City 2-1 in the third-round back in 1989 until Luton's achievement. Luton Town were magic, the Canaries were tragic
The FA (and their sponsors) owe a great debt to the Hatters. The FA Cup hasn't enjoyed a weekend of such upsets since the 2008 quarter-finals, but Luton sparked the following day's surprise outcomes as Leeds United and Oldham Athletic beat Tottenham and Liverpool. Brentford held Chelsea to a 2-2 draw at Griffin Park but had no chance of making this morning's back page splashes.
At Elland Road, it was hard not to feel a smatter of goodwill when Marching On Together played after Leeds' victory while Boundary Park, renowned as the coldest ground in English football with its leaky, shanty roof, witnessed one of its greatest days since the club staved off relegation versus Southampton in 1993.
In a week in which the superior League Cup boasted a fourth-tier team reaching its final while Swansea held off Chelsea to join Bradford, the cup hit back. Dearest FA Cup, in its sick bed, suddenly did not look so sickly.
LIVERPOOL NEED A NEW GOALKEEPER
You may not have been aware of it, but Pepe Reina was dropped in favour of Brad Jones earlier this season. Which is why Reina will have taken no joy from seeing Jones drop the footballing equivalent of a dolly to gift Matt Smith his second goal of the game as Oldham regained their lead, for it is symptomatic of the slipping standards at Anfield.
Reina has always been prone to the odd calamity but they have been all too regular the past two seasons, and the hypothetical scenario of him swapping places with Victor Valdés should be a welcome one for Liverpool fans, irrespective of their reverence for their current incumbent. Reds would have preferred it if he was at home with the Joneses
Since he swapped Swansea for Merseyside, it has been understood Brendan Rodgers is scouring for a new goalkeeper with Reina reaching the halfway point of his six-year contract this summer. His father meanwhile last week said his son would be receptive to adding to the 36 appearances he made for Barça between 1999 and 2002.
Jones meanwhile, is a reminder of the traumatic Roy Hodgson era - a £2.3m signing from Middlesbrough when even at the Riverside he was considered as a deputy-at-best. Gallingly for Reds, he signed a new "long-term" deal last month.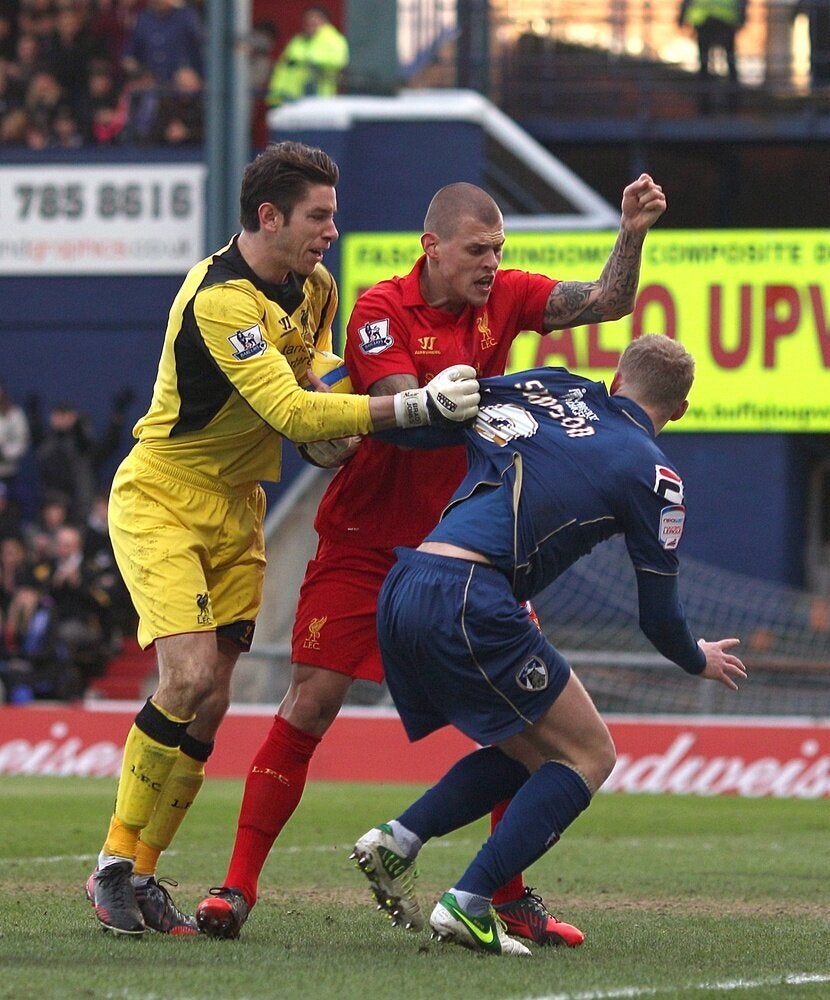 Oldham 3-2 Liverpool
With Arsène Wenger, you could get away with trotting out the line Arsenal have gone almost nine years without a trophy, rather than eight. Their 2005 FA Cup win against Manchester United doesn't sit easy with the Gunners' manager for it was the day he betrayed his principles and rendered any future complaints of defensive opponents as pure hypocrisy. Arsenal defended stoutly for 120 minutes before prevailing on penalties.
Unlike Newcastle, Arsenal fielded a strong side at Brighton, not risking the chance of becoming the second Premier League club to be eliminated on the south coast. With the league title beyond them yet again, Arsène Wenger is looking to salvage some pride from the cup competitions and now Tottenham and, to a lesser extent, Liverpool have been eliminated a little spec of light can be seen at the end of a long and dark tunnel. We know the name, we know the number, so why the terrible celebration
After defeat to Bradford in the League Cup, in which he played a full-strength team at a fourth-tier side, Wenger insisted the reason for the lineup was because Arsenal didn't have another game for six days. Even Wenger, who boasts an expert poker face, could not hide the reality he is so desperate for silver he even resorted to playing an uncharacteristically formidable lineup at Valley Parade.
Blackburn await now Brighton have been vanquished and it should be no surprise if Wenger opts for a senior XI at home to a Championship club in the lower half of the table.
Popular in the Community