Almost 100 flood warnings remain in place across England as rivers continue to swell from the heavy rain.
The downpours and gusts of up to 65mph will continue this afternoon, with the south west and the north of England most at risk from further flooding havoc, weather experts have said. A canoeist died after being pulled from a fast-flowing swollen river by firefighters and mountain rescue volunteers in the River Arkle, near Reeth in the Yorkshire Dales, on Sunday.
The Environment Agency has around 87 flood warnings and more than 289 flood alerts in place, with river levels expected to swell further as successive bands of rain sweep the country.
All of England, Wales and Scotland, apart from possibly Kent, is expected to endure wet weather, with west and north England and north and west Scotland bearing the brunt of the heavy and persistent rain where up to 25mm will fall.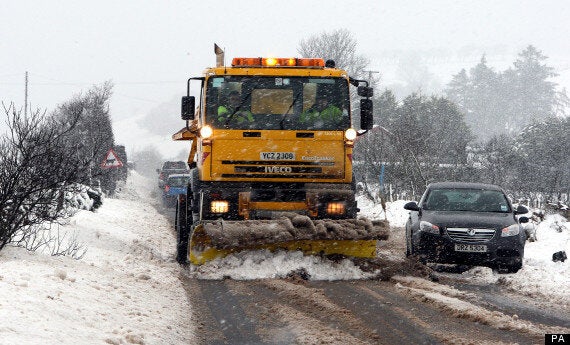 A snow plough and gritter, clears snow on the roads earlier this month
Gemma Plumb, a forecaster for MeteoGroup, the weather division of the Press Association, said: "Many places should start dry and sunny this morning.
"But by the end of the day all but maybe Kent would have seen some rain as a series of fronts move eastwards bringing this heavy rain.
"The heavy more persistent rain will be in the north and south west of England, bringing a risk of flooding.
"There will also be some very strong winds, with gusts of up to 50mph across most areas but up to 65mph in northern and western areas."
Floods hit the UK late last year: article continues below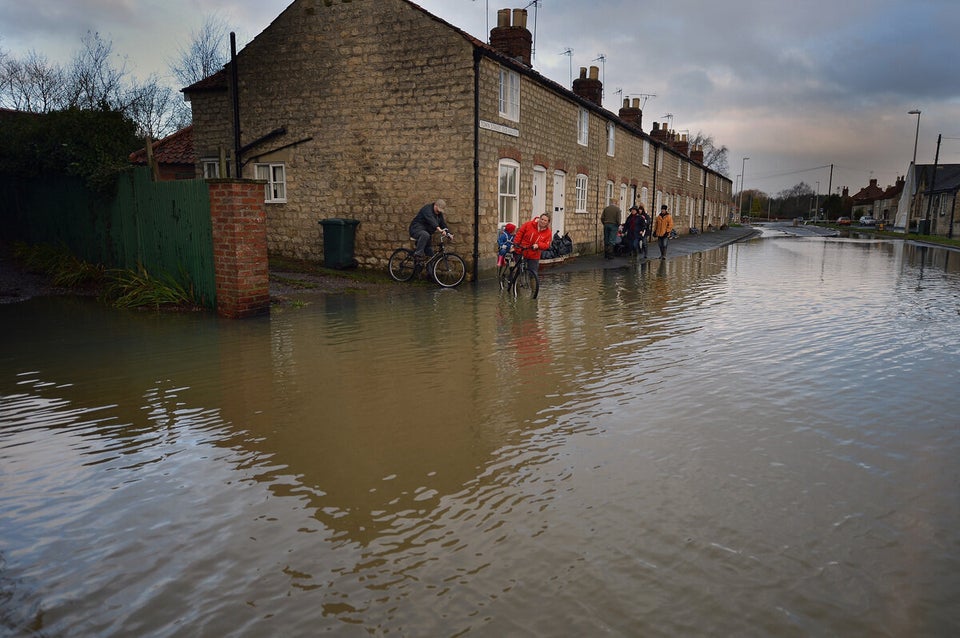 Flash Floods Cause Chaos Around UK
She added that tomorrow night and Wednesday morning will see winds reach 85mph in Argyll, Scotland, and around 70mph for the rest of the country.
Yesterday weather experts said communities in Wales, central England, the south west and Cumbria had seen most of the rain after 30mm (1.18ins) fell in some places.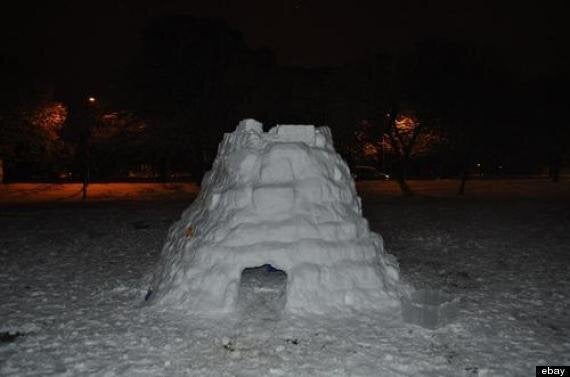 Some enjoyed the recent snowfall more than others
Most areas saw between 5-10mm of rain.
Rising temperatures of up to 12C again today will continue the rapid thaw of the snow and ice which has built up in the recent cold snap, further adding to potential flooding problems.
The Met Office has issued a yellow rain warning for the south west of England, warning that people should be aware that flooding could cause disruption, in particular to travel. Over 100 flood warnings have been issued
The weather caused road closures in Norfolk, and one woman had to abandon her car after it become stranded in flood water in Staffordshire.
In Hawes, in the Yorkshire Dales, a motorist had to be rescued from floodwater by fire crews who pushed him to safety.
Cheshire Police said some vehicles had to be recovered after getting stuck in 3ft high water at Hope Farm, Northwich Road, Dutton, in Warrington. The road was closed while the Highways Agency carried out emergency works.
There were a number of crashes on the M4 in south Wales following a large hailstorm.
Eleven people were injured after a four-car crash on the eastbound carriageway between Margam, near Port Talbot, and Pyle, near Bridgend, shortly after 12.30pm.
Six people were taken to hospital but none of the injuries is thought to be life-threatening.
Firefighters from South Wales Fire and Rescue Service attended the incident before being called to two other crashes nearby within 45 minutes. South Wales Police said there were not thought to be any significant injuries.
Railways were also hit, with Virgin and Arriva Trains Wales services suspended because of flooding.
Police warned drivers in Durham of ice on roads throughout the county as temperatures dipped overnight.
A spokeswoman said: "Police in Durham have issued a warning of hazardous road conditions to motorists travelling throughout the county this morning.
"All areas of the county are affected by ice on road surfaces as temperatures plummeted overnight, making early-morning driving conditions difficult.
"Motorists are advised to exercise caution while travelling.
"The council has gritters currently working throughout the area."
Related