More than 150 police officers, many armed, have turned Preston Crown Court into a fortress in preparation for the trial of alleged murderer Dale Cregan - with armed convoys, metal detectors and armed guards inside the courthouse.
The area around the court was on lockdown as one-eyed Cregan arrived in an armed convoy from prison for trial.
The heavy and highly visible police presence comes as Cregan and the other defendants stand accused of various roles in the murders of Pcs Fiona Bone, 32, and Nicola Hughes, 23, and of father and son David and Mark Short last year. All have pleaded not guilty.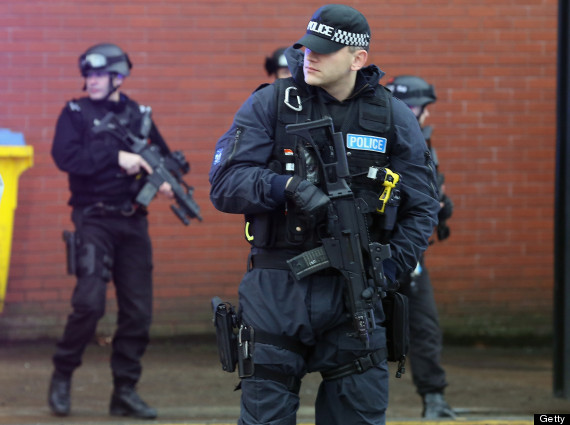 Armed guards outside Preston Crown Court
Family members only are allowed into the courtroom, along with a handful of media and more than 20 lawyers.
Most of the around 50 members of the press and broadcast media expected to cover the trial will watch the case unfold via TV screens in an annexe room inside the courthouse.
A portable cabin has been built on the steps at the entrance to the court to assist in the searching of all visitors.
Lawyers, media and other court users will have to pass through airport-style metal detectors, watched by police and security guards. Police arrive at Preston Crown Court, where Dale Cregan is standing trial
Further checks will be carried out inside the courthouse for access to Court 1 where the trial will take place as uniformed officers, some armed, stand guard and patrol inside the courthouse.
More than 20 barristers, defending the 10 accused men, will cram inside Court 1, including Simon Csoka QC, defending Cregan.
Seats in the public gallery have been set aside for relatives of the police officers and the Short family, sitting alongside detectives who worked on the murder inquiries. Dale Cregan is accused of four murders
Pc Hughes and Bone were murdered as they responded to a report of a burglary on the morning of September 18 last year, in Hattersley, Greater Manchester.
Four months earlier, former amateur boxer Mark Short was gunned down at the Cotton Tree pub in Droylsden, Manchester, on the evening of May 25.
His 46-year-old father David Short was found dead on August 10 following a blast at a house in nearby Clayton.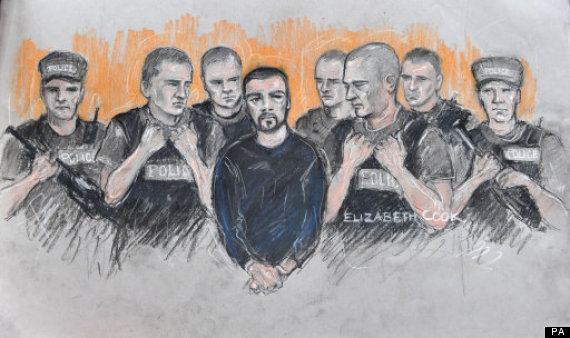 A court sketch of Cregan appearing at Manchester Magistrates' Court in 2012
Cregan along with Leon Atkinson, 35, from Ashton-under-Lyne; Luke Livesey, 27, from Hattersley; Damian Gorman, 38, from Glossop; Ryan Hadfield, 28, from Droylsden; and Matthew James, 33, from Clayton, are all accused of the murder of Mark Short and the attempted murder of three others in the pub at the time; John Collins, Ryan Pridding and Michael Belcher.
Accused of the murder of David Short are Cregan, Francis Dixon, 37, from Stalybridge, Anthony Wilkinson, 38, from Manchester and Jermaine Ward, 24.
All four are also jointly accused of the attempted murder of Sharon Hark on the same day and a single charge of causing an explosion.
Wilkinson is additionally charged with possession of a firearm with intent to endanger life and Mohammed Ali, 32, from Chadderton, Greater Manchester is accused of assisting an offender.
Cregan alone is charged with the murder of the two police officers.