Tests on a skeleton found under a car park in Leicester have confirmed that the remains belong to Richard III, archaeologists have said.
Scientists and historians from the University of Leicester announced at a press conference that DNA evidence as well as battle-inflicted injuries and the age of the skeleton suggest they were the remains of England's last Plantagenet King.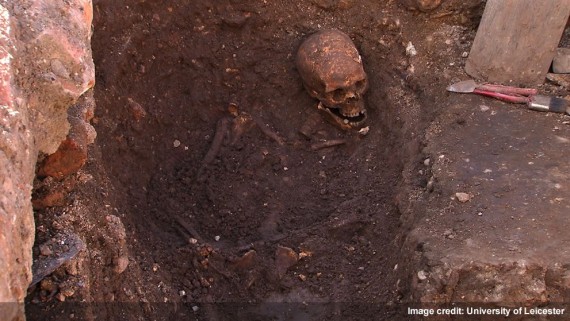 My kingdom for a hearse!
The skeleton was dated as belonging to a man who died from 1455 to 1540, and was in his late 20s to late 30s. Historians know that Richard III was aged 32 when he died at the Battle of Bosworth in 1485.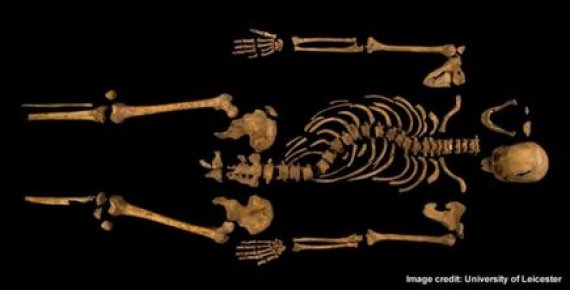 Dr Jo Appleby pointed out that many of the wounds were not inflicted in battle, but might have been sustained after death, as "humiliation" injuries, well documented in Medieval literature.
Injuries were made to his right buttock after death, Dr Appleby told the conference. These types of wounds were consistent with humiliation of his naked dead body as it was slung over pommel of a horse and paraded after the battle.
The skeleton, with a metal arrow in its back and severe trauma to the skull, was exhumed in September last year during an archaeological dig.
However archaeologists said the arrowhead had come from Roman times, and had merely been dislodged into the grave over the ages.
SEE ALSO: Twitter reacts to Richard III
The skeleton had a curved spine, consistent with accounts of Richard III's appearance. Scientists were able to prove that the scoliosis had not been present from birth, but developed when he was around ten years old.
Without the curvature of the spine, the King would have stood around 5' 8'', average for a Medieval man. However the curvature would have significantly impacted on his apparent height.
Dr Appleby told the conference: "The analysis of the skeleton proved that it was an adult male but was an unusually slender, almost feminine, build for a man.
"This is in keeping with historical sources which describe Richard as being of very slender build.
"There is however no indication that he had a withered arm - both arms were of a similar size and both were used normally during life."
Described as "deformed" and "unfinish'd", jealous, and ambitious in Shakespeare's play, which was first performed in the 1590s, King Richard was also held responsible for the murder of his young nephews. He was portrayed a shrunken hunchback. Richard III appeared at the conference via videolink
This 'vilification' was described as absurd by the Richard III foundation, and indeed, the discovery of the skeleton has proved he did not have the 'withered arm' dramatised in Shakespeare's play.
"By blaming Richard for everything, (Henry) Tudor escaped blame for anything for two hundred years, until people were at last free to pose questions" the statement says.
"Although it is obvious that Tudor had overwhelming motivation to spread malicious gossip and to smear a dead man, some cannot let go of even the most outrageous slurs."
These days loyal Ricardians battle to repair Richard's reputation but the traditional view is that Richard, while not as evil as Tudor historians said, was probably responsible for removing his nephews from the royal line. Richard III will be interred in Leicester cathedral
DNA taken from the skeleton was analysed and compared with that of Michael Ibsen, a descendant of Richard III's family. Radiocarbon tests and genealogical studies have also taken place.
The remains of the King are to be interred in Leicester cathedral, in whose shadow Richard has has lain for so long.