The businessman Tasered by police outside Buckingham Palace after brandishing a knife to his neck was driven to despair by crippling debts, it has been reported.
Talhat Rehman, 54, had lost nearly £170,000 to an alleged investment fraud and believed his only course of action was to lobby the Queen for help.
Rehman jumped the barriers at the Changing of the Guard ceremony on Sunday wielding two knives. Horrified tourists looked on as he was shot with a stun gun. The man held a knife to his throat before he was detained
According to the Daily Mail, Rehman's son, Kassum Raja, 30, said: "My father's solicitor stole £168,000 from him and when he took her to court she closed down the firm.
"He went to the police, but they said it would be a huge bundle of work for them and they told us we would have to go private. We had to hire solicitors, but it was very expensive.
"He was in a desperate situation, so he went to his Queen. He said he was going to deliver the letter to Buckingham Palace or he would kill himself."
Rehman, who had unsuccessfully stood as a Tory councillor in 2002, had previously been detained under the Mental Health Act.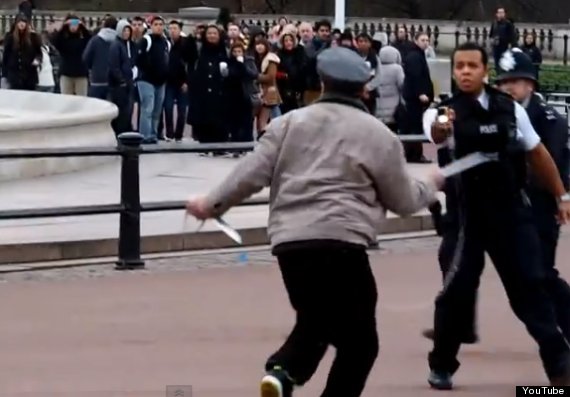 The moment the man was tasered
Last September he was arrested outside Westminster Abbey in possession of an offensive weapon. No further action was taken against him.
His debts are said to have prompted the landlord of their family-run butchers shop to try to repossess the building three weeks ago.
The family were forced to sell jewellery to cover the rent.
Rehamn appeared at Westminster Magistrates' Court on Monday, charged with possessing a bladed weapon in public and affray.
District Judge Quentin Purdy adjourned the case until Tuesday, reports the BBC.