The face of King Richard III has been unveiled to the world after a battle-scarred skeleton found under a Leicester car park was confirmed as that of the last Plantagenet king.
His noble visage had been reduced to mere bones and a quintessence of dust, but Richard III is at last to be given a burial fit for a king and will be re-interred in Leicester Cathedral next year. Richard III as he may have looked
Experts from the University of Leicester unearthed the monarch from the remains of the choir of the Grey Friars Church during a dig last September. Richard III was killed at the Battle of Bosworth Field in 1485, more than half a millennium ago.
DNA from the skeleton was found to match that of two female-line descendants - Canadian-born cabinet maker Michael Ibsen, whose mother was a direct descendent of the king's sister Anne of York, and a second person, who has asked to remain anonymous.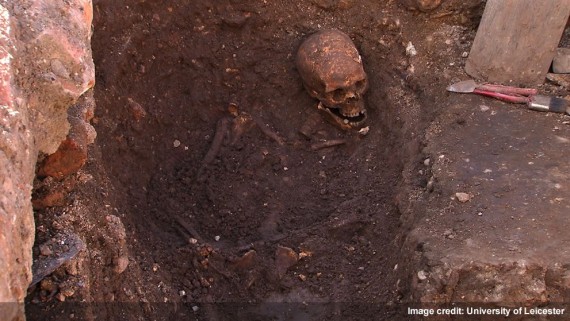 My kingdom for a hearse!
The royal remains were found in a grave which had been hastily dug and too short for him, tossed into the earth without a shroud or coffin and possibly with his hands still tied as archaeologists found him with his arms crossed at the front of his pelvis.
The bust shows Richard, who was killed at the Battle of Bosworth Field in 1485, with a large chin and nose, thin lips and prominent cheekbones and one shoulder higher than the other - as suggested by his spinal curvature.
Richard III enthusiasts hailed the reconstruction as revealing a "more pleasant" looking Richard than those of contemporary portraits and "far removed" from the image of the cold-blooded villain portrayed by Shakespeare. Richard III: a cuddlier king?
Philippa Langley, from the Richard III Society, who spearheaded the drive to discover his remains, said the most extraordinary moment for her during the project had been seeing the reconstruction of the "real" Richard.
"For me, when it was revealed, and I was looking at his face, the face was no longer the two-dimensional caricature promoted by the Tudors," she said.
"For me, that was the biggest moment, suddenly the aim of seeing the real Richard III - it was a miraculous dream really come true." Richard III appeared at the conference on Monday via videolink
Consistent with historical accounts, the skeleton showed that he died following a blow to the head; 10 wounds were found on the skeleton, with eight injuries to his skull.
The skeleton showed the king's body was more than likely subjected to "humiliation injuries" by the enemy following his death, including a sword through the right buttock.
SEE ALSO: Twitter reacts to Richard III
And in keeping with contemporaneous accounts of his curved back, the researchers found the skeleton had severe scoliosis, which would have left the king standing significantly shorter than his 5ft 8in frame.
However, there was no trace of a withered arm or other abnormalities seen in the more extreme characterisations of the monarch.
Dr Jo Appleby, from the University's School of Archaeology and Ancient History, said: "The analysis of the skeleton proved that it was an adult male, but with an unusually slender, almost feminine, build for a man. This is in keeping with historical sources, which describe Richard as being of very slender build. There is, however, no indication that he had a withered arm - both arms were of a similar size and both were used normally during life.
"The skeleton is that of an individual aged between the late 20s and late 30s. We know that Richard III was 32 when he died, and this is entirely consistent with the Grey Friars skeleton.
"Our work has shown that a large wound to the base of the skull at the back represents a 'slice' cut off the skull by a bladed weapon. We cannot say for certain exactly what weapon caused this injury, but it is consistent with something similar to a halberd. Different kinds of halberds, a weapon that came into popular use in the 14th and 15th centuries
"A smaller injury, also on the base of the skull, was caused by a bladed weapon which penetrated through to the inner surface of the skull opposite the entry point, a distance of 10.5cm (4.13 inches). Both of these injuries would have caused almost instant loss of consciousness, and death would have followed quickly afterwards.
Mathew Morris, archaeological site director, University of Leicester, said: "I'd realised the skeleton was going to be interesting as soon as Jo found the battle injuries on the skull but was still not seriously considering that it could be Richard III; so it was a bit of a shock when the curve of the spine was found.
"Then, with a lot of disbelief, there was this dawning realisation that if you had a check list of everything you wanted to see on a skeleton to say it was Richard III, this ticked every box. The enormity of the discovery didn't sink in till much later though.
"As an archaeologist it is really unusual to be given a chance to looking for someone who you can actually put a name to, who isn't anonymous but is an important historical figure with a tangible story. Sometimes it feels a bit surreal, Indiana Jones-ish even - 'The University of Leicester and the Quest for the Lost King'!"
Few details of a reburial ceremony have been announced but David Monteith, Leicester Cathedral Canon Chancellor, said the remains would be re-interred early next year in a Christian-led but ecumenical service. Richard III will be interred in Leicester cathedral
Philippa Langley, from the Richard III Society, said plans for a tomb were well advanced.
Speaking of the findings, she said: "This has been an extraordinary journey of discovery. We came with a dream and today that dream has been realised. This is an historic moment that will rewrite the history books.
"We're going to completely reassess Richard III, we're going to completely look at all the sources again and hopefully there's going to be a new beginning for Richard as well."