More snow is set to cloak the UK amidst warnings of freezing temperatures and gale force winds, less than a fortnight after blizzard conditions brought disruption to schools, airports and traffic networks.
Up to 10cm of snow will settle in places on Tuesday afternoon and many Britons will be buffeted with 60mph to 70mph gusts.
Amber "be prepared" warnings for snow have been issued by the Met Office for many parts of Scotland, including the Highlands and Western Isles, Strathclyde, the south west, Lothian and Borders and Central, Tayside and Fife areas.
In England, the north-west, north-east and East Midlands are also affected, but it is Scotland that is likely to have the coldest February for more than 20 years. Snow blanketed the UK for much of January
A yellow "be aware" alert for high winds in many regions including Orkney and Shetland, the Highlands and Strathclyde is also in place.
The Met Office said there is a 70% probability of snow or icy conditions hitting parts of England by Friday and the Arctic air is likely to continue to send a chilling draught across the sceptred isle for the whole of February.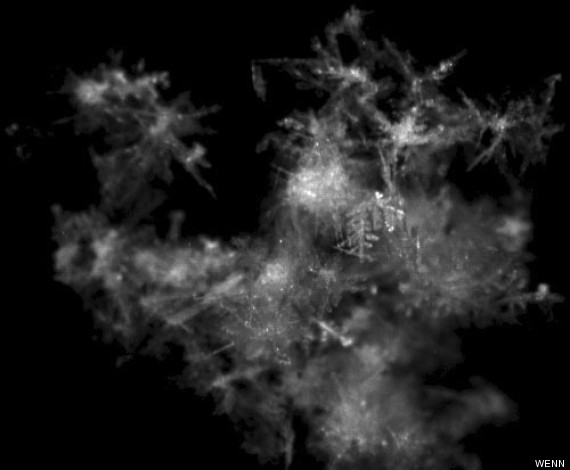 A close up of a snowflake, in case you were wondering
A forecaster with MeteoGroup, the weather division of the Press Association, said: "The worst of the snow storms will have been overnight and throughout this morning, with the risk of snow decreasing throughout the day.
"Western Scotland will predominantly get the heaviest snow, with up to 10cms, while northern Ireland and Wales will see up to 4cms and north England up to six.
"However, other areas, even in the south, might see some light snow storms, hail and sleet.
"There will also be some pretty strong winds throughout the morning, in areas affected by these snow showers, which will result in blizzard conditions." The cold snap is not yet over
The forecaster added: "By the end of the week there could be more snow storms around, and even parts of the south may see some snow."
Snowstorms brought parts of the country to a standstill at the end of January.
Hundreds of drivers were forced to spend the night in their cars on the M6 in Lancashire after more than a foot of snow fell.
Widespread floods caused by melting snow and heavy rain followed the cold snap.