The devastated parents of gifted swimmer Chloe Waddell, who was aiming for the Rio 2016 Olympics, said they will always remember her smile.
The 16-year-old schoolgirl, who had competed in the Olympic trials against Rebecca Adlington, died on Sunday after suffering cardiac arrest.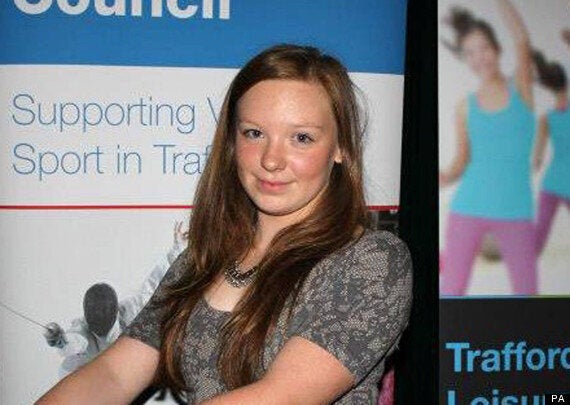 Chloe Waddell was tipped to be part of Team GB at the 2016 Olympics
Her parents, David and Fiona, who found her unconscious and tried to revive her at their home in Timperley, Greater Manchester, said they were "devastated".
"Chloe was exceptionally outgoing, extremely popular and had a wonderful smile - she was always smiling at all times and she had a kind word for everybody at all times," Mr and Mrs Waddell said in a statement.
"There was never a dark day for Chloe, everywhere she went she had lots of friends. She was charming and polite, accepting and encouraging.
"She worked incredibly hard. She loved swimming, she was very focused on it and she wanted to go as far as she could. She was also bright academically, everything she did she gave 100 percent. We are very proud of her."
Chloe, a member of both Swim Trafford and Altrincham Swimming Club, had been at an awards ceremony on Saturday where she was presented with the outstanding achievement award.
She later went to a party at a friend's house.
Detective Inspector Debbie Oakes, from Greater Manchester Police, stressed there are no suspicious circumstances.
She said: "Chloe was an exceptionally bright girl with a huge future. Her family have suffered an unimaginable loss and our thoughts are with them at what is clearly a traumatic time for them."
Details have been passed to the coroner.
A police spokesman said: "At about 8.30am on 3 February 2013, police were called by the ambulance service who had attended a house on Bryons Drive in Timperley.
"Paramedics were there to treat a 16-year-old girl who had gone into cardiac arrest.
"She was taken to hospital but sadly died."
The spokesman said Chloe had slipped and cut her lip at her friend's party, but described it as a "minor injury".
Double world open-water champion Keri-Anne Payne tweeted: "Such sad news about Swim Trafford swimmer Chloe Waddell who passed away on Sunday. Thoughts are with her family&friends."
Swim Trafford's head performance coach James Stannard said he was "deeply saddened and shocked" at Chloe's death.
He said "as a small squad, this news has rocked us".
The teenager had swum at the National and British Championships in the 200m, 400m, 800m freestyle and open water events and also won a bronze medal in the 800m freestyle at the UK School Games.
She had also been selected to attend British Swimming talent camps including an open water development camp last year.
Mark Perry of British Swimming said she "showed excellent potential", adding that "Chloe will be missed by all" and that her death is a "sad time for the swimming community".
Mark Rose, the City of Manchester Aquatics team head coach, who worked with Chloe as part of the Manchester Beacon Programme, also paid tribute.
He said: "Chloe swam at the Manchester Beacon and was a hard-working, self-motivated individual who always walked in with a smile on her face.
"Chloe and her coach James Stannard were a great partnership who worked exceptionally well together as they developed Chloe's performances and skills in and out of the water.
"Her positive frame of mind at all times is a credit to her family, her coach, James and her team at Trafford.
"She will be sorely missed and all of us here at Manchester have her family and her team-mates in our thoughts."