A Victoria's Secret shop worker who had acid hurled in her face as she walked home has revealed she feels no hatred for her attacker.
Naomi Oni was attacked at midnight by a masked woman on December 30 in Dagenham. She has spent the last month receiving skin grafts and nearly lost her sight. Naomi Oni appeared on this morning to talk about the acid attack which nearly blinded her
Of the attack, she told Philip Schofield and Jenni Falconer: "After getting off the bus I had a funny feeling... I looked behind me and I saw a person and felt shocked because I don't remember hearing footsteps or getting off the bus after me.
"I remember the person just staring at me - a cold stare. I don't remember anyone else around... as I turned my head, I just felt a splash and that's when [I thought] someone is out to kill me so I thought to myself that this person is not going to take my life. I didn't bother to look back, I just started running. I knew it was acid. It felt like something eating away at your skin..."
"When I first saw my face with the little vision that I had left, I was really really shocked and angry that someone had done that to me. I couldn't understand why someone would want to make me like that. I was asking 'why me?' and started to question many things..."
No arrests have been made and officers from Barking and Dagenham CID are continuing to retain an open mind as to the motive of the attack.
Despite the agony caused by the third degree burns and her subsequent skin grafts, Oni said she does not feel any hate towards her attacker.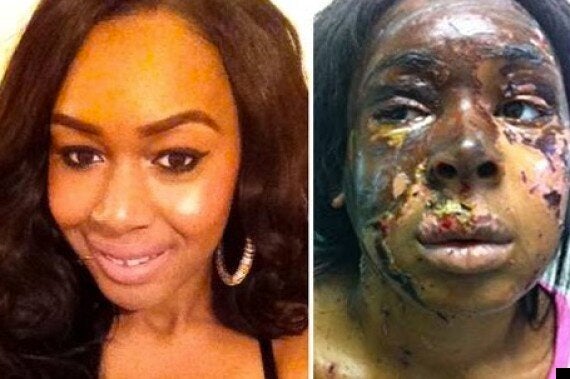 Oni has been receiving treatment for her burns since the attack in December
She said: "I just feel blessed to be alive. I have the same personality, but I'm stronger..."
Schofield asked her: "You've said 'you can burn my skin, but you can't burn my soul'... what did you mean by that?"
Fighting back the tears, Oni explained, "They may have burn my face...but me as a person, they can't do that. I wanted to be a make up artist and when I was in hospital I thought I could still be a make up artist and help people that have burns or skin problems... so helping myself, I could help these people as well."
On her attacker still being out there somewhere, Naomi said, "I just want them to realise the pain they've put myself and my family through and I hope they don't do this to anybody else. And I just want them to know that whatever they tried to do to me - they failed, because they've actually made me a stronger person. I'm actually happy... and whoever they are, if they can come out and reveal themselves, I would just like to know 'why?' - I don't hate them... I just want to know why..."
Schofield replied: "You are remarkable. And beautiful."
As Oni broke down in tears, Schofield rose to hug her and told her: "Hopefully at some stage you'll be able to get some sort of answers on why this happened and why they did this to you and hopefully someone will catch them so they don't do this to anybody else. Thank you for today and good luck with your make up course..."
Before adding, "You should get in touch with Katie Piper - if Katie's watching or her people, maybe they could get in touch with you. I'm sure there's a great deal of work you could do together."
Anyone with information are asked to call Barking and Dagenham CID on 0203 276 1058 or 07500 108 529.
To remain anonymous call Crimestoppers on 0800 555 111.