A students' union has taken out a temporary injunction to gag its own paper and stifle criticism over a legal row involving one of its student officers.
Edinburgh University's student association (EUSA) was granted an interim interdict by a Scottish court banning the publication of an article which was scheduled to appear in The Student.
The Student, a paper run by student journalists at the university and funded by the student association, was due to publish details of the suspension of Max Crema, vice-president of services at the union.
Crema, who was suspended in July, has been surrounded by mystery after EUSA officials said he was out of the office "for personal reasons". But, according to The Journal, The Student's rival publication, Crema was formally suspended amid rumours of a soured relationship with the EUSA.
As a result of the interdict, The Student was forced to withhold thousands of copies of its 22 January edition. Despite the efforts of the EUSA, The Student ran a front page article on the interdict in its latest edition: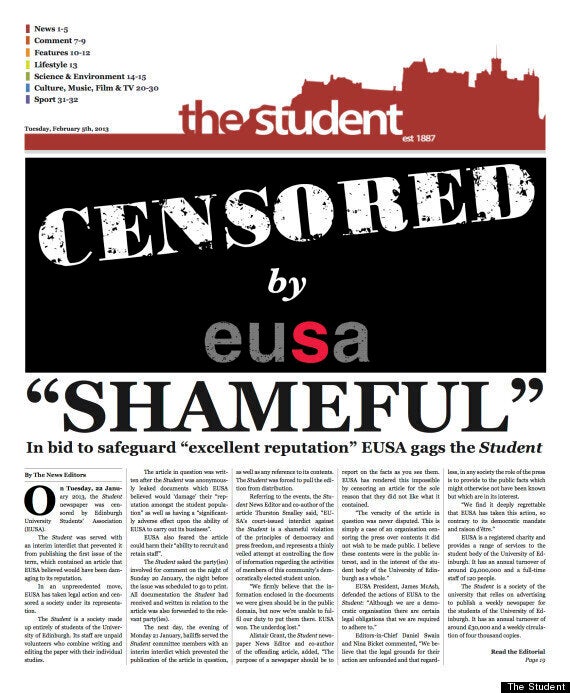 The most recent edition of The Student, which was issued on Thursday
The controversial splash has since earned the praise of several Edinburgh students, one who tweeted:
According to The Journal, the interdict, handed down by Lord Jones on 21 January, also forbids The Student from publishing "any material purporting to suggest that the pursuer is an organisation which is poorly governed and whose management are inexperienced and unaccountable". The paper has also been ordered to pay EUSA's legal costs, it has been reported.
Daniel Scott Lintott, film editor at The Student, told The Huffington Post UK: "Unfortunately, due to the interim interdict, I am unable to disclose the nature of the article that was not distributed.
"However, I believe that we had a duty to publish the information in as it is in the public interest. Part of the process by which EUSA is held accountable is through student media, which is one of the few checks on the power of elected officials."
He added: "The action of some of EUSA's sabbaticals is clearly contradictory to the organisation's ideals of democracy, free speech and open debate. They have stifled the voices and flouted the interests of the students of the university that elected them."
"Yet that is where we stand today, with the news that Edinburgh University Students' Association have taken the dramatic, disgraceful and thoroughly illiberal step of dragging their own newspaper through the courts in a bid to suppress information about union governance and sordid internal politicking."
Budding reporters at the university were slapped with a code of conduct and ethical standards letter and told "read this and sign it" by the student union's media officer. The move followed a controversial article about student union officer Joey Guy being published in UCLan's student paper Pluto.
The EUSA has been contacted for comment by HuffPost UK but has not replied.