On Friday afternoon, frozen food giant Findus reiterated its apology over some of its beef lasagne products containing horse meat, saying it was "sorry that we have let people down".
Findus also confirmed it carried out a full product recall on Monday, two days before DNA tests confirmed that some of its products contained up to 100% horse meat and it alerted the Food Standards Agency, but chose to ignore claims by Labour MP Tom Watson that it sent a letter to retailers on Monday warning that a France-based supplier had told it there may be problems with raw materials delivered since 1 August 2012.
A Findus spokesman said: "At Findus UK our first priority is our customers and providing quality products they can trust. But we know that many people have been concerned by the news this week that tests have shown that some of our Findus beef lasagne has been found to contain horse meat.
"We understand those concerns; we are sorry that we have let people down."
But is saying sorry enough? Can Findus ever restore consumers' faith in its frozen food convenience foods, following this disaster?
"Findus is in a different position to the supermarkets such as Tesco, Waitrose, Sainsburys etc in that is it a supplier of branded products only," said Ken Penton, chief executive of Three Cliffs Consulting.
"Unlike the supermarkets, Findus does not have a direct relationship with its customers, which is both an advantage and a disadvantage.
"It is clear that Findus's brand has suffered reputational damage, as much as a result of them not being transparent with the public as soon as they knew there was a concern about their beef lasagne product, as the actual presence of horse meat in it."
Analysis of Findus's reaction
Jonathan Hemus, director at communications firm Insignia, said despite the press released apology, Findus could have handled the situation better, adding it looked on the outside as though it had been caught "underprepared" for the media onslaught that followed.
"Findus does have a statement about the situation at the bottom of its homepage and on its contact us page, but it looks as though it has been hastily put there without any thought as to its design or positioning, and it lacks a heading of any kind," he said.
"Findus's homepage also proudly proclaims that it uses 'only the best ingredients' and another page exclaims 'you can trust us' alongside a picture of a 'beef' lasagne. On a normal day, these messages are fine. Today, they look hollow, unprofessional, or even bad taste jokes."
Hemus also criticised the firm's use (or lack of) social media - Findus' twitter profile hasn't been used for more than two years. There's also a link to Facebook, but that does not lead to a Findus page either.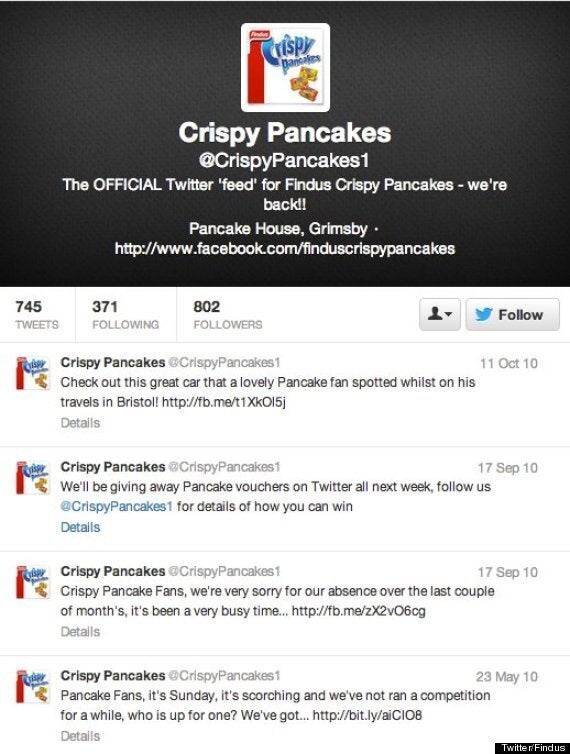 Findus's twitter profile as of 8 February, 2013
Findus also reportedly failed to find a spokesman to speak on Radio 4, meaning an opinion-forming programme discussed the situation without the company having any opportunity to shape that discussion.
"If you manage a food company, one day your products will be contaminated. If you run an airline, one day, one of your planes will crash. If you make cars, one day there will be a safety recall. And all of these situations are recoverable. But only if you engage in crisis management planning and training beforehand," Hemus concluded.
Lessons from other manufacturers
Hemus's point bears repeating - all manufacturers will face a crisis at some point, so it's worth drawing on lessons from other PR disasters to see the best (and worst) ways to deal with a crisis.
Ironically, a textbook example of effective crisis management in the food sector was demonstrated by Tesco in its response to the initial scare around horsemeat in burgers, according to several of our experts.
"An immediate product recall demonstrated that Tesco had the will and ability to take whatever action was necessary to deal with the problem. The immediate provision of a spokesperson for the media allowed them to quickly communicate their position to customers rather than becoming swamped by the views of others," said Hemus.
"Full page newspaper advertisements saying 'we're sorry' showed empathy for its customers and took the heat out of the issue."
In Canada, Maple Leaf Foods handled a listeria in 2008 with an immediate recall, an apology which showed empathy with their customers, and by putting the firm's chief executive Michael McCain into regular press conferences.
The company also posted an apology on its web site, and another company spokeswoman did interviews in a wide range of media. The firm also ran TV spots and took out advertisements in newspapers, as well as running blogs updating customers on their progress.
Another option is to throw a lot of money at the situation. In 2006, Cadbury's admitted one of its plants had been contaminated with salmonella. A report commissioned by the government's Food Standards Agency found that Cadbury was using an out-of-date approach to risk assessment and product testing for salmonella contamination.
It took six months for Cadbury's to come clean about the contamination. It then spent £10 million recalling the faulty goods, but another £10m was spent on advertising costs for a major new campaign and "manufacturing improvements". Cadbury's helped restore its reputation by throwing a lot of money into advertising
"People have fairly short memories and Cadbury's was able to move on and keep people buying their chocolate," Richard Matthews, partner at Eversheds told the Huffington Post UK.
"There's only so much you can do at the time other than say you're sorry and that on this occasion your stringent processes weren't working. The question then becomes what do you do afterwards to rebuild your reputation in the long term - Cadbury's spent money on advertising."
Not everyone was convinced by that approach however. Hemus told the Huffington Post UK the juxtaposition of a wholesome, family brand like Cadbury against corporate behaviour which seemed to put business interests ahead of health, led to the largest ever ratings drop for a brand in the YouGov Brand Index.
"When confronted by a product recall crisis, brands and business must act quickly – over-act if necessary - to reassure customers that they are safe and that the company cares," said Hemus.
They should also communicate pro-actively, provide a media spokesperson, post information to the company website, tweet frequently and offer a telephone hotline.
Lawyers may advise executives never to use the word 'sorry', but it resonates with the general public, so brands should consider it. And ultimately, the brand should behave consistently with its values.
"If you position yourself as a caring, wholesome brand, you'd better live these values in the crisis. Act contrary to them and the damage can be huge," Hemus concluded.
Examples from across the Atlantic show our Canadian cousins are more on the ball when it comes to crisis management.
At the opposite bottom of the scale was Perrier, which suffered a huge reputational blow in 1990 when a laboratory in the United States found Benzene, a carcinogen, in several bottles.
Perrier stated that it was an isolated incident of a worker having made a mistake in the filtering procedure and that the spring itself was unpolluted. The incident ultimately led to the worldwide withdrawal of the product, some 160 million bottles of Perrier.
"Because of the nature of Perrier's process, there was potential for benzene to get into the product, which meant consumers lost a huge amount of confidence in the brand - it even impacted on others in the sparkling water community," said Matthews.
"It lost a huge market share in a very small amount of time - why? Because it initially denied there was a problem, then blamed others, and was eventually forced to backtrack, all of which made the coverage of the situation last longer - right up until it was sold in 1992. What should Findus do now?
In order to repair the damage done, Findus must be open, proactive and above all transparent, communications experts agree. And it mustn't try to pass the buck on to anyone else.
"Blaming a third party doesn't work, people want to see you take responsibility and prove that you can learn lessons quickly," Jonathan Jordan, chief executive of Sermelo told Huff Post UK.
"It's not a time for spin or using clever PR tricks; you just have to face up to the situation, ahead of everyone's expectation if possible. You can never totally turn a negative into a positive, but you can mitigate the damage."
"They want to be proactive and not shy away from the media - it needs to look like they are accepting the responsibility for their actions," said Matthews.
"If I was advising them, I'd suggest they look for ways to differentiate themselves from others in the marketplace too, ways in which they can stress the confidence customers can have in them and show the public why they should come back to them."
Three Cliffs Consulting's Penton told the HuffPost UK Findus's position was made more difficult because they were at the value-range end of the food spectrum.
"Nonetheless, Findus should consider announcing that they are putting extra resources into supply chain management so that customers can have confidence in their products - making a virtue out of a necessity - and challenging the rest of the industry to follow their lead," he suggested.
"I'd also put more resources into their communications. It appears that because they got rid of their communications team because of cost cutting and were caught flat-footed by this, which has made a bad situation worse. This is a clear case of a false economy - in the words of the Joni Mitchell 'you don't know what you've got til it's gone'."
Related