Gary Neville has branded Real Madrid forward Cristiano Ronaldo a "bully" who is merciless against the weakest defenders ahead of the La Liga side's Champions League tie with Manchester United.
Wednesday's first leg in the Bernabéu will be the first time Ronaldo has faced his former side and Neville, who played alongside Ronaldo between 2003 and 2009, is in awe of his former teammate.
"Ronaldo is a bully," Neville told the Press Association. "He bullies the weakest defender. He does it all the time.
"He did it to Manchester City against Maicon. He will play on the left wing. If he can't get on the ball he will play centre-forward, midfield, right wing."
Neville recalls watching United's 2003 friendly to open Sporting Lisbon's José Alvalade stadium on television when an 18-year-old Ronaldo tormented his defensive colleagues, including his brother Phil.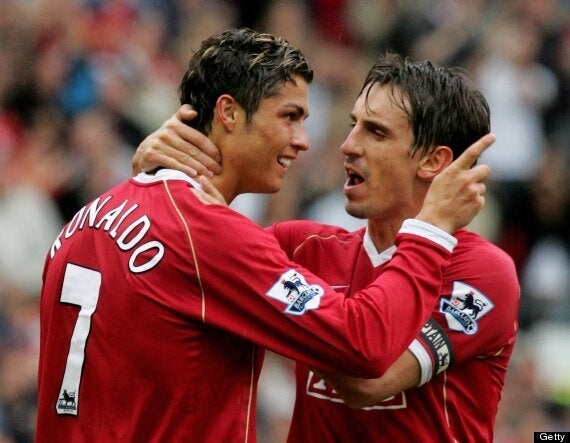 Neville congratulates Ronaldo after his assist for Ole Gunnar Solskjaer against Newcastle in 2006
"I watched that game at home and texted my brother afterwards saying 'we have to sign him'," Neville added.
"He did certain things that night which were exceptional.
"When Ronaldo came to United he was physically underdeveloped. He had to cope with moving away from home and learning another language.
"But he had the right people around him and a manager who allowed him to flourish."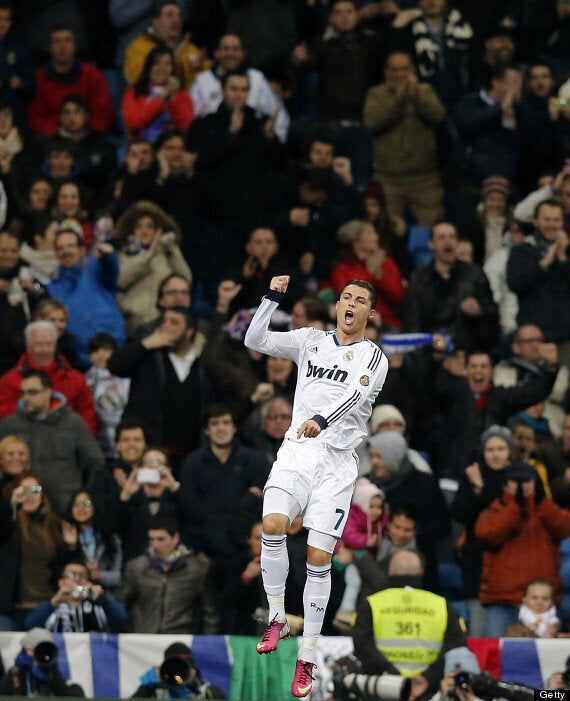 Ronaldo hit a brilliant weekend hat-trick against Sevilla
The former United captain, who will be in Madrid in his role as a pundit for Sky Sports this week, claimed the fallout from the 2006 World Cup - when Ronaldo was vilified after Wayne Rooney was sent off against Portugal - turned him into a "completely different person".
"He had gone from a featherweight, making the wrong decisions in the last third of the pitch, to a light-heavyweight.
"I cannot think of any player who graced Old Trafford like he did for two seasons," Neville waxed.
Ronaldo enjoys a light moment with his skipper during training in 2009
"Now, he is a monster. I saw him on Saturday evening [in Madrid's 4-1 win versus Sevilla]. He picks the ball up in an innocuous position, 30 yards out, does some type of shimmy I can't even describe let alone do, beats a man and whacks it in from 25 yards.
"You can't defend against that.
"Then he scores a counter-attack goal when he chases 80 yards forward, then he preys on the back of the centre-half and scores a hat-trick inside 30 minutes."
Neville also believes Ronaldo belongs in the pantheon of footballing greats along with Pelé, Diego Maradona and Barcelona's four-time Ballon d'Or winner Lionel Messi, having scored 182 goals in 179 games for Real in less than four seasons.