A couple accused of killing their six children in a house fire started the blaze as part of a "plan that went horribly wrong", a court has heard.
Mick and Mairead Philpott allegedly started the fatal fire at their semi-detached home in Victory Road, Derby, on May 11 last year.
The family shared an unconventional lifestyle - Philpott, 56, his 31-year-old wife Mairead, and his mistress Lisa Willis, 28, all lived in the same house together.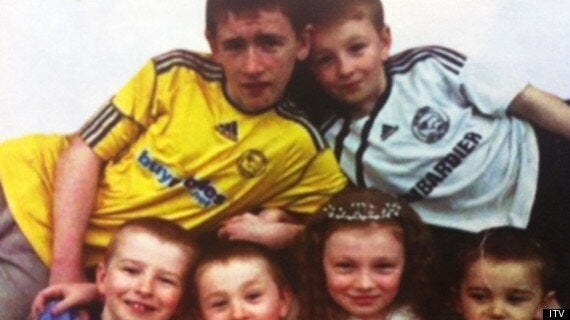 Six of the Philpott children were killed in the house fire
A total of 11 children also lived in the property - six were those of Mick and Mairead Philpott, while four were his children with Ms Willis. Another child was Ms Willis's with a different father.
Mick and Mairead Philpott's children - Jade, 10, and her brothers John, nine, Jack, eight, Jesse, six, Jayden, five, and Duwayne, 13 - all perished after the fire which engulfed their home as they slept in their beds.
The couple, along with a third defendant, 46-year-old Paul Mosley, have all denied six separate counts of manslaughter in relation to the deaths.
At the start of their trial at Nottingham Crown Court today, prosecutor Richard Latham QC told the jury of six men and six women that the Philpotts, Ms Willis, and the 11 children had all lived in the house together until February 11 last year.
He said the fire, three months later, was no accident and had been started using petrol in the hallway of the house.
"We say that this was a plan that went horribly wrong and resulted in total tragedy," Mr Latham said.
Mr Latham told jurors they were trying and would ultimately decide the verdict of the case on evidence that the actions of the defendants to any "sober and reasonable person" were unlawful because starting the fire with the children in the house would put them at substantial risk.
"This is not a murder trial," he said.
"What is alleged is that these children died as a result of the unlawful acts of these defendants who, we say, were acting together in a joint enterprise, setting a house fire.
"They are criminally responsible for the deaths as a result of setting the fire for some motive, for some other perceived advantage."
Mr Latham told the jury it was a "whodunnit trial."
He said the jurors had to decide if the fire was an inside job or was started by someone else.
The unconventional living arrangements of the Philpotts were laid bare for the jury. P
They heard that the three-bedroom semi-detached home, owned by Derby Homes, had a games room with a full-length snooker table and a conservatory.
A caravan and a minibus were parked in the driveway, blocking access down the side of the house at the time of the fire.
Mr Latham said that while Ms Willis and her children were living at the three-bed house in Victory Road most of the children normally slept upstairs while Mrs Philpott slept in either the living room or the conservatory.
Mick Philpott slept in a caravan outside with Ms Willis.
The adults had a sexual relationship but Philpott had often said he was unhappy with his wife, jurors heard.
"He often expressed the view he preferred his relationship with Lisa Willis to that he had with his wife Mairead," Mr Latham said.
"He had spoken of divorcing Mairead - not separating from her but divorcing her - in order that he could make Lisa Willis his wife.
"He wanted to change their status but he wanted them both to still live in the house."
Ms Willis had become unhappy with the relationship, Mr Latham said, but had not expressed her feelings to Philpott because she was worried about his reaction.
"Unbeknown to Michael Philpott, Lisa Willis got to the point where she found the whole domestic set-up unacceptable.
"She knew that to simply announce to Michael Philpott that she found the relationship set-up unacceptable would provoke a singularly unpleasant reaction.
"He was the one who made the decisions, the women did not."
On Saturday February 11, Ms Willis told him she was taking her children swimming and did not return home, the jury heard.
"We say that this event was the catalyst for everything that was to follow," Mr Latham said.
He said Philpott was deeply troubled by the fact Ms Willis had left him and taken his children.
"He wanted the children back with or without her. He just wanted the children."
Court proceedings began in due course and on the morning of the fire, which happened in the early hours, Ms Willis and Philpott had been due in court to discuss residency of the children.
The court heard that Ms Willis met Philpott when she was 17 or 18 and he was about 45.
She already had son Jordan and they moved into the Victory Road house a short time after meeting Philpott.
"Her sexual relationship with Michael Philpott started after she had been living there about three weeks," Mr Latham said.
"Almost from the outset he sought to exert total control over her."
Her wages from a cleaning job were paid into his bank account, as were her benefits.
When she decided she could no longer remain in the relationship she went to stay with her sister, Amanda, before staying in a women's refuge.
She returned to the home with a friend on February 14 to collect clothes for her and the children and was challenged by Philpott.
"There was an incident on the doorstep, Philpott manifesting huge aggression and the police were called," Mr Latham said.
"What she had done challenged the very core of his attitude to his family and his women.
"She had stood up to him, he was no longer in control and that was absolutely unacceptable to him."
Popular in the Community