Mick Philpott, accused with his wife of killing their six children in a house fire, made a desperate attempt to avoid hearing in court a 999 call made on the night of the fatal blaze.
Nottingham Crown Court was played the recording in which Mairead Philpott can be heard trying to explain to a 999 operator that her children were trapped inside the burning building.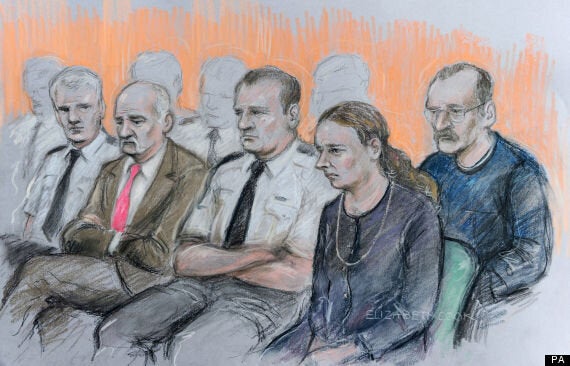 Mick Philpott attempted to leave the dock as the 999 call was played
As the call recording began to be played to jurors, Mick Philpott, who had been sitting quietly in the court, shouted "I can't listen to it" and stood up, seemingly trying to get out of the secure dock.
He was seated again by two male security officers who flanked him and spent the remainder of the call playback leaning forward with his head close to his knees and his hands clamped over his ears.
Philpott, dressed in a black suit and checked shirt, could be seen sobbing and grimacing as details of the chaotic scene unfolded on the recording.
The call was made from his mobile phone at 3.46am as the fire took hold of the three-bed house in Victory Road, Derby.
Mairead Philpott, 31, told the call handler: "My house is on fire and my kids are inside."
She is heard frantically trying to tell the operator what had happened and screaming at the scene before her.
Her husband, 56, later takes the phone to talk to the call handler and, though difficult to understand through his sobs, is heard saying: "I can't get in." The Philpotts are accused of setting fire to the family home which killed six children
Trial judge Mrs Justice Kate Thirlwall told Philpott's barrister, Anthony Orchard QC, that he did not need to remain in court if he was too distressed.
Mr Orchard told the judge it was the first time his client had heard the recording, which had resulted in him being so distressed.
Mick and Mairead Philpott's children - Jade, 10, and her brothers John, nine, Jack, eight, Jesse, six, Jayden, five, and Duwayne, 13 - all perished after the fire at their home in Victory Road, Allenton, Derby, in the early hours of May 11 last year.
The couple, with a third defendant, 46-year-old Paul Mosley, have all denied six separate counts of manslaughter in relation to the deaths.