A father accused of killing his six children was overheard on the phone saying someone being interviewed by police was going to "drop us in it", a court heard on Friday.
Mick Philpott, 56, was allegedly heard making the comments on the phone days after the house fire in which his six young children were killed as they slept in their beds.
At his manslaughter trial at Nottingham Crown Court, Claire Tyler, who worked with Philpott's wife and co-accused Mairead at the Royal Derby Hospital, told jurors she heard his side of the conversation. The house fire in Derby killed six young children
Her testimony came as it was revealed Mrs Philpott asked for some time off work because she was pregnant and looking to go to the doctor for a termination.
Shaun Smith QC, Mrs Philpott's barrister, asked Ms Tyler: "It's the case, isn't it, that she had had sex with another man and the child was a result of that?
"And that was when Mick was there, that she had had sex with another man?"
Ms Tyler, who had known Mairead Philpott for around seven years when they worked together as hospital cleaners was giving evidence at the trial in which Philpott and his 31-year-old wife are accused of the manslaughter of their six children. A third defendant, 46-year-old Paul Mosley, also stands accused of the same charges.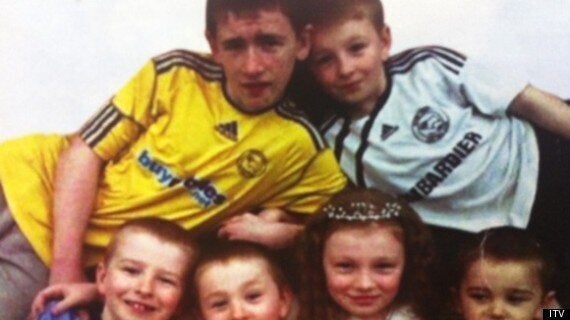 Six of the Philpott children were killed in the house fire
Jade, 10, and her brothers John, nine, Jack, eight, Jesse, six, Jayden, five, and Duwayne, 13, all perished after a fire which engulfed their home in Victory Road, Allenton, Derby, in the early hours of May 11 last year.
All three defendants have denied the charges.
Ms Tyler also told the court that Mrs Philpott had told her about her triangular relationship at home.
Mrs Philpott and her husband lived at the property in Victory Road along with Lisa Willis, 29, who was Philpott's mistress.
A total of 11 children also lived there - six were those of Mr and Mrs Philpott, four were Miss Willis's who were fathered by Philpott, and one child was Miss Willis's from a previous relationship. Mick Philpott and wife Mairead following the fire at their home
Ms Tyler said Mrs Philpott told her when Miss Willis left the family home with her five children in February, and the effect it was having.
"She was getting blamed for Lisa going," she said.
"Blamed by?" Mr Latham asked.
"Her husband," Ms Tyler answered.
The court heard that Mrs Philpott was taken into hospital about a month before the fire after she had taken an overdose of pills.
Ms Tyler went to visit her, she said, and found Mrs Philpott in a hospital bed with her husband in the room with her.
Ms Tyler said she and some other friends asked her why she had done it but Mrs Philpott did not reply.
"She didn't answer, Mick answered for her," she said.
"He said she did it because she loved them kids." Mick Philpott (second from left) and wife Mairead (second from right) appear at Nottingham Crown Court along with Paul Mosley (right) ahead of their trial
Ms Tyler said Mrs Philpott was "bubbly" and "very talkative" at work.
"She loved her job," she said. "She saw it as a break to get away from her home life and children."
As soon as her husband would pick her up at work and she got into the van, her mood would change "instantly", Ms Tyler said, and she would become subdued and even agitated.
She saw Mrs Philpott and her husband at the hospital on a number of occasions after the children had died.
Mrs Philpott was "very upset", she said, while Philpott seemed "just normal".
Mrs Philpott did not have any money on her at work apart from a tub of small change she kept in her locker, jurors heard.
It was out of this that she would use money to join in with her colleagues when they played the National Lottery.
When the staff won small amounts of money, Mrs Philpott's share would be taken by her husband, Ms Tyler said.
In cross-examination, Anthony Orchard QC, defending Philpott, suggested to Ms Tyler that when she heard Mr Philpott say
"he's going to drop us in it," she only heard one side of the story.
Tyler had previously told the court she heard Philpot say "he has not got the story right. He's going to drop either us or me in it."
Mr Orchard said she only heard one side of the conversation, that she did not know who Philpott was talking about, she had not made any notes of what exactly he had said, and that the man he was said to be talking about had nothing to do with this case.
Ms Tyler agreed with Mr Orchard's submission.
Comments have been closed for legal reasons.
Popular in the Community