Israeli Prime Minister Benjamin Netanyahu has come under fire after it was revealed his household budgeted £1,750 (or 10,000 shekels) of state funds for luxury ice cream.
According to Calcalist, the PM's office had applied to award the contract to indulgent ice-cream parlour Metudela on Balfour Street because "catered to [Netanyahu's] personal tastes" of vanilla and pistachio. Netanyahu's favourite flavours were said to be vanilla and pistachio
They also reported a request for a larger ice cream budget had been filed, despite the sweet allowance already providing the PM to eat 167 kg of ice cream a year under the annual allowance. That's 14kg per month.
The Prime Minister's Bureau said the budgeting was merely "a master contract meant to accommodate guests at the prime minister's official residence, and did not necessarily mean the entire sum would be spent" according to Haaretz.
However Netanyahu has became a figure of fun both on the internet and in Israeli media following the revelations, with Labour leader Shelly Yacimovich posting a picture of him with an ice cream cone photoshopped in his hand and the slogan "If there's no bread, let them eat ice cream."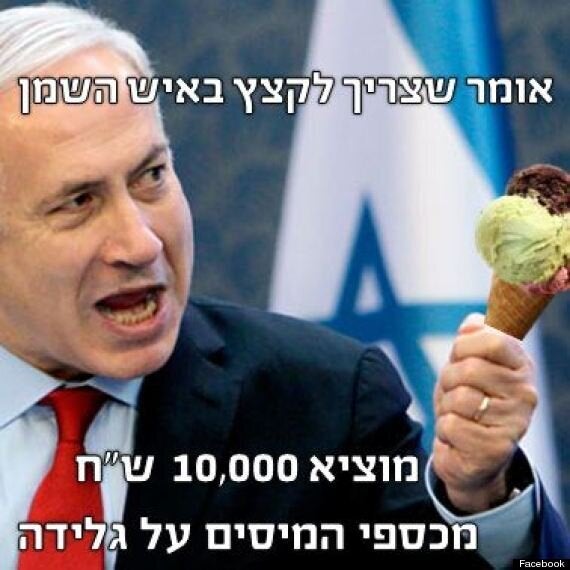 Yacimovich compared Netanyahu with Marie Antoinette
Her reference to a quotation often attributed to Marie Antoinette reflected the anger many feel at Netanyahu's perceived hypocrisy over the ice cream budget as he attempts to pass tough austerity measures through parliament.
He was dubbed 'the Mr Whippy' of politics by some users of Twitter, while others supported the Israeli leader's lip-smacking habit, saying his love of the icy snack earned him their vote.
Netanyahu has now cancelled the budget, according to the Jewish Chronicle, saying he was not aware of the spend and that it was "unacceptable."
Related