Just days after Poundland made headlines after what critics dubbed the "slave labour" of workfare graduates in its stores, a Banksy artwork depicting a child in a sweatshop making Jubilee bunting has been ripped from the wall of one of its stores - and put up for auction in the US.
The artwork, named "Slave Labour", was on the wall of the Turnpike Lane store in north London - but workmen removed it at the end of last week, plastering it over.
Lib Dem MP Lynne Featherstone has vowed to investigate the graffiti's removal.
The original artwork on the wall outside Wood Green Poundland
It is due to go under the hammer on Saturday.
Featherstone, who MP for Hornsey and Wood Green told HuffPostUK: "The Banksy piece added something different to Turnpike Lane and attracted many people to the area.
"It's a huge shame to have the piece ripped from the building and bizarrely put up for auction in the States, for hundreds of thousands of pounds. This just isn't right.
"Poundland have said that they are not responsible, but I want to find out who is.
"I will be making enquiries today to Poundland and the building owners, and will keep residents updated. I will also make sure that the company auctioning the piece are aware of the situation."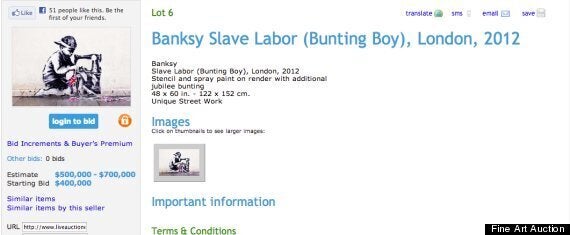 The artwork was put on this auction site
The building's owners are believed to be the ones who ordered its removal and sale, although this has not been confirmed.
A Poundland spokesperson said: "We lease the premises from a landlord and were as shocked and surprised as anyone at the removal of the Banksy artwork.
"We understand the upset this has caused and in no way do we condone the removal of the artwork, without proper consultation with the community."
On the site it is described as a "Unique Street Work" with the materials as "Stencil and spray paint on render with additional jubilee bunting."
It depicts a small child hunched over a sewing machine, making jubilee bunting.
The removal of the artwork has caused local outrage, with local councillors like Joe Goldberg and Alan Strickland vowing to find out who is responsible. It also caused fury on social networks, with people tweeting under the hashtag #saveourbanksy.
Councillor Strickland said the Banksy had been placed behind a perspex screen after it was painted, to protect it, but it did not save it from whoever removed it.
He told HuffPostUK that he still believed the piece could be saved from sale. "We have got a lot of publicity now and whoever owns it will know we are trying to track them down. I want to know why whoever took it thought they had the right to take our Banksy, to take the artwork out of our borough.
"We're asking for the auction house to remove the Banksy from sale, and I'm urging people to email them."
Haringey TUC, the North London Trades Council has demanded that Poundland answer questions over how much it knew before the graffiti was removed.
Local TUC secretary Keith Flett told The Huffington Post UK: "Poundland must have known someone would be coming to bore a hole in the wall and do some building work.
"You would have thought they might say 'hang on, in the week where we've had all this bad publicity, perhaps we had better say something?'"
The piece appeared during last year's Jubilee celebrations and became something of a tourist attraction and a local cause celebre.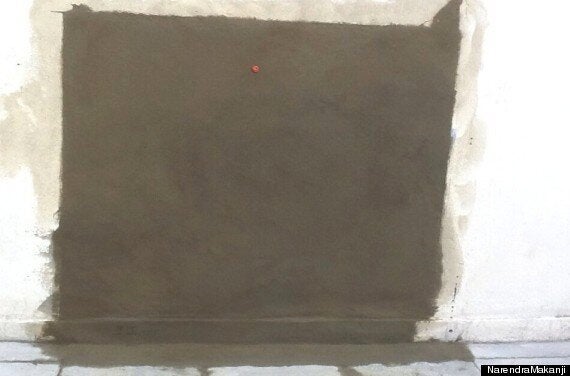 The hole where the Banksy has been removed
Flett continued: "People in the area were proud of the Banksy and many were in sympathy with the point it made. Works of art like this should not be sold off for private profit as it appears is happening.
"We need to hear from Poundland what they think has taken place here and why. They may not be ultimately responsible but it seems unlikely, as it is the wall of their shop, that they didn't know anything about it."
He added: "This is an area which does not have much in the way of tourists attractions of artworks and it was a real draw to bring people here.
"All we can hope for is that Banksy comes back and redoes it, or does something new. Hopefully on the wall of a Haringey council building, where it can't be sold off."
Related