Actvision and Halo-creators Bungie have finally revealed Destiny, their "next-generation" first-person action game.
Yes, while a lot of the press attention around the game today has focused on whether or not Bungie wants to kill the mouse, the game itself looks brilliant. Imagine Halo set in a world as massive and dynamic as World of Warcraft, with the depth of Mass Effect.
That's roughly what we're hoping for here - and the first dramatic concept art from the developers gives us the impression they can deliver.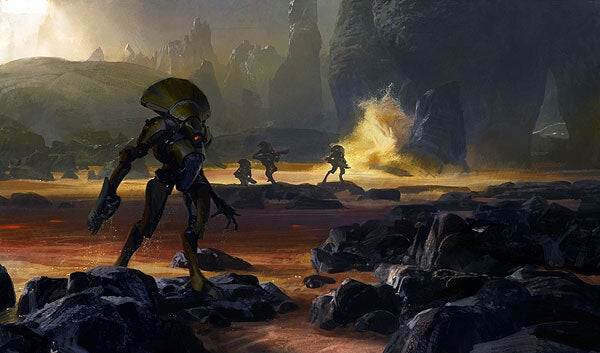 'Destiny' Concept Art
Otherwise there are few details about the game as of yet - including what systems (announced or unannounced) it will appear on, but we can't wait to find out more.
Players will take the role of 'Guardians', drafted to battle alien species set on destroying humanity's last remaining city, Activision explains:
"Set in the distant future, Destiny casts players as Guardians of the last city on Earth, who will traverse the ancient ruins of our solar system from the red dunes of Mars to the lush jungles of Venus.

Able to wield incredible power, players must battle humanity's enemies and reclaim all that was lost during the collapse of mankind's Golden Age. In a story-driven universe,

Destiny's saga unfolds through grand tales and sweeping adventures by immersing gamers in a bold new world filled with cooperative, competitive, public, and social activities, all seamlessly connected."