The common consensus is that Patrick Vieira's final kick of a football in an Arsenal shirt started the drought. His winning penalty in the fortuitous 2005 FA Cup triumph against Manchester United on a rain-drenched May day in Cardiff secured the club their last trophy to date, although Tottenham fans may jokingly suggest it was the Emirates Cup. Yet the cracks of Arsenal's invincibility were already patent following a chastening defeat away to Bayern Munich.
Bayern still boasted survivors from their Champions League traumas and triumphs in 1999 and 2001 but were probably a weaker side than Arsenal. Then the game started. Claudio Pizarro was the arch menace, scoring after only three minutes and then doubling the advantage just before the hour mark. Hasan Salihamidžić made it 3-0 soon after against England's champions, 11 points behind champions elect Chelsea back home.
Kolo Touré's 88th minute away goal masked a contest which was so one-sided Arsenal fans took to having a snowball fight in a freezing Olympic Stadium. They won the second leg, but only via a solitary goal, and exited Europe at the last 16 stage.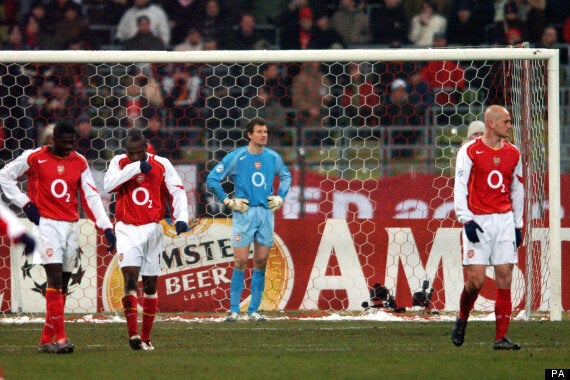 Touré, Lauren, Jens Lehmann and Pascal Cygan feeling morose in Munich
Although United ended Arsenal's unbeaten league record and inflicted a first home league loss in almost two years upon the Gunners, Wenger's team had not been taught a comprehensive footballing lesson like the one Bayern presided over in years. The Invincibles, supposedly the greatest club side to have graced English football, had just the FA Cup to play for less than a year after their triumph.
Three days before the misery in Munich Arsenal drew at home to Sheffield United in the cup and only progressed past the Blades thanks to a penalty shootout in the replay. This was a seminal period for Arsenal and Wenger, who, like Sweeney Todd, opted for desperate measures. Whereas Todd took a blade to his customers, Wenger took a blade to his own principles.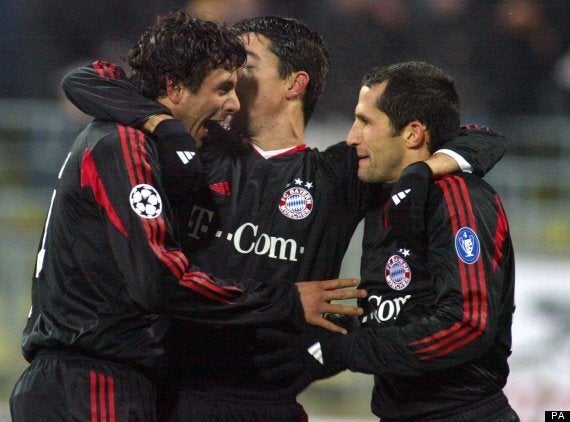 Pizarro and Roy Makaay celebrate Salihamidžić's goal
Come cup final day, an Arsenal side not managed by George Graham and bereft of Thierry Henry resembled an expert catenaccio outfit and prevailed via a shootout. Ironic how the Arsenal player who danced a jig of delight most animatedly in front of crestfallen United supporters was Robin van Persie.
If one told Wenger the club's trophy drought dated back to the Premier League title in 2004 the chances are he may not correct you, so uneasily does the club's 10th FA Cup win rest with him. Wenger has made no secret of how he abhors anti-football yet the hypocrisy is laid out over 120 minutes in that final.
This philosophy served Arsenal well as they reached the Champions League final the following year without conceding a goal in six knockout games. They scored just four in the process against Real Madrid, Juventus and Villarreal as their league form suffered to such an extent that, bar some dodgy lasagne, they would likely have finished behind Tottenham in 2006. Yet defeat in Paris to Barcelona was the first of three losing finals in the post-2005 era.
Perhaps compelled to alter the team's style after their pasting in Germany eight years ago, Wenger has rarely revisited it, deciding the best form of defence is attack against teams from Barça to Blackburn to Bayern. And familiar foes Bayern are, as Danny Baker said, likely to ensure the police horses outside the Emirates come into contact with silver ware before the team.