Sports star Oscar Pistorius has returned to court where his lawyers will continue their fight to keep the Paralympian, accused of murdering his girlfriend, out of prison.
He arrived at the court in Pretoria, South Africa, in a police car with a blue blanket covering his head.
Yesterday, on the first day of his bail hearing, the court heard the Paralympian claim he shot his model girlfriend Reeva Steenkamp because he thought she was a robber. Olympian Oscar Pistorius, foreground, stands following his bail hearing
But chances of him being given bail seemed slimmer when magistrate Desmond Nair ruled the case a schedule six offence - meaning premeditated murder.
It means his lawyers now have to prove "exceptional circumstances" to have any chance of him being bailed until he goes on trial.
The gold-medal winner, known as the Blade Runner, is accused of murdering Miss Steenkamp at his home in Pretoria, South Africa, last Thursday.
Pistorius's lawyer, Barry Roux, read out a statement to a packed courtroom in Pretoria which gave his version of the events that led to Miss Steenkamp's death.
The 26-year-old denies murder and said the couple were "deeply in love".
In the statement, the defendant said he felt vulnerable because he was not wearing his prosthetic legs. He claimed he fired his gun into the bathroom, but then realised Miss Steenkamp was not in his bed.
"It filled me with horror and fear," Pistorius said.
Upon realising his mistake, he put on his legs, walked towards the bathroom and broke down the locked door with a cricket bat.
He said he ran downstairs carrying his 29-year-old girlfriend, but "she died in my arms".
Pistorius went on: "I fail to understand how I could be charged with murder, let alone premeditated murder, as I did not plan to murder my girlfriend, Reeva Steenkamp."
The couple went to sleep shortly after 10pm, Pistorius said, but in the middle of the night he woke up and thought an intruder had climbed in through his bathroom window.
He said he grabbed a 9mm pistol - which he kept under his bed after receiving death threats - and made his way in the darkness towards the bathroom door.
"As I didn't have my prosthetic legs on I was vulnerable," he said. "I fired a shot at the toilet door and shouted to Reeva to call the police."
Pistorius, who won two gold medals and a silver at the 2012 Paralympic Games in London, described how he was "absolutely mortified at the death of my beloved Reeva".
The defendant began shaking and crying as his statement was read out, according to the South African Press Association.
The bail hearing came as Miss Steenkamp's funeral was held in her home town of Port Elizabeth.
The memorial service was attended by family and friends who had travelled from around the world. Six pallbearers carried her coffin, draped with a white cloth and covered in white flowers.
Her brother, Adam Steenkamp, said after the service: "Everyone is sad, understandably, but at certain points we were smiling whilst remembering Reeva, because we only have good memories of her."
He went on: "There's a space missing inside all the people that she knew that cannot be filled again.
"We're going to keep all the positive things that we remember and know about my sister and we will try and continue with the things that she tried to make better. We'll miss her."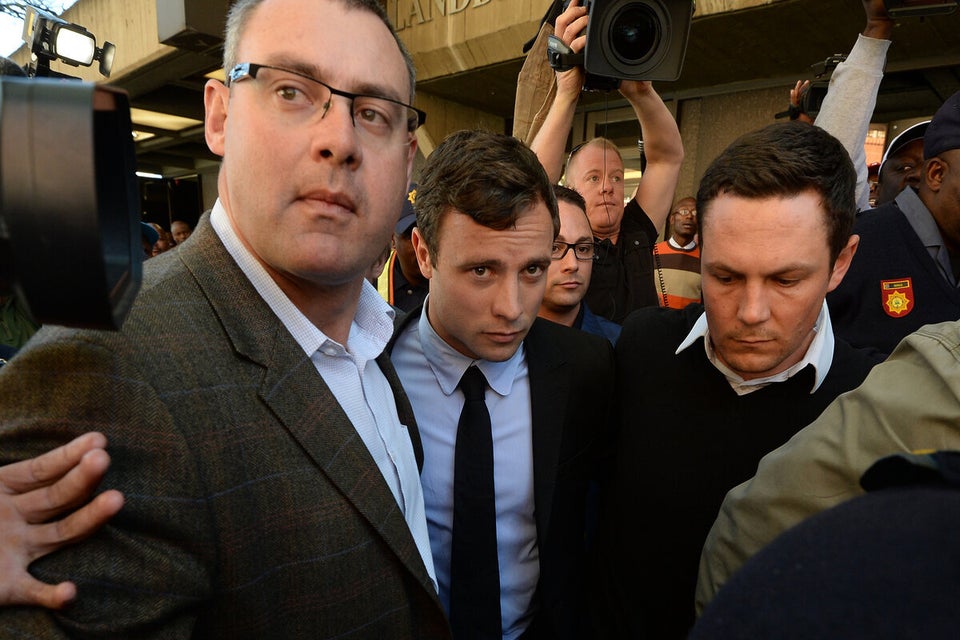 Oscar Pistorius Shooting in pictures