The father of Oscar Pistorius's girlfriend has warned the athlete will have to "live with his conscience" if he is lying about how he killed her.
Barry Steenkamp said the Paralympian will "suffer alone" if his claim that he shot 29-year-old Reeva Steenkamp accidentally is false.
But Steenkamp told the Afrikaans-language Beeld newspaper he might be able to forgive Pistorius one day if the double-amputee is telling the truth.
Olympic athlete, Oscar Pistorius , in court in Pretoria, South Africa, for his bail hearing
The Paralympian, known worldwide as "Blade Runner", was granted bail following a four-day hearing in Pretoria, South Africa, a week after he shot Steenkamp dead at his home.
The athlete, who broke down in tears as chief magistrate Desmond Nair announced his decision, was later seen arriving at his uncle Arnold's home.
Pistorius, 26, claims he shot Steenkamp through a bathroom door thinking she was an intruder.
Prosecutors say he intended to kill the model, and he has been charged with premeditated murder.
After nearly two hours describing the reasons for his decision, Mr Nair told the packed courtroom that he was granting bail until the next hearing on June 4.
He said there was no suggestion that Pistorius was a flight risk, he did not appear to have a propensity to violence, and there was no evidence that he would interfere with witnesses.
He said the Olympian had "reached out" in a sworn affidavit describing what happened that night, telling the court: "I come to the conclusion that the accused has made a case to be released on bail."
Bail was fixed at one million rand (£73,822), including 100,000 rand (£7,382) in cash. Pistorius must surrender any firearms and his passport, cannot enter any international departure hall, and is banned from using any prohibited substance or alcohol.
He must also report to police twice a week as part of his bail conditions. Barry Steenkamp, the father of Reeva Steenkamp, leaves his home to attend her funeral ceremony
Speaking on behalf of his family, the athlete's uncle Arnold Pistorius said: "We are relieved by the fact that Oscar got bail.
"But at the same time we are in mourning for the death of Reeva with her family.
"We are also grateful for the magistrate for coming to the conclusion and for our legal team that has delivered extremely professional and legal statements that led to the decision of giving bail.
"As the family, we know Oscar's version of what happened that tragic night and we know that that is the truth and that will prevail in the coming court case."
The star left the courthouse in a vehicle with blacked-out windows. Earlier, his coach, Ampie Louw, who described the athlete as "heartbroken", said he might resume training next week but will not compete.
In his affidavit, Pistorius described waking up in the early hours of Valentine's Day and going on to his balcony to bring in a fan and close the sliding doors.
He said he heard a noise in the bathroom and was overcome by a sense of "terror", thinking someone had broken in.
He fired shots at the toilet door, shouting to Steenkamp to call the police and, when she did not reply, realised she was in the bathroom. He carried her downstairs, where she died in his arms, he said.
The prosecution alleges that Steenkamp locked herself in the bathroom either to escape an argument or the gun.
Giving his ruling, Mr Nair referred to evidence given by Warrant Officer Hilton Botha, who has been replaced as lead investigator in the case after he was charged with multiple counts of attempted murder in an unrelated case.
It is alleged that in October 2011 he and two other police officers fired shots at a minibus carrying seven people.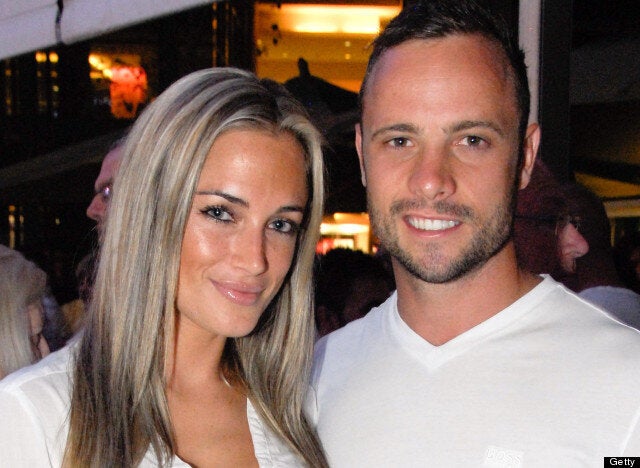 Steenkamp was shot in the early hours in Pistorius' home on Thursday
The case was previously dropped, but Botha was charged late on Wednesday - after he had given evidence at Pistorius's bail hearing - and is due to appear in court himself in May.
Mr Nair said yesterday that Botha made "several errors and concessions" during cross-examination.
He said the officer had not asked for all the mobile phones, might have contaminated the crime scene, "blundered" on the description of substances found at the property, and did not spend as long as he ought on trying to establish that the athlete had a propensity to violence.
Speaking outside court, Medupe Simasiku, from South Africa's National Prosecuting Authority, said: "The bail application does not mean that this person is acquitted."
He said that when the court meets again on June 4, officials will have a better idea of when a trial can be held.
After the news of Pistorius's bail, Kim Myers, a friend of Steenkamp - whose own family were not in court - told Sky News: "This is a bail application, not a trial, and we hope and pray that justice will prevail.
"It's still a very sad time for us and we need to remember that somebody did lose their life and our hearts, thoughts and prayers just go out to the Steenkamp family.
"We're still very sad. She was an amazing person."
Related