Losing inches by having a light pointed at your 'problem fat' might sounds fantastical, but this is what I am promised when I attend London Bridge Plastic Surgery for a 'Zerona' treatment.
No surgery, no side effects, no recovery time. Just straight back to whatever you want to do, and watch yourself shrink over two weeks.
In technical terms, the magical-seeming light is 'a low level laser device' with the right wavelength to make your fat melt away.
Christopher Inglefield, the most smiley and unintimidating expert I have ever met, explains how the science works: "As human beings we are evolved to respond to light. The Zerona light has the right intensity of light to interact with fat cells.
"The low-level-laser light is at the exact wavelength that is able to modify the metabolism of fat cells. It opens up the 'pores' of fat cells, allowing stored fat to be released and metabolised."
He explains that because the Zerona light triggers natural body processes that break down stored fat, there are no side effects.
The light can be targeted at any part of the body with 'troublesome fat,' he explains, adding that he has had particular success with arms as they are one of the most difficult areas to treat.
However I opt for an 'abdomen' treatment as quite frankly, this area has been extremely troublesome of late. It's been particularly mischevious when zippers, buttons, and even in some cases, elastic, has been involved.
The worst part is having before and after pictures taken. No one likes standing in their pants in front of a camera (a few celebrities excluded), let alone having the part of your body you are most self-conscious about scrutinised. However the therapists really do make you feel as comfortable as possible.
Then its treatment time, which is essentially being propped up with towels and being generally fussed over before lying back in the warm treatment room and listening to relaxing music.
The octupus arms of the Zerona lamp comes down, with each laser head rotating at various parts of my abdomen.
My therapist says I might feel a slight sensation in my tummy, but I feel nothing. As the red laser light whirrs away, I drift off for 20 minutes, then its time to turn over and have the laser light do its magic on your other side. Yes, the dreaded back fat gets targeted too.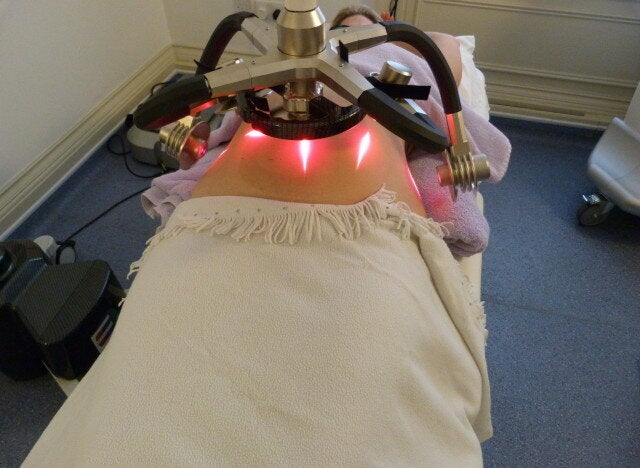 The octopus arms of the Zerona lamp
After the light treatment, clients then step onto a vibraplate for 10 minutes, which boosts lymphatic drainage and gets the whole process kicked off.
I don't notice much after the first treatment, but it's not long before I'm back again. Clients are advised to have six treatments over a two week period and avoid all caffeine and alcohol in the mean time. Drinking plenty of water is also advised to speed up the results.
After treatment two, I'm stroking my hips wishfully... could there be less of me? Could this lamp contain the magical fat genie?
Post treatment three and people start noticing something is different. With compliments like: 'Your face looks thinner' and 'Have you been on a diet?' I tuck into a cheesy croissant and look smug. Although the light is pointed at the abdomen, people can lose weight all over.
After treatments four and five I'm noticing a difference too. I feel lighter. There seems to be less of me to lug around on a daily basis. I'm starting to choose the clothes I want to wear rather than merely the ones that don't make me look fat. Waistbands are looser.
A week after treatment six and we do my final measurements. I've lost 6cm from around my tummy! And from having to do nothing!
Final Stats

Upper back = 3cm
Waist = 5cm
Navel/Mid abdomen = 6cm
Lower Abdomen = 3cm
This isn't liposuction. The scales show I haven't actually lost any weight. However the great thing about this treatment is that there have been no side effects. Instead, it's given me a much needed boost to do more exercise, drink a lot more water and cut out caffeine. Plus it makes me feel like I will fit into my bikini this summer!
Prices for Zerona cold laser treatment start from £3,150 and go up to £6,300 depending on the area and amount of time needed. A consultation with the surgeon costs £200 or £125 with a therapist.