Prince Harry is up to his usual tricks on a royal tour of Africa, his characteristic charm and playful charisma impressing locals as he returned to Lesotho in Africa where he helped set up his own charity.
The handsome red-head hugged nuns and wrote his name on the blackboard next to a smiley face as he visited the Kananelo Centre for the Deaf , which provides education and improved living standards for students with special needs.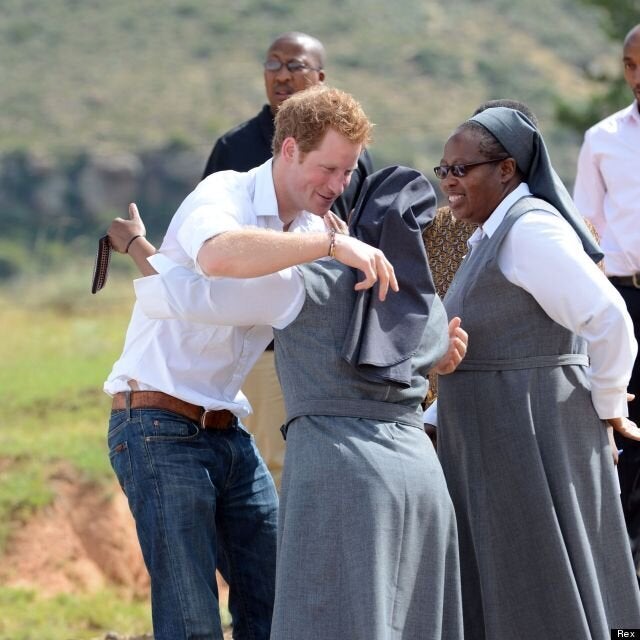 Harry is in the southern kingdom of Lesotho
He larked around with teachers, as he helped two students in a cookery class in the southern African kingdom. Harry will travel on to St Bernadette's Resource Centre for the Blind in the city centre where he will watch children learning Braille and join students for a game of five-a-side football.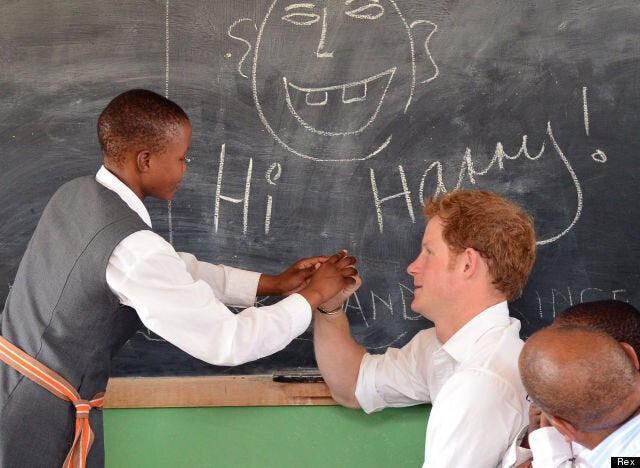 Harry was given a sign-language lesson by the children
Harry set up his own charity to help children affected by HIV and Aids in Lesotho, with the help of the King there. Called Sentebale, it means 'forget me not' and this time, Harry will be accompanied by Prince Seesio, the younger brother of the King.
Later Harry will fly to nearby Johannesburg in South Africa for a fundraising dinner in aid of a major new Sentebale project.
The last time the 28-year-old, third-in-line to the throne, was in Lesotho was in June 2010 when he took his brother, the Duke of Cambridge, to see Sentebale's work as part of their first joint overseas trip. Harry played the fool with teachers
Harry, who recently completed a four-and-a-half-month tour of duty to Afghanistan, spent Monday and yesterday privately in Lesotho visiting projects supported by Sentebale and senior figures from the country including King Letsie III.
Tonight in Johannesburg, he will attend the Sentebale Gala Dinner, which marks the launch of his charity's major fundraising drive to build a permanent centre for children and young people.
The Mamohato Centre - named after Prince Seeiso's late mother - will provide psychological care and peer mentoring for children and young people with HIV/Aids.
It will be built on the sacred land of Thabu-Bosiu in Lesotho, known to many as the birthplace of the nation.
Harry will deliver a speech at the gala and attend a reception for selected guests.
Related