As coffee shops outlets continue to spring up across the world, defying recession logic, an American food blog has asked 13 baristas to answer a prescient health question.
How do we deal with the caffeine shakes?
According to Serious Eats, overdosing on caffeine is an occupational hazard for bean grinders and so these individuals are brilliantly placed to give us advice on how to deal with sweating palms, headaches and a general sense of twitchiness.
Hidden in their answers, appeared a surprising result, according to Lifehacker.com.
Three of the baristas suggest eating a banana as a means of alleviating symptoms of caffeine excess.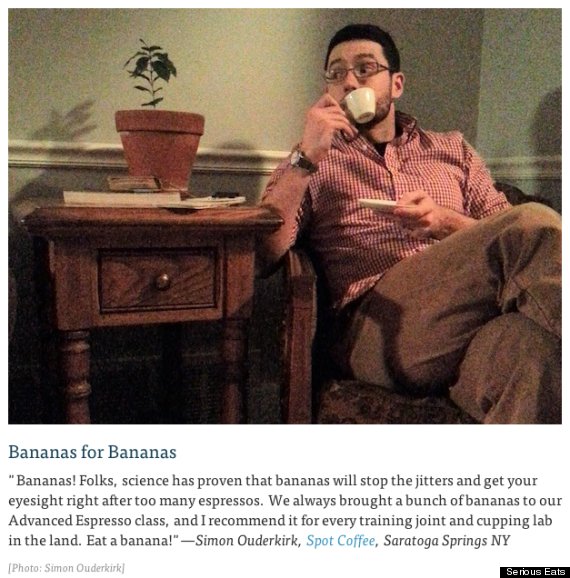 Serious Eats asked Simon Ouderkirk of Spot Coffee about treating excess caffeine consumption
The UK coffee market has doubled in the the past six years and is now 10 times the size it was 15 years ago, according to Hospitality and Catering News. So it seems that our love of coffee -- and associated health problems -- are definitely here to stay.
According to NHS guidelines, pregnant women should have no more than 200mg of caffeine a day, and one mug of instant coffee contains around 100mg of caffeine.
Due to their high potassium levels, bananas have long been marked out as a useful tool to help regulate our wellbeing.
Last year, HuffPost UK Lifestyle reported that a group of researchers suggest that eating a banana will give you the same energy boost as slurping a sports drink.
While, back in 2007, Huffington Post US blogger Dr Michael Breus pointed out that research has linked the flow of potassium into cells with the maintenance of normal sleep in fruit flies.
Find out more about caffeine and health from our video selection..