A tattoo enthusiast who has spent 300 hours in the chair and more than £20,000 on ink, has legally changed his name to 'Body Art'.
Born Mathew Whelan, the 33-year-old has even had the white of one of his eyes tattooed.
With ink covering 80 per cent of his body, he is believed to be Britain's most tattooed man. Born Mathew Whelan, Body Art is believed to be Britain's most tattooed man
An occasional volunteer for the Liberal Democrats, Body Art is keen to share his enthusiasm for tattooing, and even likens his fervour to a religious passion.
He said: "I've got so much respect for the history of body modification.
"It's an art and a culture and when a group of kids stare at me, I'll talk to them an explain the history of it.
"People who do what I do treat their body like a temple. Like Christians have Jesus, we have our bodies."
Body Art decided to embark on a life of ink at the age of nine after being inspired by his father and uncle's tattoos.
He got his first one - a British Bulldog - at the age of 16.
Snakes, scorpions, eyeballs and vampires are among the illustrations that cover the majority of the rest of his body. Body Art has set up non-profit organisation Modify to help those with body modifications find work
He explains: "I'm fully aware of the risks involved. For my eyeball, I went to the opticians beforehand and got several opinions."
He has also has set up his own non-profit organisation, called Modify, to help those with body modifications to work.
He said: "For me it's a lifestyle. I have a personal belief in skinology and bodistry which is my adaptation of skin and story of the body.
"I don't see why someone should be discriminated against just because of the way they look, so I want to help those people as much as I can to find employment."
The former wrestler added: "When I die I want to leave my body to a museum or a member of my family.
"There's someone in Canada who has already asked if he can have my skull to use as a paint pot."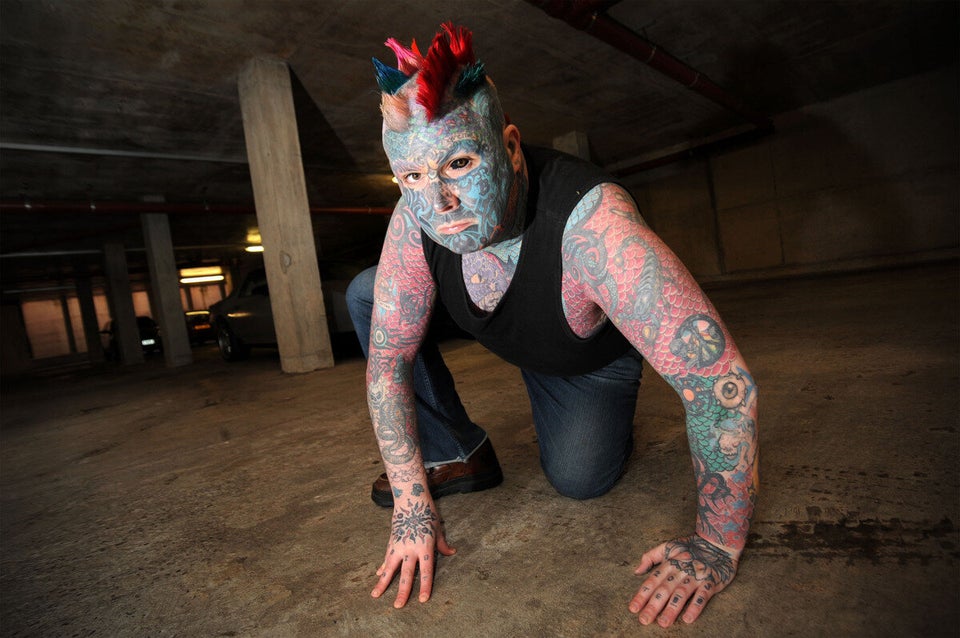 Britain's Most Tattooed Man