It could be the honeymoon album of any newlywed couple. There they are by the pool. On the beach. Taking in the sights.
Yet in every shot, both man and wife wear Star Wars stormtrooper helmets.
The images you see before you are a labour of love by Canada-based couple Red and Jonny Evans.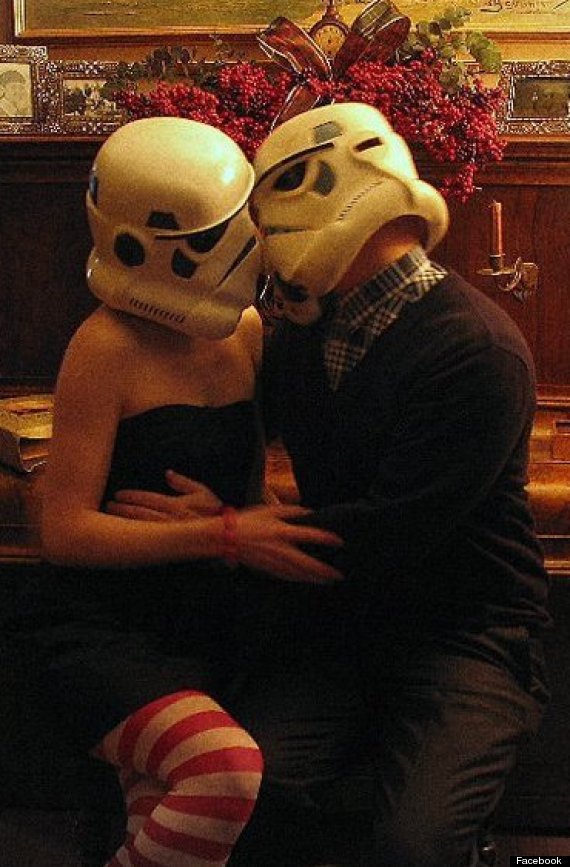 Happily ever after: Red and Jonny Evans
The pair came up with the idea during their actual honeymoon and now maintain ongoing projects on Facebook, Twitter, YouTube, Flickr, Tumblr as well as their official website.
Of the images taken in art galleries, Jonny told Huffington Post UK: "I love asking security guards to take photos. It breaks the tension in the room and everyone has a good laugh afterwards looking at the shot. They're also the best ones to ask where all the good photo spots are."
And as for whether it's a pain lugging the helmets around, he tells us: "No, at first we kept them in a knapsack, out of sight out of mind. But it got a bit of a pain to put it on take it off all day, Now we've attached straps to them and wear them over our shoulder like a bag. Makes it more inconspicuous as well. Its not just a bucket, its also a purse!"
"We've always taken these photos to make each other laugh. It's wonderful that other people love them as much as we do. We've made some incredible friends this way. It's been fantastic step into a great world where every day is your birthday and Halloween."
SEE ALSO: Shrek Wedding! Couple Turn Green To Tie The Knot