Carrie Fisher has confirmed she will reprise her role as Princess Leia in the upcoming 'Star Wars: Episode VII', 36 years after she first donned those bagel buns.
Asked whether she'll be in the next 'Star Wars' film, directed by JJ Abrams, Fisher told Palm Beach Illustrated: "Yes". Adding that she sees the present day Leia as: "Elderly."
"She's in an intergalactic old folks' home [laughs]. I just think she would be just like she was before, only slower and less inclined to be up for the big battle," Fisher quipped.
Fisher was previously asked whether she'd take on the role that has defined her life one more time last year, on CBS daytime show 'The Talk'. She joked: "I like the idea of being Mrs. Solo, and we've just fought and fought and I killed him."
Fisher is not the only star returning from the original 'Star Wars' trilogy of the 1970s and '80s...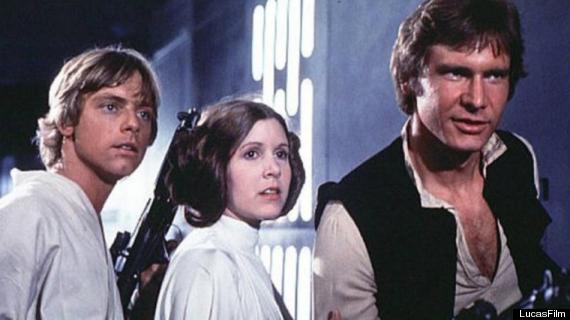 Mark Hamill, who starred as Luke Skywalker alongside Fisher's Princess Leia and Harrison Ford's Han Solo, recently revealed they have all been approached about the eagerly anticipated Episode 7.
He told E'ntertainment Tonight': "They're talking to us. George [Lucas] wanted to know whether we'd be interested.
SEE ALSO: Stormtroopers In Love! Married Couple Chronicle Their Love With The Help Of Star Wars Masks (PICTURES)
"He did say that if we didn't want to do it, they wouldn't cast another actor in our parts, they would write us out. I can tell you right away that we haven't signed any contracts."
Disney bought Star Wars' maker Lucasfilm last year for more than four billion dollars.
The last 'Star Wars' trilogy, a prequel to the original films, was released from 1999 to 2005 and now Walt Disney chief executive Bob Iger has said they are working on stand-alone 'Star Wars' films - as well as the new trilogy already in the works.