He was held near a Morrison's supermarket following a manhunt launched after the killing on a crowded double-decker bus at around 7.30am as Christina made her way to school.
Police said the man was chased and arrested after being seen acting suspiciously and was being held on suspicion of murder.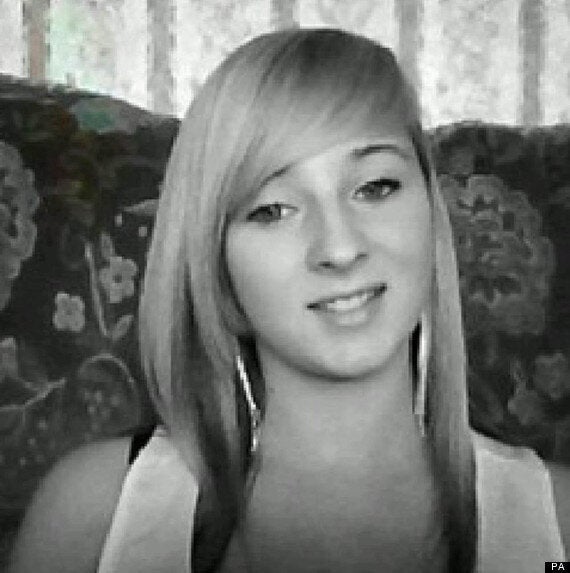 Christina Edkins was named as the victim of the stabbing
Neil Shaw, the headteacher of Leasowes High School, said: "Christina was a bright and popular student much loved by staff and students alike.
"We are deeply saddened to hear this tragic news and our thoughts and hearts go out to her family and everyone who knew her.
"The school is working closely with the police and a team of counsellors to provide support to our pupils and staff."
Police said Christina's family were being supported by family liaison officers.
Detective Superintendent Richard Baker said: "This is a tragic case and the victim's family are devastated.
"We are still anxious to hear from anyone with information or who may have witnessed the incident this morning to speak to us via the dedicated hotline 0800 096 0095.
"There will be a high police presence across the city this afternoon following this morning's tragedy, particularly on buses and in schools in the area to provide reassurance to local people." Police arrest a man near the scene
Police launched a hunt this morning for a black man in his late teens or early 20s, warning the public to be "vigilant".
A second man was detained by police in connection with the stabbing but later released without arrest.
Mr Baker said police were investigating the possibility that the murder was a random attack, adding: "We're looking at a number of motives at the moment."
The area was cordoned off this morning and and officers remained at the scene in Hagley Road, Birmingham.
The street, leading out of the city, was closed in the wake of the stabbing and is expected to stay shut for the rest of the day.
Emergency services were called to the area at 7.37am after the bus driver raised the alarm and reported that a passenger had been wounded.
But medics who rushed to help were unable to save the teenager.
Police dogs and firearms officers were brought in to help search for the knifeman.
Officers are also searching for any CCTV systems which may have captured the attack on camera, while specialist forensic investigators comb the scene for clues.
Mr Baker said a large number of people witnessed the stabbing.
A tribute page has been set up on Facebook for "beautiful angel" Christina, with users calling her death "a waste of a beautiful young life" and saying "justice will prevail".
Hannah Louise said: "Such a pretty girl, tragic waste of life, thoughts are with her family so, so upsetting x."
Vernon Williams described her death as "very very sad news indeed", while Angel Sheppard said: "Rest in peace thinking of all the family."
Hema Trivedi posted: "Rip beautiful girl! Heaven has gained yet another beautiful angel!"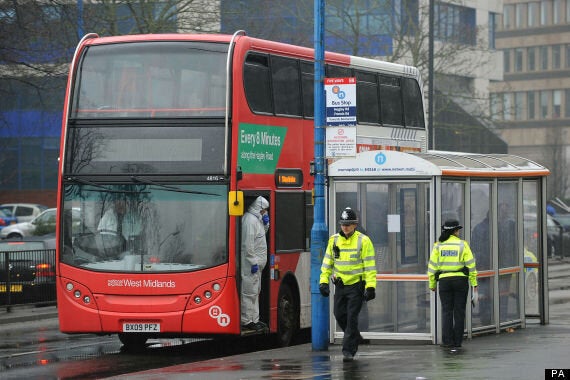 The scene of the stabbing
Jade Sarah said: "Such a sad day thoughts are with your family and friends your such a pretty girl rest in peace I lost a friend not so long ago who was stabbed what's the world coming to it was nothing like this before now the world's messed up with knife crime!!!"
Jules Jewels said Christina's death had left the "nation in shock", writing: "I don't know you Christina but i am so very sorry for what happened today. The whole nation is in total shock over this and my thoughts are with all of your friends and family at this most difficult time. God bless."
Nicola Downing said: "Rip to a beautiful young lady xx."
Adam Willett said: "Justice will prevail rest in peace...wrongly taken x my thoughts r with your family."
Denise Henty described Christina's death as "such a waste of a beautiful young life".
Just hours before the stabbing, a Twitter account, @ChristinaEdkins, said: "Why can't something go right for once."
Tweets then followed about wanting "perfect hair" and someone to "be lazy with me and watch films and make me laugh".
One tweet said: "just want perfect hair pleasee".
While the last tweet, posted 16 hours ago, said: "Don't need anyone to talk to about how I feel just need someone to be lazy with me and watch films and make me laugh".
One user of the social networking website, @_OllyRiley, tweeted: "RIP @ChristinaEdkins we will never ever forget you, remember our promise up there okay! I won't break it".
Police officers were also on guard at the semi-detached house near Birmingham city centre.
Just last month, on the morning of February 8, @ChristinaEdkins tweeted about a man who was "worrying" her on a bus journey.
She said: "This man is worrying me on the bus keeps getting up and walking up and down stairs, and sitting in different place:|"
Police said the suspect was already on the bus when Christina got on board.
Officers said there was "nothing immediately" to suggest the pair knew each other.
They are not looking for anyone else in connection with the murder.