Police have released an image of a teenage boy's badly injured face after he was targeted by a gang of 12 men in a "shameless and shocking" assault.
The 15-year-old boy suffered a broken arm and facial injuries after being chased and attacked in a possible case of mistaken identity, Greater Manchester Police said.
A 15-year-old girl was also hit in the face and suffered a fractured cheekbone following the incident in Newton Heath, north Manchester.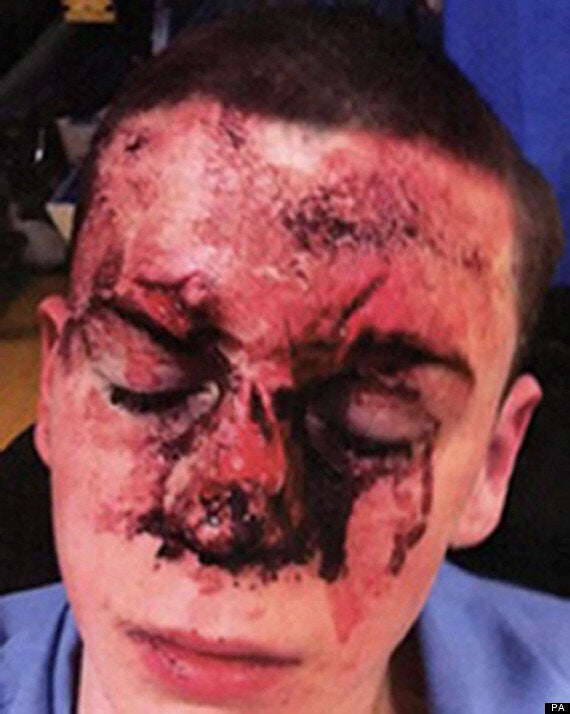 The boy was left badly injured by the beating
The boy's mother said she could barely recognise her son due to the extent of his injuries, as police released CCTV footage to urge witnesses to come forward.
Detective Constable Paddy Connell said: "The boy is slight in build and was chased and beaten by burly men.
"Their actions were shameless and shocking and I want people to look at the injuries to the boy's face and if they know anything to come forward."
The boy's mother, who did not wish to be named, said: "I barely recognised my boy when I saw him, such were the extent of the injuries to his face.
"I cannot believe that a bunch of grown men would attack an innocent teenage boy like this.
"He was not involved in any sort of trouble but yet they waded in with their fists and weapons and didn't give him any chance to respond or defend himself."
The incident occurred at about 2.20pm on March 2 when the three cars pulled up on Briscoe Lane.
The boy was attacked by up to four men who chased him onto Harringay Road.
The men then got back in their cars - a silver Peugeot 306, a black Volkswagen Passat and a dark coloured Vauxhall Astra - and drove off along Briscoe Lane towards Ten Acres Lane, officers said.
Police believe the incident may be linked to a dispute the previous evening in the Newton Heath area which neither victim was involved in.
Anyone with information is asked to call police on 0161 856 3832, or Crimestoppers, anonymously, on 0800 555 111.
Related