Chelsea's comeback made for a disheartening week for Manchester United while Wigan's annual March magic began with a superb victory at Everton in the FA Cup.
Elsewhere, individual accolades and myopic officials made for an eventful weekend of football...
BENÍTEZ OUTFOXED FERGUSON
It could have been the ultimate ignominy for Rafael Benítez. Chelsea were 2-0 down, both sets of fans were mocking him gleefully and the architect of his latest downfall had subtly put the boot in two days previously. "It's not my style to kick a man when he's down," Sir Alex Ferguson had said 48 hours previously. This time, the boot was on the other foot.
Benítez regained some credibility with his substitutions on Sunday. Off came the impotent Frank Lampard and the wasteful Victor Moses for John Obi Mikel and Eden Hazard. "You don't know what you're doing," hollered Chelsea supporters incensed - presumably - at Lampard's withdrawal. "F**k off Benítez, you're not welcome here," they shrieked. Only he did know what he was doing.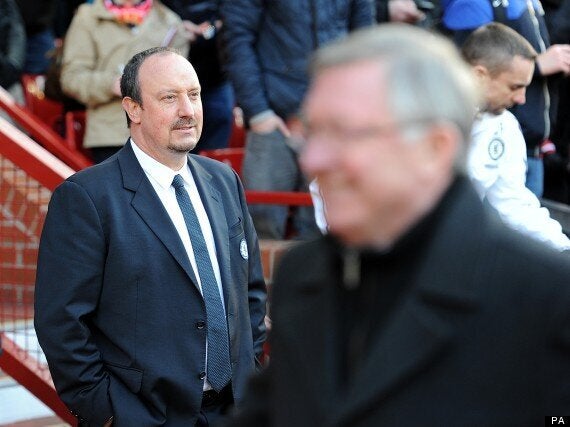 Mikel may be one of football's great nondescripts, but he justified his presence on the Old Trafford pitch. Ramires - one of Europe's best box-to-box midfielders when let off the leash - was given freedom to roam with the Nigerian holding, and was instrumental in Chelsea's recovery. So was Hazard, whose brilliant curler instigated the comeback. Ferguson, meanwhile, needlessly hauled off Javier Hernández when once again the issue was with United's midfield, as Chelsea's dominance continued and should have resulted in victory.
Benítez was irked by Ferguson not shaking his hand prior to the game - a petty gripe - but was well armed to combat his excuses for United's collapse. The Scot said the defeat to Real Madrid had left some of his players tired, yet the Spaniard countered that by citing Chelsea had played as recently as Thursday. Then again, seven of Chelsea's starters didn't feature in Bucharest on Thursday.
"I don't know whether it had anything to do with the substitutions," Ferguson added. The mutual enmity is such he is as loathe to offer Benítez a compliment as Chelsea's fans. The pair did at least both agree United were "lucky" to still be in the FA Cup.
MOYES UNITED TALK MUST STOP
In the last fortnight José Mourinho has masterminded two wins against Barcelona and victory at Manchester United while David Moyes' Everton were eviscerated by a virtuoso Wigan, with two 3-1 home victories papering over the cracks of a stagnant side.
Discontent has been brewing at Goodison Park since the new year as key players' form has sagged while the manager has delayed contract talks until the season ends. Moyes will be out of contract then and several Everton supporters would be content to see him out of his current job, as the boos which greeted Marouane Fellaini and Kevin Mirallas' substitutions were, on the majority, aimed at a manager who celebrates 11 years at L4 this week. Moyes suffered his lowest ebb as Everton manager on Saturday
Despite not winning a trophy in that time, Moyes is regarded as a contender to replace Sir Alex Ferguson, along with Mourinho. Manchester United ambassador Sir Bobby Charlton has been vocal in disassociating the Portuguese from his club, yet Ferguson supposedly told Mourinho last week managing United was his "destiny".
Ultimately, that a comparison exists between Mourinho and Moyes is an insult to the former. A fortnight ago it was suggested the Moyes-Everton matrimony ending may benefit both parties, but the caveat for the Scot is he can no longer be guaranteed a move to a bigger club, let alone Britain's biggest.
MARTÍNEZ ENGLISH FOOTBALL'S GREAT ENIGMA
Perhaps we shouldn't have been surprised at Wigan's dexterous display at Goodison on Saturday. Despite winning two of their last 15 Premier League games, whenever the Latics enter March they seem to ascend as heroically as Bruce Wayne.
Wigan won seven of their final nine games last season to retain their Premier League status with relative ease and the year before they lost just two of their last nine fixtures to survive on the final day of the campaign. Cue the bunting on the River Douglas and the Roberto Martínez plaudits. Only it is arguable they aren't warranted. "Why can't you play like this between August and March?"
For two months every year, Wigan become the latest équipe du jour for hipsters. Martínez's team plays positive football and he hasn't sacrificed his ethos since his appointment at the DW Stadium in 2009, so why are they so lax for seven months a season? Don't be surprised if they stay up.
PLAYER OF THE YEAR TALK CAN WAIT
Luis Suárez and Gareth Bale played against one another on Sunday, which instigated more player of the year noise as if it was the ultimate accolade for either player.
Ultimately, all talk is redundant until the season ends. There is a quarter of the Premier League campaign remaining and with the wheels on Manchester United's season creaking, a dark horse could feasibly emerge as a contender for the individual awards. Suárez hit the opener against Tottenham at the weekend
Yet the Professional Footballers' Association voting slips have gone out today ahead of its dinner on 28 April. Gordon Taylor, the PFA's chief executive and supposedly the highest paid unionist in the world, is, by all accounts, pretty useless and this is another example of his futility.
EDINBURGH OFFICIALS OUT OF LINE
Goal-line technology will belatedly come into use next season, albeit too late for Hibernian's Lee Griffiths, who was denied a goal in the Edinburgh derby thanks to myopic officials.
Some goal-line decisions are genuinely difficult to distinguish, but this was not one of them. Over the line by about two feet, it is astonishing referee Euan Norris or his assistant could not see such a glaringly obvious goal, and in such circumstances you can have no sympathy with the officials.