Japan marked two years since the Tōhoku earthquake on Monday, the 9.0 magnitude quake that triggered a deadly tsunami and caused the Fukushima nuclear disaster, killing nearly 19,000 people and displacing at least 300,000 more.
Memorial services have taken place around the country, as Japanese communities mourned the tragedy and contemplated the continuing reconstruction of sites that still bear little resemblance to the place they used to call home.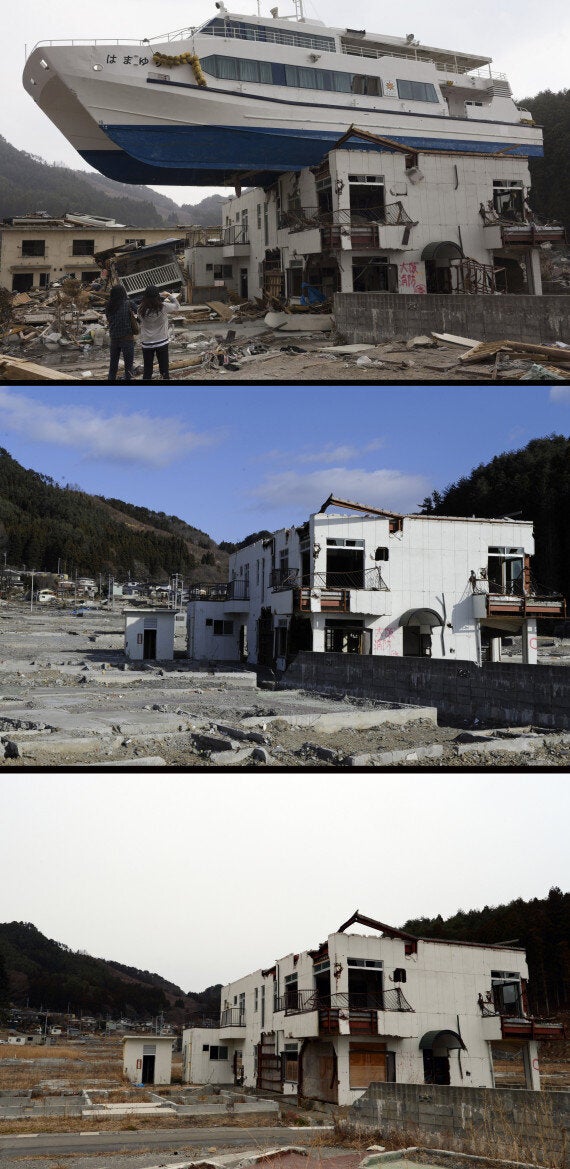 Photos show a boat on top of a two-storey home in Iwate prefecture on 16 April 2011; the same area on 16 January 2012 (C) and then nearly two years later on 18 February 2013
The country is still scarred by the catastrophe, with thousands still living in temporary housing and the government struggling to replace nuclear power with another energy source, amid widespread anger at what one blogger labelled a "disastrous experiment" with the system. Memorial services are taking place around Japan
As tsunami waves over 40m high swept across the north east of the country on March 11 2011, three reactors at the Fukushima nuclear plant shut down. 19,000 people were killed
Three large explosions and radioactive leakage created a situation which Europe's Energy Commissioner described afterwards as an "apocalypse." Japan is struggling to find alternative sources of energy as anti-nuclear feeling grows
Radiation continues to affect the surrounding areas with physician Helen Caldicott writing in the Sydney Morning Herald that "disturbing medium and long-term effects on humans, animals and plants" continue to be observed, with residents contracting cancer and mutations seen in animals. She says the fall-out will never be contained and "will contaminate food, humans and animals forever."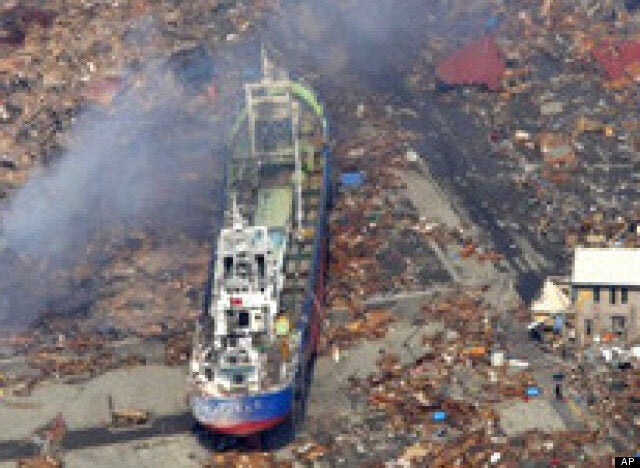 Pictures of the fallout from the nuclear disaster
Those poisoned by Fukushima also face discrimination, with women spurned amid fears they will have a "contaminated" child . Japanese media have also reported on the case on one evacuated family who were forced to move after taunts they might "infect" local children. Cars and trucks with Fukushima plates have reportedly been turned away from petrol stations and depots.
While the human cost of the disaster was devastating, the financial cost also continues to punish Japan, with the World Bank estimating the tragedy cost the country US$235 billion, the most expensive natural disaster in history. Beaches are still littered with flotsam
"This case is not only aimed at saving victims, but also at pushing the government to thoroughly change its pro-nuclear policy and therefore prevent people becoming victims in the future," a statement from their lawyers read. Communities reliant on fishing and tourism have had all industry destroyed in the disaster.
Prime Minister Shinzo Abe said at a memorial service in Tokyo: "We must speed up the reconstruction effort for the survivors who are living with heart and soul. I believe that would be a way to serve justice for the perished," reported AP.
However Hiroshi Suzuki, chairman of the Fukushima Prefectural Reconstruction Committee said: "There have been no major changes by the new government in response to the nuclear accident, though the budget has been increased."
Related