Police inspectors have warned there was a "distinct possibility" that officers could fail to prevent another Jimmy Savile-like scandal as it emerged the disgraced presenter could have been stopped as early as 1964.
One man who came forward in 1963 in Cheshire to make an allegation of rape against Savile was told to "forget about it" and "move on".
Another went to Vine Street police station in London to report that his girlfriend had been assaulted at a recording of Top Of The Pops and was warned that he "could be arrested for making such allegations" and sent away.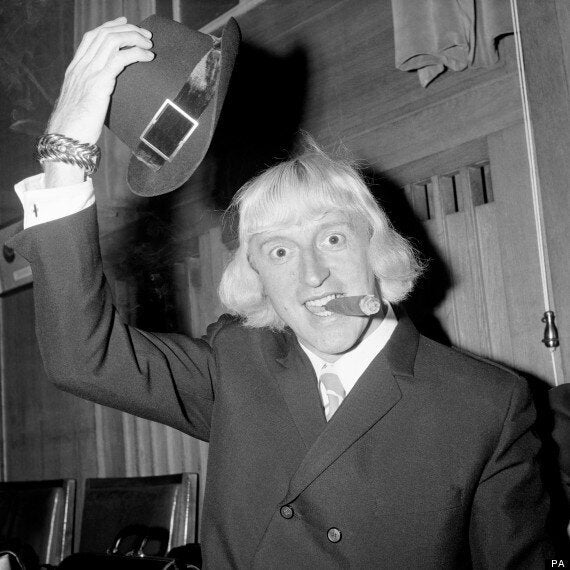 Savile pictured in the 1960s
Despite the allegations no action was taken at the time. The earliest record uncovered by HMIC naming Savile in connection with a sexual abuse investigation was dated 1964 - but officers failed to act on the intelligence received.
This is in stark contrast to the 450 claims made against the former Top Of The Pops presenter after Operation Yewtree was launched by the Metropolitan Police in October.
A damning report by the Met Police and NSPCC said Savile's offending spanned from 1955 to 2009 - meaning his reign of abuse could have been cut short by 45 years.
HM Inspector of Constabulary Drusilla Sharpling said: "The findings in this report are of deep concern, and clearly there were mistakes in how the police handled the allegations made against Savile during his lifetime.
"However, an equally profound problem is that victims felt unable to come forward and report crimes of sexual abuse.
Considering whether such abuse on a similar scale could happen again, Sharpling added it was neither "enough nor correct to say this couldn't happen now".
The HMIC report warned, "the inconsistencies in approach that the forces have taken mean that there is a distinct possibility that such failures could be repeated".
It said that the creation of hundreds of pages of guidance "counts for nothing" if there is a failure to implement it on a day-to-day basis.
The inspectors said that while those responsible for child welfare are better informed than they were when Savile began his programme of systematic abuse in the 1950s, they still had "doubts" over the effectiveness of current policy.
In total there were two references to Savile in police intelligence records as well as five complaints.
These were the 1964 Scotland Yard ledger, and a record of an anonymous letter that the Metropolitan Police received in 1998 alleging that Savile was a paedophile.
Five victims also made allegations - one to the Met in 2003, three to Surrey in 2007 and one to Sussex in 2008.
The HMIC expressed concern that a number of other police forces had not dealt with complaints properly.
So far eight victims have come forward to claim that they tried unsuccessfully to report crimes - four who approached the Met, and one each who went to police in Cheshire, Merseyside, West Yorkshire and the then Royal Ulster Constabulary.
The report said: "We have concerns about the extent to which victims may have tried to report their allegations to the police prior to Operation Yewtree and, for whatever reason, were not treated as they should have been."
The 1964 intelligence record naming Savile also contains the first known reference to Duncroft School, the children's home in Staines, Surrey.
The police had evidence of sexual abuse involving Duncroft pupils but "lost sight" of this intelligence until 2012, HMIC said.
The next occasion Duncroft became known to the police in the context of allegations made against Savile was in 2007 when the Surrey Police investigation started.
Duncroft was at the centre of Savile's criminal behaviour, HMIC said, and the 1964 ledger would have provided additional evidence to suggest that the school was the common factor for a variety of serious sexual abuse.
The HMIC report recommended that the recently formed professional body, the College of Policing, should issue guidelines to all forces about how to deal with investigations of child abuse following the death of the alleged perpetrator.
In view of the current low reporting rate, the police service and the College of Policing should also establish ways to encourage the reporting of sexual crimes, the Inspectorate said.
HMIC also said that a legal obligation should be considered for anyone who becomes aware of potential child abuse in the course of their professional duties to flag their concerns to others.
The Inspectorate will be testing the effectiveness of the Police National Database (PND), which holds more than 1.8 billion records created by police forces, under its wider Child Sexual Abuse and Sexual Exploitation Review.
Association of Chief Police Officers (Acpo) lead on intelligence Mike Barton said it had commissioned its own report into the effectiveness of the PND as part of the wider investigation into Savile.
Barton, chief constable of Durham Constabulary, said: "Our review has highlighted that the PND currently has limitations and although many of them are capable of being addressed, this will have to be over a period of time than immediately and will require more money.
He added: "It takes great courage to report abuse. There are still victims and survivors out there who haven't disclosed to anyone and we encourage them to use those helplines available or report to their local police force."
Home Secretary Theresa May said: "The true nature and extent of the allegations against Jimmy Savile are appalling.
"The public rightly want answers to how victims' voices were ignored for so long. This report brings into sharp focus police failings that allowed Savile to act with impunity over five decades.
"While we can never right this wrong, we must learn the lessons to prevent the same from ever happening again."
Chief executive of Victim Support Javed Khan said: "This report is another indication of the terrible failings of our justice system to apprehend one of the most prolific sex offenders this country has ever known.
"HMIC's findings highlight a pattern of failure in responding to victims. Specifically this includes not taking the claims of victims seriously in the first place, and also neglecting to share intelligence with them that other victims had made similar allegations that could strengthen their case."
Alan Collins, a solicitor from law firm Pannone is representing more than 40 of Savile's victims.
He said: "Its contents demonstrate that the police knew as far back as 1964 that there were allegations that Savile was a child abuser.
"There is a definite risk that unless policies and attitudes change Savile will happen again. There must be a consistent policy amongst all 47 forces to ensure that information is inputted and shared."