With the wide shots of beautiful highland lochs, bleak but beautiful glens, barren landscapes punctuated perfectly by a little red roof, 'Shetland' could have been the scene for a romance, perhaps a fish out of water, ANOTHER Scottish ditty of a tale.
Instead, this being Sunday night, on BBC1, it was the scene for an intense murder mystery, and proof that an influential bunch of commissioning execs have been paying attention to Nordic telly in general, and the quality - and success - of 'Wallander' in particular.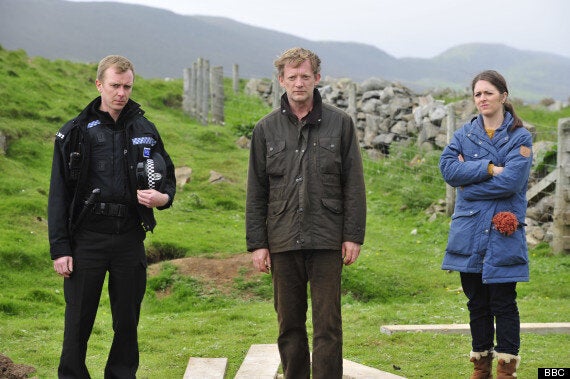 Detective Inspector Jimmy Perez (Douglas Henshall, centre) shares many a trait with Kurt Wallander
This adaptation of Ann Cleves' third Shetland novel 'Red Bones' had all the generic trappings of a crime drama - the tensions between senior and junior on the force, a peeling onion of resentments and secrets surrounding the murder of a harmless elderly lady of the shire - but leaned heavily in a Scandinavian direction for its slow, languid approach to the tale, and was all the richer for it.
In Detective Inspector Jimmy Perez (Douglas Henshall) at the heart of the case, we had, just like Kurt Wallander, a crimefighter with a bit more going on than just walking the beat, his own personal griefs, his intimate connections with the affected community, and ability to get under the skin of all the people of interest. There was his underling, boggle-eyed and related to the victim. And the whole roll-call of pale-eyed, pale-skinned protagonists shared an appearance, and sympathy, with their counterparts across the North Sea.
With the huge hole left by 'The Killing' never again to be filled (they're adamant there are no more to be made), and even reliable staples like 'Lewis' on its final furlong, it's a relief to know our home-grown bunch of creatives have sat up, taken a long-distance gaze and brought us such an offering. And the good news is there's at least a quartet of these Shetland novels to pluck for inspiration. As for the crime, to be solved in tomorrow evening's second part, my money's on the bloke behind the bar. That's a very strange facial hair arrangement, for starters.
Related