Motorists were stuck for hours in the bitter cold in long tailbacks as ice and snow made roads across much of the South East impassable.
There were reports of drivers stuck for more than 10 hours in queues of up to 30 miles long as police, snow ploughs and gritting lorries battled to treat the roads.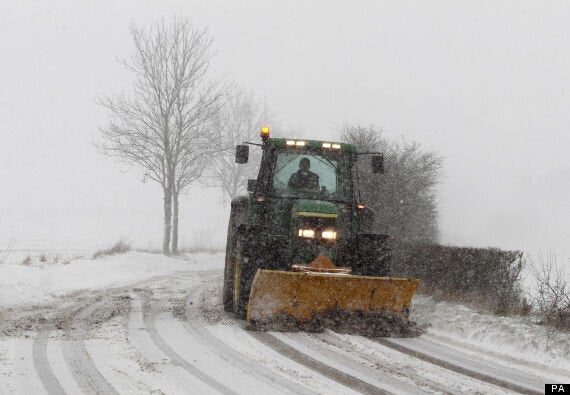 A local farmer uses a tractor to clear the road through Farthing Common near Folkestone, Kent
Temperatures plunged to as low as -3C (27F), and many motorists abandoned their vehicles for service stations.
A party of 120 German students also stuck in Hastings town hall when families due to look after them could not reach them.
Volunteers made tea and coffee for the youngsters as they were forced to bed down for the night.
The worst areas affected were Sussex and Kent, where the A23 between Crawley and Kent was at a standstill, along with the M23, A26, A27 and A29 after 4in (10cm) of snow fell.
Emergency services, local authorities and the Highways Agency worked through the night attending hundreds of incidents.
After a night of chaos, road, rail and air travel were all badly affected this morning as the freezing temperatures and biting winds continued.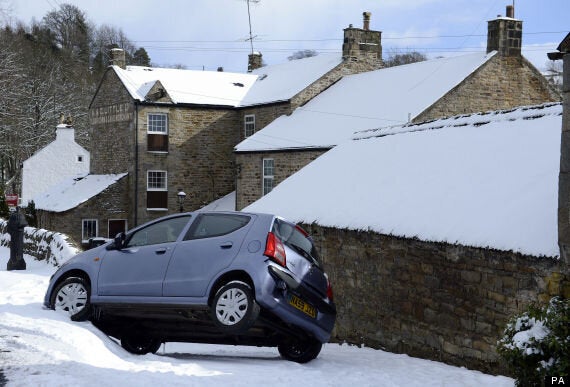 A car balances on 2 wheels after miss judging a corner in Allendale Northumberland
Jersey Airport was shut and was remaining closed all day due to snow, while travellers heading for Gatwick were advised to allow extra time to reach the West Sussex airport due to snow-hit roads in the area.
Many rail services were affected, with delays of up to an hour on all services run by the Southern train company.
A number of roads remained closed, including the A27 at Worthing in West Sussex and the A259 at Beachy Head in East Sussex.
Cross-Channel ferries were operating "as far as possible" but passengers were advised to allow extra time to reach ports due to bad conditions on the A2 and A20 in Kent.
Motorist Jonathan Lara took eight hours to travel less than eight miles after leaving work at Gatwick airport to go home to Brighton last night, the BBC reported.
Speaking from his vehicle he said: "It looks like the gritters have been totally caught out by this. I've been stuck in the same place for about three-and-half hours now and it looks like I'm going to be here for hours yet."
One motorist told BBC Radio 5: "There is such a large back-up of cars an ambulance came through and came through between the fast lane and the middle lane, pushing all the cars on to the verge which were then getting stuck, because obviously the verge is very thick and definitely hasn't seen any grit."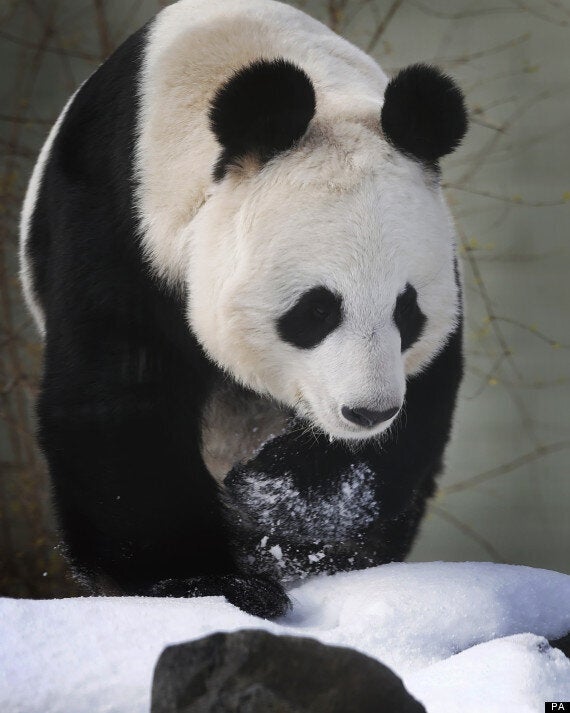 Tian Tian the Panda plays in the snow at Edinburgh Zoo on Monday
Another described it as like "driving through some sort form of apocalypse because there are just cars everywhere and a few times we have had to swerve through cars that are just abandoned".
John Hall, Gloucestershire's chief fire officer, told the BBC that his journey from just north of Oxford to Brighton by car took him 14 hours.
He said the county had virtually ground to a halt. "Of course there are still people stuck on the M23 and the A23, so they are going to be there another good few hours I would imagine."
More than 100 people were stuck for more than four hours on the A2 at Lydden near Dover after a lorry jack-knifed last night, Kent Police said, leading to a build up of snow drifts up to a metre high.
Officers said the areas around Dover and Folkestone were worst hit in the county, with delays on the M20 as lorries queued trying to get into the Channel Tunnel.
Acting Chief Inspector Kay Maynard said: "We know how difficult it has been for many people who felt stranded in their vehicles. We have been trying to get to as many as possible to offer reassurance, as well as deal with the problems on the roads caused by collisions and broken down vehicles.
"The volume of snow and the drifting caused in exposed areas has been a major issue. As soon as roads were cleared and gritted, they were becoming covered in snow again."
Sussex Police said officers were working throughout the night with staff from the Highways Agency and were at "full capacity".
Inspector James Biggs said: "The worst areas at the moment are parts of the A23 and M23 particularly around Handcross Hill. Officers are assisting the gritters to try and get them to these areas as soon as possible. If drivers could assist us by allowing the gritters through the congestion as much as possible this would be greatly appreciated.
"Many drivers have been rescued but I know many more have endured long hours stuck in their vehicles."
A number of roads across the county were closed, including the A27 at Worthing, the A29 at Bury Hill and the A259 at Beachy Head.
Rail services are expected to face delays today because of the weather, and Southern has warned that services from Brighton and Eastbourne could be cancelled.
Yesterday's unseasonably cold temperatures brought chaos to much of the country, and Jersey Airport was shut due to snow.
Forecasters believe yesterday was the coldest March day in 27 years, since March 1, 1986. Saughall, in south Lanarkshire, reached -12C (10F)
But temperatures are expected to rise today, spelling an end to most of the snow.
Chris Burton, a forecaster with MeteoGroup, the weather division of the Press Association, said that while there would be flurries in mid-morning, there would be sunny spells for the rest of the day.
He said: "The winds won't be as strong today, which was a big factor yesterday.
"There will be highs of between 3C and 5C (37F and 41F), a couple of degrees warmer than it was yesterday, but still a lot colder than the average for this time of year."