Students at Warwick University are petitioning a local bar to remove its "sexist, racist and violent" wallpaper which advertises for prostitutes, black slave girls and a "busty Asian schoolgirl".
Despite the "disgusting" decor, the Moo Bar in Leamington Spa is listed as a "highlight" of Warwick nightlife by a student union society.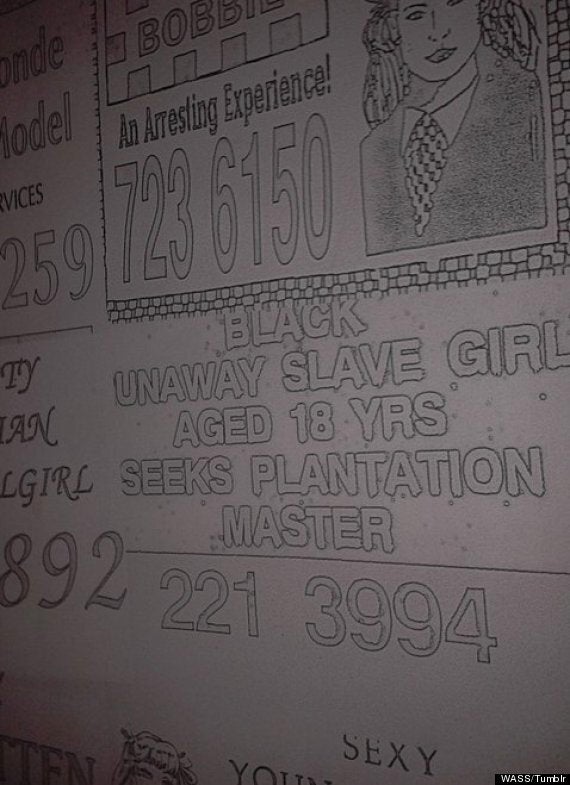 A sample of the wallpaper in the newly decorated Moo Bar. Scroll down for more pictures of the wallpaper
The bar was recently re-decorated by owner Steve Smith, who also runs the Smack nightclub and Duke Terrace pub.
The petition, which already has more than 1,300 signatures, states: "The establishment Moo has recently re-decorated and part of the new decor includes wallpaper in one area of the bar which depicts images of women and fake adverts for prostitution.
"The images sexualise school girls, slavery and violence using text such as "Busty Indian schoolgirl", and "Black runaway slave girl aged 18 yrs seeks plantation master."
"Warwick Anti-Sexism Society (WASS) is extremely worried about the exposure of these images to students and residents of Leamington Spa."
Sophie Rees, president of the WASS told The Huffington Post UK: "We're not 100% sure when the wallpaper went up, sometime after Christmas we think. A member of our society saw it and raised it at a meeting. We thought really carefully about how we were going to approach the issue.
"We didn't realise it would be this easy to get so much support, perhaps we would have done the petition sooner if we had. The petition has been all over Facebook within the Warwick circles which is great."
WASS members wrote to the bar's manager on 4 March, saying they were "shocked" by the images covering the wall and they were not alone in finding the wallpaper offensive.
The letter sent to Moo Bar:
To the Manager

"We are writing with regards to the recent refurbishment of Moo. As past patrons of Moo many of us have been shocked by the images covering the walls in the area of the bar and as a result will no longer be your customers. We are sure that you are aware that the wallpaper depicts images of women alongside text that are suggestive of adverts for prostitution.

"The text alongside the images in some cases sexualises school age girls while others sexualises slavery, which I am sure you can agree is incredibly offensive to your black customers. While we appreciate that Moo is a private commercial space we would like to draw your attention to the way in which the wallpaper might be experienced as sexist and racist by your customers.

"Of course it is your right to decorate your bar in whatever way you see fit, however we believe that images such as these contribute to the sexual objectification of women in general and girls and black women in particular. There is some evidence to suggest that where women are sexually objectified this leads to an increase fear of unwanted sexual attention, harassment and violence. We are sure you would not want your female customers to feel so uncomfortable in your bar.

"Having spoken to a number of students, SU societies and sabbatical officers, and Leamington residents it has become clear to us that we are not alone in finding the wallpaper offensive and we are working hard to raise awareness on campus about the intensely unpleasant and problematic nature of your refurbishment.

"We invite you to come and discuss your decoration choices with us at a mutually convenient time.

"Yours faithfully,

"Warwick Anti-Sexism Society."
HuffPost UK contacted the Moo Bar and was told by the manager, who gave his name as Max, "It was not my design, I did not choose to put that wallpaper up there."
Max refused to reveal the name of the owner, nor the owner's contact details.
World@Warwick, a WUSU society, lists Moo Bar and the Smack nightclub on their nightlife highlight page:

However after HuffPost UK contacted the WUSU, the page has since been taken down.
Sophie Potter, president of the World@Warwick society, said the post was written more than two years ago - before the Moo Bar changed its interior decor.
Ben Sundell, welfare officer at the WUSU, told HuffPost UK: "Moo Bar is an independent venue with no connection to Warwick Students' Union. We do, however, support the content of the petition and share students' concerns about this issue.
"The World@Warwick webpage listed is a student-run society, which merely indexes local activities or venues which may be of interest. However, in light of this being brought to our attention, we will be reviewing the content of this page accordingly."
The National Union of Students' (NUS) women's officer, Kelley Temple, said: "I find it difficult that a bar would choose to have an interior that promotes misogyny, sexism and even slavery. It's not funny and its not 'banter'."
The new interior was described in online design magazine weheart.co.uk as "interesting".
"Call him non-conformist, call him wilfully contrary, the result is always interesting," the review continued. "His latest Leamington Spa bar – actually a radical refit of a 10 year-old bar with a loyal following – will divide opinion even more than his previous projects, but it is precisely this drive to be different that will pull in the crowds."
A survey by the NUS which was published on Friday highlighted concerns about sexual harassment among students. The NUS report found nights out were "key spaces" which lad culture was evident, with nightclub promoters engaging in the culture as part of their business model to attract customers.
Have you seen bars or clubs use offensive promotions or posters? Get in touch and tell us your story: ukstudenteds@huffingtonpost.com