End Violence Against Women, and many other rape victim support groups, have urged people to complain to the BBC, and the piece caused a storm of controversy on Twitter.
The director of public prosecutions, Keir Starmer, emphasised in the wake of the Crown Prosecution report, that media and public perceptions of fake rape reports propagate "dangerous myths" and said the problem was far less common than thought.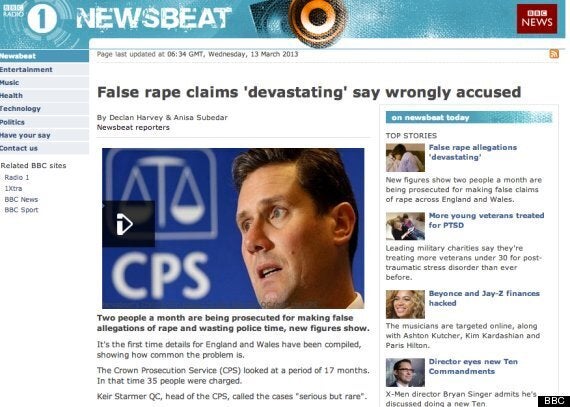 The story as it appeared on the BBC website
The BBC defended the reporting of the story, and a spokeswoman told HuffPost UK the BBC "are confident that our article accurately reflects the findings of today's CPS report."
But the BBC Newsbeat report said: "It's the first time details for England and Wales have been compiled, showing how common the problem is.
"The CPS looked at a period of 17 months. In that time 35 people were charged."
The BBC Radio 1 report went on to detail the "devastating" affects of false rape allegations have on people's lives.
Sarah Green of End Violence Against Women told HuffPost UK: "'It is not acceptable for BBC news beat reporters to look at the content of the CPS report on false allegations and then totally disregard its findings and context in the way they have.
"The report says clearly that false allegations of rape and domestic violence are rare - and that perhaps an over estimation of false allegations had lead to over caution around investigations. Not that they are "common" as Newsbeat reports.
"There are an estimated 85,000 rapes in Britain every year. The CPS is working hard to look at how to improve detections and prosecutions.
"Basic journalism standards have failed here. We are complaining. BBC should amend immediately."
A BBC spokeswoman told HuffPost UK: "We have represented a balanced range of views and the article makes it clear to readers that cases of false rape allegations are rare and that the number of men wrongly accused is small compared to the number of women being raped. Other aspects of the report have also been explored across our outlets."
Many on Twitter said they had submitted formal complaints, although the BBC told HuffPost UK they had not yet recorded any complaints.
Karen Ingala Smith, of domestic violence and rape victim support charity Nia, told HuffPost UK it was particularly "appalling" in the wake of the Jimmy Saville revelations.
She said: "If 35 out of 16,041 reported rapes result in a conviction for a false allegation, that's less that 0.2 per cent of reported rapes.
"For the BBC peddle the myth of false allegations is appalling. It suggests to me that they have learned nothing from what we have come to know about the widespread abuse of Jimmy Savile.
"They seem to me that they are using the myth of false reporting to justify their own failings.
"The BBC would do well to ask themselves what helps women and children to come forward. Their reporting of rape could be doing the opposite, making it easier for rapists to carry on abusing."
Starmer said that, in fact, the CPS had "worked hard to dispel the damaging myths and stereotypes that are associated with these cases.
"One such misplaced belief is that false allegations of rape and domestic violence are rife. This [CPS] report presents a more accurate picture."
The CPS said they would not comment on the BBC's reporting of the story.