Lady Gaga might be confined to a wheelchair as she recovers from hip surgery but she's still managed to turn her predicament into a Gaga spectacle - just look at her wheels!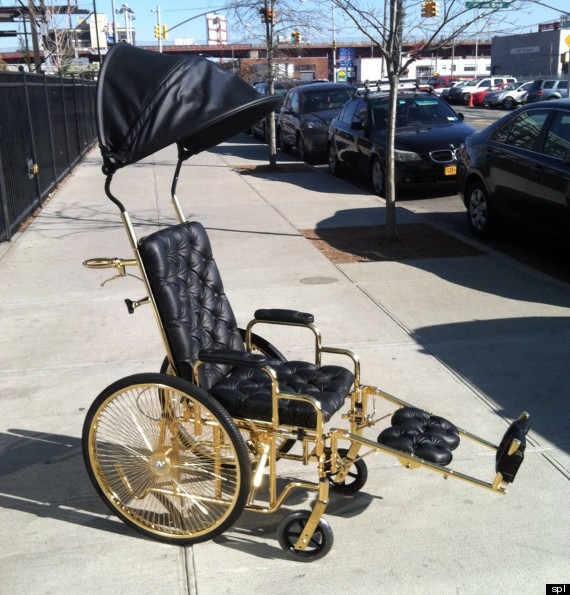 The singer had to cancel the rest of her 'Born This Way Ball' world tour on doctors orders after having an op for an inflammatory joint infection and is now getting around in what must be the most elaborate (and expensive) wheelchair ever created.
Well, she was never going to settle for a standard issue set of wheels, was she? Gaga commissioned jewellery designer Ken Borochov of luxury brand Mordekai to create the blinged up chair, which is covered in 24-carat gold and took only a week to create.
Borochov told the Daily Beast: "It was a huge undertaking. It was made all over the United States. My assistant had to run around everywhere."
As well being covered in £1700 worth of gold, the chair features upholstered leather seats and a removable canopy to keep the singer's face out of the sun.
The designer - who also created Gaga's 'claw' set of armor nails - told The Cut that he'd dreamed of making the chair.
"I was dreaming about it," he said. "I found out about her injury and then I thought, 'God, I want to make her an encrusted walking stick'. And the next day, I got a call from her stylist and he asked me, 'Do you want to make her a wheelchair?' And I was like, 'yes'
"I kind of feel like it fits into the universe that I'm trying to make," he continued. "At the same time, [it has] a rock and roll, street feel to it, which is why I did the spokes — the wheels — like that because I really wanted a cool, Snoop Dogg quality."
Mission accomplished!
LIKE US ON FACEBOOK | FOLLOW US ON TWITTER