Making his first official visit to Israel, US president Barack Obama has pledged his commitment to the security of the country and stressed the need for peace in the region.
Arriving in the country aboard Air Force One, Mr Obama stepped from the plane to be greeted by Israeli prime minister, Benjamin Netanyahu, and members of his cabinet.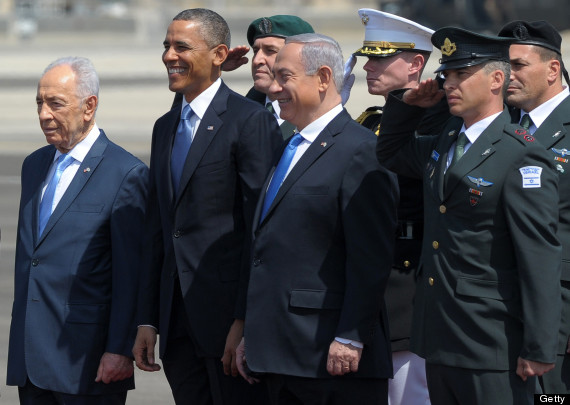 The president and prime minister have had a difficult relationship
The two men have previously endured a difficult relationship but the pair embraced amid smiles and Mr Obama even joked about the red carpet meeting.
Asked by an official to "follow the red line" marked on the tarmac as he set off to see an Israeli-made Iron Dome anti-missile battery, the president quipped: "He's always talking to me about red lines", referring to Mr Netanjahu's demand that Washington establish a red line for Iran's nuclear programme, Reuters reported.
Standing next to the prime minister, Mr Obama also spoke about the commitment between their two countries.
"I see this visit as an opportunity to reaffirm the unbreakable bond between our nations, to restate America's unwavering commitment to Israel's security and to speak directly to the people of Israel and to your neighbours," he said.
Mr Obama faces concerns that the civil war in neighbouring Syria might spill over into Israel and his visit coincided with reports from a US Intelligence official that it was "highly probably" chemical weapons have been used in the conflict.
The official's words echo those of a senior Israeli who also said chemical warfare in the country was "apparently clear."