A uniformed Pc discovered a black-handled samurai sword with sheath, two knives and a length of green garden-style hosepipe in the boot of a Fiat Punto being driven by Junior Bradshaw, 32.
On the back seat of the burgundy hatchback, police recovered a black hooded top and a black and grey rucksack.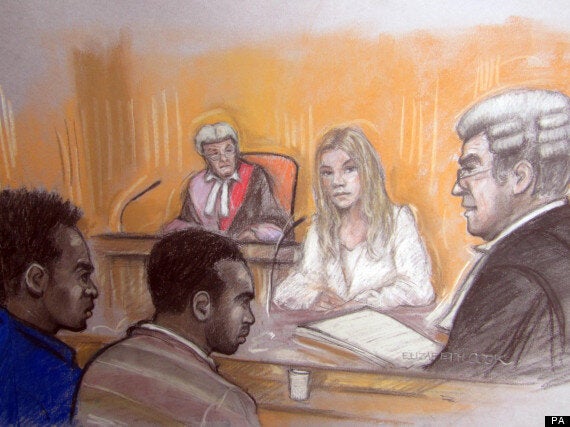 Court sketch of Stone giving evidence watched by the two accused
The rucksack contained a roll of black bags, a roll of black tape, a hammer bought for £1 from a Manchester DIY store, a black and yellow spike, spark plugs, a sock and a carrier bag.
A second £1 hammer was found in the front passenger footwell of the car, alongside three black gloves and a black hat.
A black balaclava was also recovered from the rear of the car as well as AA routefinder printers from Manchester to Devon, the court heard.
Bradshaw and co-accused Kevin Liverpool, 35, are charged with plotting to rob and kill the Devon-born soul star before dumping her body in a river in June 2011.
The defendants, both of St Stephen's Close, Manchester, deny charges of conspiracy to murder, conspiracy to cause GBH and conspiracy to rob.
Pc Victoria Dixon told jurors that she pulled up behind the Fiat Punto in Cullompton High Street in her marked patrol car having received reports from members of the public about the car.
She said she saw Bradshaw, who was the driver, go inside a hairdressing salon next to the King's Head pub.
Pc Dixon said she spoke to Bradshaw when he returned to the car and he confirmed to her it was his vehicle and he had been driving.
She said: "He said one of them was visiting a friend but he didn't know the friend or where they lived.
"They were lost and were trying to get back to the motorway.
"I asked him why he had been there and he could not give me any explanation and he said to ask the passenger."
Pc Dixon told the court that Bradshaw said they had been stopped by other police officers in the Langford area and had been allowed to continue their journey.
She said that she used her radio to ask for a PNC check and then arrested Bradshaw on suspicion of driving while disqualified.
Pc Dixon said she and her colleague, Pc Carl Sandy, who by this time had joined her on the High Street, then began searching the Fiat Punto.
She said that as well as discovering the haul of weapons, she also recovered two mobile phones from the car.
Pc Sandy told jurors that he found a wooden handled lock knife and a balaclava in the front passenger footwell and arrested Liverpool on suspicion of going equipped and possession of an offensive weapon.
The officer said that when he searched Liverpool he found another mobile phone and five black gloves in his trouser pocket, alongside two screwed up hand-written notes.
A third larger note was found folded up in his wallet.
It was these notes that made the threats against Miss Stone.
The court heard that Pc Dixon cautioned Bradshaw for going equipped and possession of an offensive weapon.
Both were then taken to the police station.
That afternoon both were re-arrested on suspicion of conspiracy to commit GBH.
Liverpool asked officers: "How come this has come up?"
Earlier, jurors were told that Bradshaw had in the past few years suffered "serious mental health issues" and had been admitted to psychiatric hospitals before and after his arrest for these alleged offences.
The court heard that Bradshaw had been admitted under the Mental Health Act to a psychiatric ward at Manchester Royal Infirmary in June 2009 following an order made by a judge at the Old Bailey.
He remained there until April 2010 when he was discharged and went to stay with co-accused Liverpool in his one-bedroom flat in Longsight, Manchester.
The court heard that Bradshaw refers to Liverpool as his "cousin" but they are not related, although they have been friends for many years.
Albert Hoogland, a mental health nurse in the Manchester area, told jurors he had regular contact with Bradshaw from November 2009 until August 2012.
Mr Hoogland said that when Bradshaw was discharged from the MRI concerns were raised about him living with Liverpool in a one-bedroom flat.
"In our opinion Junior would benefit from having his own accommodation with some support available," he said.
Martin Meeke QC, representing Bradshaw, asked Mr Hoogland: "You were concerned about his 'suggestibility' weren't you?"
Mr Hoogland said that Bradshaw, who has a low IQ, had been diagnosed as suffering from psychosis.
He told jurors that in September 2010 he refused Bradshaw's request to sign an application form for a driving licence on the grounds of his poor mental health.
After his arrest in June 2011, Bradshaw was sent to another psychiatric unit in Clitheroe, Lancashire, spending time as an inpatient from March 2012 to the following August.
Earlier, jurors were read a serious of statements made by residents who told of seeing the burgundy-coloured Fiat Punto in the local area on the morning of June 13, 2011.
Several described the damage to the hatchback, including front light and number plate.
Suspicious neighbours called the police and when their vehicle was searched, officers found a stash of weapons.
The pair were arrested a few miles from Miss Stone's home near Ashill, mid-Devon, with an arsenal of weapons - including knives and a samurai sword - in the boot of their Fiat Punto.
The two defendants were arrested by police at around 9am.
They had earlier been spoken to by police in Gloucestershire after their vehicle was severely damaged when it collided with railings and a stationary digger on the Michaelwood southbound slip road to the M5.
Prosecutor Simon Morgan had previously told the jury of 10 men and two women that hand-written notes found after the pair's arrest mentioned murder.
One made reference to "kills" and "decapitate", another read "Jocelyn RIP", while another said: "Once Jocelyn's dead... find a river to dump her."
Mr Morgan said the documents also "appear to express disapproval of the Royal Family".
He said: "Joss Stone associates with members of the Royal Family; her concerts have been attended by members of that family and she was invited to the royal wedding (Prince William and the then-Kate Middleton) at the very end of April that year.
"Hence, the Crown say, she was a target."
Yesterday, the 25-year-old international pop star told jurors she used to leave her front door open and rarely set her burglar alarm.
Miss Stone, who appeared in court under her real name Jocelyn Stoker, said she only discovered of a plot to kill her when the police contacted her later that day.
She told the court: "Apart from someone (police) coming around to say someone is trying to kill me, it was a really nice day."
The trial was adjourned until tomorrow.
Popular in the Community