When you're the President of the United States, on a visit to the Middle East, you don't want your car breaking down.
Luckily for Barack Obama, he was still on the plane when the specially-commissioned limo, nicknamed 'The Beast', broke down on a busy road and had to be towed back to Jerusalem.
Israel's Channel 10 said American and Israeli officials exerted "huge efforts" to bring another limo from Jordan. Obama had always been scheduled to fly by helicopter from Ben Gurion airport to Jerusalem.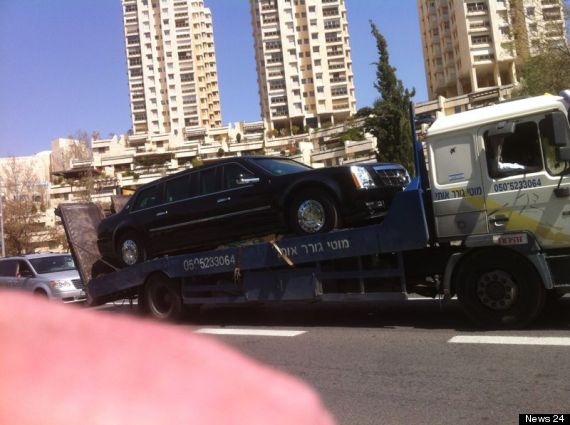 Barack Obama's limo on the way to the garage on the back of pick up truck
"One of our vehicles is experiencing mechanical problems. This is why we bring multiple vehicles and a mechanic on trips," Secret Service spokesman, Agent Edwin Donovan told ABC News.
Israeli media reported that the car had been accidentally filled with diesel, but the Security Service would not comment.
Moti Matmon, owner of a local tow-truck company, said the US Consulate in Jerusalem called him at around 10am local time to ask him to recover the stricken vehicle.
"They told me that this was Obama's car," he told The Daily Telegraph.
"They didn't say what had happened to it. They just said it had got stuck. Only the mechanic was there when I arrived. The driver had left in another car. The whole thing was very funny."
Obama was greeted at the airport by president Shimon Peres and prime minister Binyamin Netanyahu. Earlier, in an interview with Israel's Channel 2, Obama had joked about wishing to get away from Congress, put on a moustache and disappear in the bars of Tel Aviv.
Upon greeting him, Netanyahu said he had "prepared a list of possible bars" where Obama could be sure to escape his bodyguards.
Speaking at Ben Gurion Airport, Obama said: "To the people of Israel thank you for this incredibly warm welcome," he then added in Hebrew: "It's good to be in Israel again."
"I'm so honored to be here as you prepare to celebrate the 65th anniversary of a free and independent State of Israel. Yet I know that in stepping foot on this land, I walk with you on the historic homeland of the Jewish people.
"More than 3,000 years ago, the Jewish people lived here, tended the land here, prayed to God here. And after centuries of exile and persecution, unparalleled in the history of man, the founding of the Jewish State of Israel was a rebirth, a redemption unlike any in history.
"Today, the sons of Abraham and the daughters of Sarah are fulfilling the dream of the ages -- to be "masters of their own fate" in "their own sovereign state." And just as we have for these past 65 years, the United States is proud to stand with you as your strongest ally and your greatest friend.
"As I begin my second term as president, Israel is the first stop on my first foreign trip. This is no accident. Across this region the winds of change bring both promise and peril.
"So I see this visit as an opportunity to reaffirm the unbreakable bonds between our nations, to restate America's unwavering commitment to Israel's security, and to speak directly to the people of Israel and to your neighbors," Obama said at the welcoming ceremony .
"I am confident in declaring that our alliance is eternal, is forever."