A nightclub in Kent whose posters advertise free entrance for women if they show their cleavage has been slammed by angry students who condemn the promotion as "shameless sexism" and "demeaning".
Casino Rooms, a popular student destination in Rochester, is hosting a "National Cleavage Weekender" over the first weekend in April, and promises free entry for those arriving with "exposed cleavage".
One student leader described both the event and the poster as "disgusting on every level" and a "complete dehumanisation" of the women who appeared on the poster.
The promotional poster, which can be viewed below and features seven different buxom cleavages, does not make it clear that the free entry policy applies to both sexes. A member of the nightclub's management team told The Huffington Post UK: "If men want to get their pecs out, then they will get free entry too."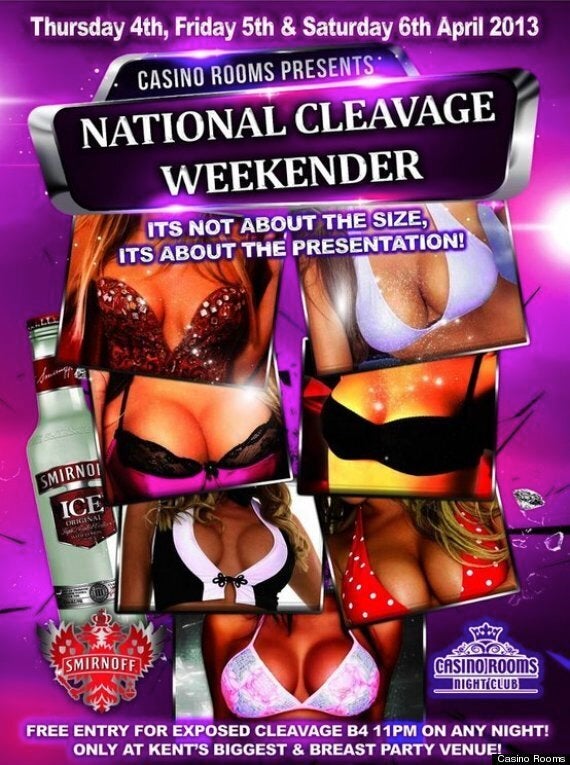 Casino Rooms' promotional poster for its National Cleavage Weekender event
Stella Creasy, MP for Walthamstow, added her voice to the criticism, telling the Huffington Post UK: "Its got to be a pretty rubbish club to have to resort to tactics like this to get people through their doors- most other venues promote good music or a good atmosphere but all this one can offer is a degrading, sexist and creepy attitude towards women.
"Being 50% of punters to treat women in this way is bad for business and bad for society. I hope anyone with any sense will give it a wide berth and take their custom elsewhere- this is just another example of sad, not lad, culture."
Kelley Temple, the National Union of Students' women's officer, said: "It's disgusting club promoters think it is in any way acceptable to advertise their events like this.
"From the complete dehumanisation of the faceless women in the poster, reduced to nothing but a cleavage, through to the reinforcement of women's value as being based on their appearance, this is disgusting on every level.
"The impact of this is not just on those women who will attend but on all those whose social life is restricted because they want to avoid sexism and harassment."
Temple added the promotion, which has the strapline "'it is not about the size, it is about the presentation'. should be "immediately withdrawn".
The assistant manager of Casino Rooms, which is run by Aaron Stone, told HuffPost UK he'd had "several calls" about the event.
"There's not really been any negative reaction," he said. "We have never offended anyone. This is really just a bit of fun for everyone.
"We will still be going ahead with the weekend."

"As more and more nights are shutting due to a lack of customers as a result of increases in student expenditure, businesses have to go the extra mile to entice students to nights out by using provocative and titillating imagery in their promotion campaigns," she told HuffPost UK.
"The poster is marketed at something 'fun' but it's about as far as you can get from fun as it reduces women at my university to merely their bodily features.
"It's really demeaning but it certainly won't be the last student poster you see encouraging women to strip or bare flesh as many students, both male and female, feel that it's a bit of harmless fun."
The NUS released a report earlier this month which revealed groping in nightclubs is viewed by some as part of a "normal night out". The 'That's What She Said' research found nights out were described as key spaces where lad culture was evident, with even nightclub promoters engaging in the culture as part of their business model to attract customers.
"It must be tackled head-on and those who are complicit in it must be made to realise that their actions are not harmless fun," Temple added. "These promotions should be immediately withdrawn."
Kiran, a first year mechanical engineering student at Leeds University, said although he did not agree with the club's promotion tactics, they were "completely understandable".
"The club wants more punters, a high ratio of girls to guys and there will always be enough girls going wild on a night out willing to do it. This idea benefits everyone within that environment.
"Looking into the world of clubbing from the outside though, it looks very different. It's sexist in every way imaginable - objectifying women and using them as bait for testosterone-filled, sexually-hungry young men. Everyone going there implicitly agrees to that philosophy of women."
"You get free entry before 11pm if you get your knockers out. But, personally, I don't fancy paying with my dignity instead thanks," Gleaves wrote. "Low cut tops really aren't the big deal here. It's the fact that there is a whole entire event based around cleavage, and it's male bouncers deciding whether or not I have dressed appropriately to qualify for reduced entry prices.
"Objectifying women to me more or less spells out there being a risk of danger because men are made to believe that because a woman wants to wear a low cut top on a particular evening means that she also wants a lot of other things. But then again, Casino's probably don't care about that."
Tory MP for nearby Chatham and Aylesford Tracey Crouch said: "This is disgusting and degrading to women, particularly at a time when we're trying to do such good work to improve the body image of women of all shapes and sizes."
Have you got a story to tell? Get in touch and talk to us: ukstudenteds@huffingtonpost.com