A highly important portrait of wartime prime minister Winston Churchill painted to celebrate the Allied Victory in 1945 is to be sold.
The portrait conveys the pugnacious spirit of the wartime leader and was originally commissioned by Odhams Press for the "Victory Book", which was published in 1946.
The picture, which was painted from life, shows Churchill in typical stance and attire wearing a polka dot bow tie standing in the Cabinet Room.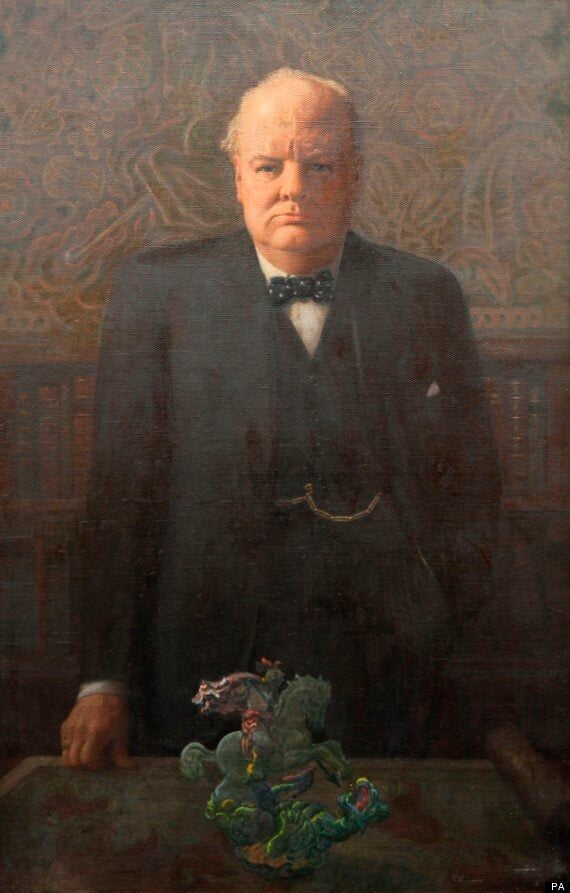 He stares with steely determination at the viewer with his hand placed firmly on a map of Europe underlining Allied supremacy and victory in Europe following the D-Day Landings in France in 1944.
Auctioneer Amy Brenan, of Dorset-based Duke's of Dorchester, said: "This portrait perfectly conveys Churchill's 'We will fight them on the beaches' spirit, but it also incorporates some mysterious symbolism, which may be interpreted in different ways."
It seems that the artist, Ernest Wallcousins, kept the painting in his own collection and comparison with the reproduction in the "Victory Book" shows that he later added the symbol of St George and the Dragon on top of the map of Europe.
Miss Brenan explained: "The symbol of George and the Dragon may simply have been added by the artist to celebrate Elizabeth II's Coronation in 1953, or it may allude to the great George insignia given to Winston Churchill's ancestor, John Churchill, by Queen Anne to celebrate victory at the Battle of Blenheim.
"It was this exact insignia that Winston Churchill wore at the Queen's Coronation in 1953, 60 years ago this year."
It has also been suggested that the addition of St George slaying the dragon may have political significance, since St George is the patron saint of Moscow and the image of the Saint slaying the dragon appears on the Moscow City Coat of Arms.
It may, therefore, symbolise the relationship between Stalin and Churchill and have been added as a mark of respect to the Russian people.
The present owner of the painting acquired it from the artist's widow in the early 1980s.
The artist, Ernest Wallcousins, is well known for his illustrations of Royal occasions.
He designed many of the Royal Souvenir Programmes, including one for the ill-fated Coronation of Edward VIII, of which there is only one surviving example.
He also produced advertising posters for the London Underground.
The painting goes under the hammer on April 11 with an estimate of £10,000 to £15,000.