The weekend's freezing cold weather continued to cause disruption on Sunday, with thousands of homes across the UK without power and many roads still impassable.
The Department of Transport has warned motorists to take precautions and only set off from home if they have checked the latest travel conditions.
A spokesman said: "The unseasonal weather is affecting transport networks. Our staff and other transport operators are working tirelessly around the clock to keep roads open, and keep other services running."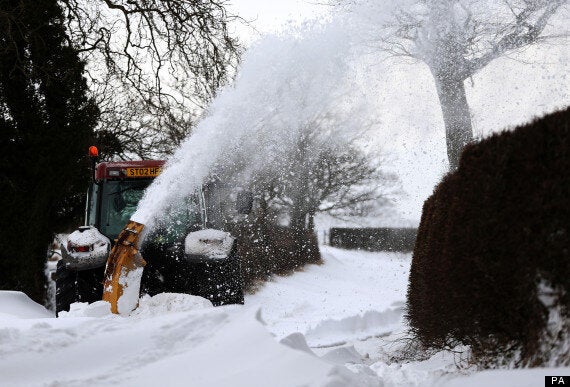 Even tractors and diggers have struggled with snowdrifts
Several thousand households in Scotland remain without electricity, down from a peak of about 18,000.
The isle of Arran and parts of the south-west mainland of Scotland were particularly badly hit by power cuts on Friday.
Blizzard conditions also lashed Northern Ireland, where emergency oxygen supplies had to be airlifted to an elderly man who was trapped by heavy snow.
Customers in remote areas of Northern Ireland were warned that it could be days before electricity is restored to them, due to continuing bad weather, but water supply has now been restored to most of the 1,000 homes affected.
Hundreds of people in Cumbria also remain without power. Drivers in the county who were forced to abandon their cars over the weekend have been urged not to go back for them, but to contact police to arrange for their vehicles to be recovered.
A Cumbria Police spokesman advised motorists that the A595 is still closed and weather conditions are still challenging in the area. Some 70 people were put up in hotels and at a local high school after heavy snow fell, stranding them in their cars.
Roads in North Wales were still experiencing problems, with access into residential areas "a cause for concern", according to police.
Some areas of higher ground saw snowfall of up to 5cm (2 inches) today, but most regions would have only experienced a "light covering" of snow, however.
While the heavy snow fall has subsided, forecasters say temperatures will remain bitterly cold at the beginning of the new week.
Chris Burton from MeteoGroup, the Weather Division of the Press Association, said: "There has been a band of patchy snow from East Anglia, stretching across the Midlands to North Wales, but it has not fallen in any great amounts. Most places will be dry as we go into the new week.
"It is going to be mostly cold overnight, with temperatures as low as -4C (25F) or -5C (23F) quite widely across the UK."
Today, temperatures struggled to get above zero in the Midlands and East Anglia but there may be signs of relief by the end of the week.
Easter Weekend marks the start of British Summer Time - even though it is going to feel anything but summery.
"By Thursday or Friday, it could get up to 5C (41F) or 6C (43F), which is still cold for this time of year," said Mr Burton. "It's not going to be warm at all."
A man found dead in deep snow after he started walking home in severe weather was named by police.
Lancashire Police today said his death was not being treated as suspicious and there were indications it was a "very tragic incident" after he started walking home from a night out with friends on Friday.
Severe weather is also thought to have led to the death of a woman in Cornwall on Friday. The woman, named locally as Susan Norman, died when her house in Looe, Cornwall, collapsed during a landslip following torrential rain.
Popular in the Community