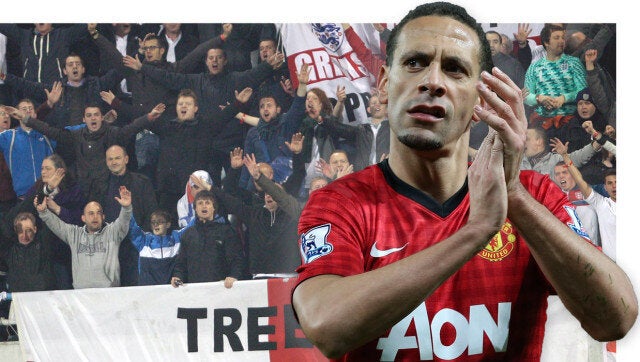 The Football Association has come under pressure to address a number of chants from England fans about Rio Ferdinand which have been attributed as thinly-veiled racism.
Ferdinand has become a hate figure for a faction of supporters after he withdrew from the squad to face San Marino and Montenegro in the recent World Cup qualifiers.
In the 8-0 win against San Marino on Friday, Ferdinand was labelled a "w****r" by a vociferous portion of the travelling supporters before the context took a more sinister twist. England fans in Podgorica on Tuesday night
"Build a bonfire, build a bonfire, Put Rio on the top, Put Anton in the middle, Then burn the f*****g lot," some sang at the Stadio Olimpico.
Ferdinand's brother Anton was racially abused by John Terry last season, which led to a four-match ban and £200,000 fine for the former England captain, who retired from international football four days before his punishment was announced.
Chelsea fans last season chanted "Anton Ferdinand, you know what you are" after he reported Terry for racism. A display of support for their club captain, the chants were condemned yet re-emerged near verbatim at the Stadio Olimpico, as England supporters substituted "Anton" for "Rio", fuelling potential racial connotations.
The FA decided the "Rio Ferdinand, we know what you are" chants did not have a racist undertone and England captain Steven Gerrard, perhaps not aware of how vile the Ferdinand brothers chant was, commented that the national team's followers were "entitled to their opinion", having paid "good money". Ferdinand has not played for England since June 2011
Manager Roy Hodgson, meanwhile, declined to condemn the chants.
"Of course I heard it. I'm not deaf. But I've absolutely no comment to make on it," Hodgson replied.
The majority of journalists in attendance at the Stadio Olimpico tweeted about the derogatory songs, with the Guardian's Daniel Taylor claiming England fans had even stopped celebrating the goals to go "through a repertoire of songs about Rio Ferdinand".
Ferdinand, working as a pundit for Al-Jazeera for the San Marino game, was not asked for his reaction on the audible chants, but the abuse could intensify tensions surrounding the England camp.
The Manchester United defender's exclusion from the Euro 2012 squad was owed to "footballing reasons", according to manager Roy Hodgson, however Terry's selection prompted conjecture with his court case for racially abusing Anton Ferdinand looming. Terry was cleared by Westminster Magistrates' Court in July.
It is also potentially another embarrassing example of the FA's attitude towards racism in English football. The organisation has been criticised by Kick It Out over the sanctions it meted out to Terry and Luis Suárez last season.
The FA has promised to review the sanctions applied to racist abuse, although the FA chairman, David Bernstein also said he was "very comfortable" with how the Terry affair was handled.