Our trust in Pippa Middleton as a hostess was shattered after her entertainment book flopped, but never fear - she's now revealed her expertise in sushi making.
The Duchess of Cambridge's sister has bestowed a snapshot of her life as a student upon her adoring public, describing her days of slumming it as a student were spent, er, making sushi in front of the rugby. Readers of Waitrose's magazine can sink their teeth into dear Pip's offerings of her student life experiences at Edinburgh University.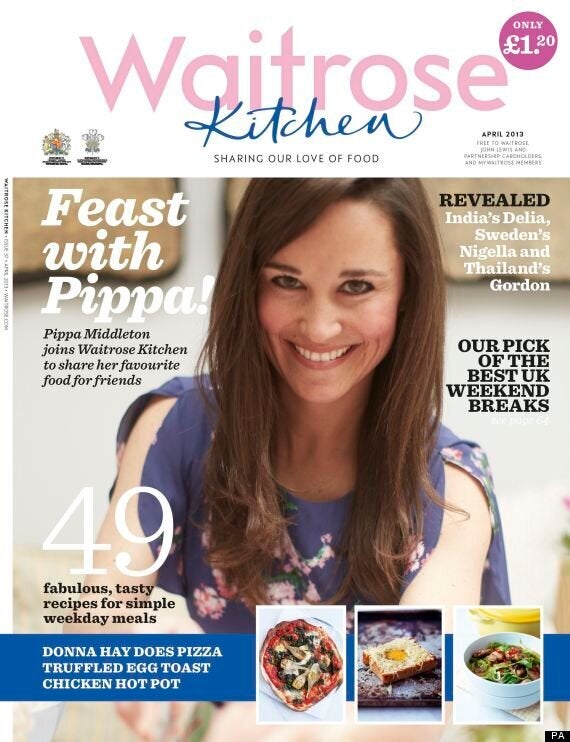 We'll forgive you for feeling like a peasant with your pizza takeaways and snakebite concoctions, as Middleton revels in memories of making mojitos and "convincing" her uncouth housemates into producing Japanese cuisine.
"The first time I made sushi was at Edinburgh University," Pippa writes (presumably in flowing calligraphy and loopy letters using her William Henry fountain pen). "I convinced my flatmates to help, promising we'd prepare it in front of the rugby on TV that afternoon."
In her first magazine piece - titled Pippa's Friday Night Feasts - the 29-year-old pens her thoughts on how to start the weekend with a "relaxed, Asian-themed night in with friends".
"The trickiest part was cooking the rice but even that, once we got a feel for the right stickiness, was easy, while the rolling just required patience," she enlightened.
And, never fear, Pippa's even included options for the poorer plebeian: "If you don't have a bamboo rolling mat, just use clingfilm."
Her advice and ideas are spread over a glorious five pages which picture the 29-year-old resplendent in a blossom print dress.
Middleton, whose guide to entertaining Celebrate was widely criticised for offering simplistic advice, begins her column by telling readers that Friday is the "night to feast".
She writes: "Friday night is the perfect time to cook.
"Regardless of how tired I might be, the moment Friday lunchtime arrives I get that contagious pre-weekend excitement.
"Even if I'm feeling exhausted and don't feel like doing anything but watching telly, I can put off being tired till Saturday.
"Fridays, of course, hold the promise of the weekend but also, being far enough away from pre-Monday melancholy, feel freer."
Middleton, who features on the front of Waitrose Kitchen's April edition, includes recipes for hoisin duck rolls made with "ready-bought" duck fillets and Vietnamese spring rolls which require a "specialist kit you can find at Waitrose".
She also offers tips on how to make a ginger mojito to "kick off your Friday night" and sushi rolls.
Her recipe for tangerine and sake jellies with coconut cream comes with the advice: "Get ahead by making the jellies the night before."
Further suggestions include using "bright flowers" to "soften angular Asian-style tableware".
Look At Other Things Pippa Did:
Middleton also advises readers that paper lanterns, fairy lights or floating candles can "set the mood".
The number of calories in each dish is printed alongside the recipes, with the jelly desserts apparently the most indulgent item, containing 143kcals per serving.
Miss Middleton was propelled into the spotlight as a bridesmaid at Kate's wedding to the Duke of Cambridge.
Perhaps unsurprisingly, the publication sparked a parody Twitter account @PippaTips.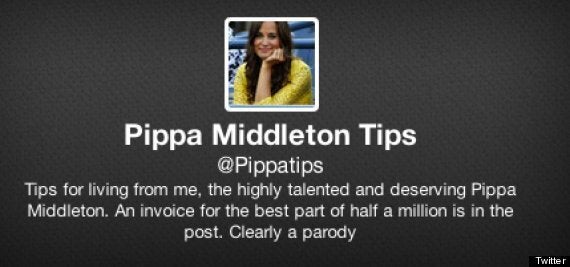 Pippa's tips even have their own Twitter account. Lucky them
William Sitwell, editor of Waitrose Kitchen, is convinced the magazine's readers would appreciate Miss Middleton's columns.
"Pippa will be an excellent contributor to the magazine, bringing with her a wealth of experience of entertaining, gained in part from working at her family's party business," he said when her appointment was announced.
"Readers will love her relaxed and easy entertaining ideas which will help with the preparation for all sorts of occasions."